We have literally been designing websites since the dawn of the World Wide Web. With over 16 years designing websites, we've got it down to a pretty well-oiled process. However, just because we know what we're doing, we won't make any assumptions and will guide you through the entire process: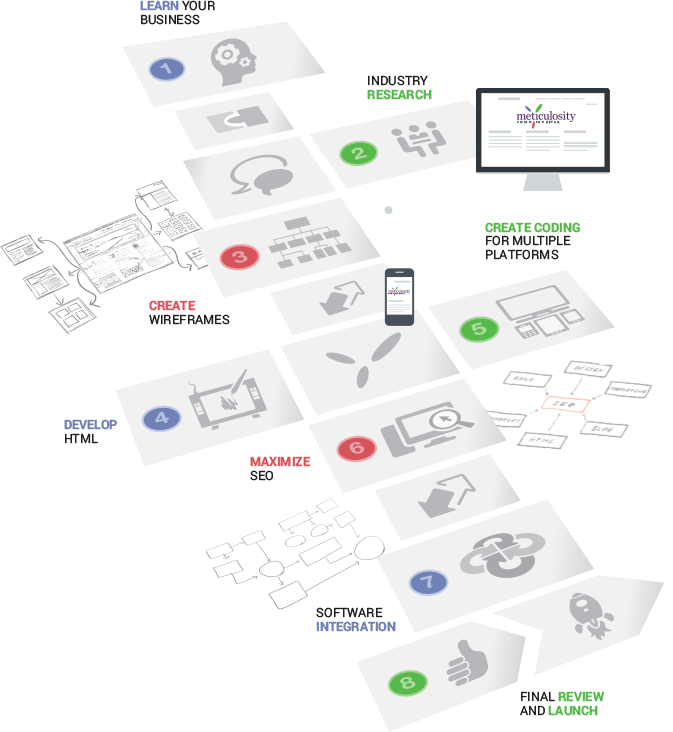 Step 1
We begin all projects with a discovery process where we learn about your unique business, your goals, and your competition. We'll look at the whole market and apply best practices to form a solution that will meet your specific needs.
Step 2
We will collect necessary imagery, content, logos, fonts, and other files from you that are needed for your website's design. We will also ask you for websites that you like, websites you hate, and other features or special requirements you may want.
Step 3
Next, we will create website wireframes. Much like a blueprint, wireframes are basic visual layouts that represent the framework of your website's main pages. The wireframes will allow us to define what elements will be on your site (such as logo placement, navigation elements, social media integration, etc.) These wireframes are key elements in helping our designers create the right elements of your site.
Step 4
Our professional graphic designers will create one or more design concepts of your website's new homepage using everything Meticulosity has learned about your business. These homepage concepts will show you the overall design and theme of the site. You'll offer feedback and we'll finalize the homepage design concept, and then we'll design the rest of your site.
Step 5
With your design finalized, our expert programmers create W3C valid HTML/CSS coding that works on all browsers and devices, from Internet Explorer on a PC to Firefox on an Android tablet. Once we have created the raw HTML/CSS, we'll then create any template or theme files needed for your Content Management System (CMS) or Ecommerce solution.
Step 6
Great Search Engine Optimization (SEO) starts from the ground up. Our programmers build all your website code with SEO in mind, using up-to-date tagging and coding methodology to ensure your website will be found by your customers.
Step 7
After coding and SEO, we'll then integrate your HTML/CSS into whatever third party software platform your website will be using. We've done hundreds of integrations into everything from WordPress to Magento.
Step 8
We will make sure everything is in order, making adjustments or fixing bugs as needed. Once it's perfect, we'll launch your site and be available to help with any post-launch issues.