We're not like other web design firms. We say we have "vision for detail," but what does that mean? Meticulosity is a diverse mix of creative visionaries and meticulous programmers that all share an extreme attention to detail. Designers aren't always the best programmers, and programmers don't always have the best eye for design. That's what makes us different than other design firms – our team works in concert to create solutions that marry complex software applications with stunning designs. What makes us so different?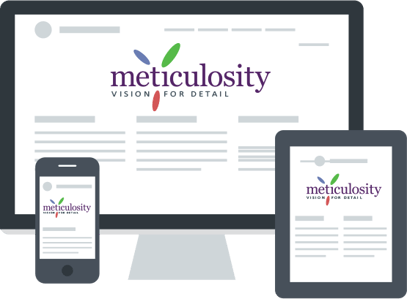 Our Experience
Our team is loaded with experience. Meticulosity's president has been designing websites since the days of the Mozilla browser. With 20 years in the industry, Dave has seen it all. Our graphic design team has over 40 years combined agency experience before working for us. Finally, our development team has over 60 years of programming background. Do the math, and that's over 100+ years experience. We bring this to the table with every client.
We Are a Boutique Firm
"Boutique" is a nice way of saying small. However, we don't see this as a weakness. Sure, we don't have offices in a huge abandoned church with cubicle after cubicle of staff surrounding us – but we never want that. We want to know and care about each one of our customers. When you work with Meticulosity, you'll never be handed from salesman to account manager to designer to developer. You will always have a single point of contact who knows everything about your business and who has accountability during the entire process.
We Don't Nickel and Dime
No offense to lawyers, but we don't start billing you every time you call us. With each proposal, we do our best to provide fixed prices and include all the details so there is never a surprise bill at the end of your project. Any work that we do on an hourly basis is billed in quarter-hour increments and with transparency. We won't bill you three hours for a five minute job.
We Take Accountability
Not that we make many mistakes, but when we do, we accept accountability. We also don't play the finger-pointing game like many IT firms in the industry.
We Believe in Form and Function
Sure, your site needs to look amazing, but many designers do not think about what happens in a real-world environment once the design is implemented. What happens when there's more than one line of text in your product name? What happens if an image is smaller or larger than anticipated? Since we've done this so many times, we think of all these little details that can cause major issues when your site goes live. Our designs look great and work correctly.
We Are Fast
Another benefit to staying trim is that we're fast. Most maintenance requests are handled within hours, not weeks. We're also a fairly well-oiled team that typically delivers projects much faster than our competition.
We Are Accessible
We usually answer emails within minutes and almost always pick up the phone. We'll never take 4 days to get back to you when you're having an emergency like the other guys.
We Care
We actually care about every client. You're not an account number with us; we truly desire to know more about your business and goals so we can be the best design firm you've ever worked with. While we've grown over the years from a one-man-band to over 40 employees, our business model of truly knowing our clients and taking a stake in their success has not changed.
We Are Meticulous
You saw that one coming, but we really are! We try to think of every practical scenario during the design and development of your website to ensure the highest quality. We check and double check our work before bringing it to life.