On Tuesday April 21, 2015 Google rolled out a change to their algorithm to penalize sites that are not mobile friendly. It's important to note that the changes should only effect Google searches done on mobile devices (so thus only affecting mobile search results). However, with any Google change - we only know what they are telling us...
So what impact will the Google Mobile Friendly update have for ecommerce sites?
Here are a few scenarios:
1) You already have a responsive site or mobile version of your site.
If you're already fully responsive or have a different mobile version in place, then you shouldn't see any negative effects - and best case, you could see improvement in rankings if your keyword competitors don't. Those who aren't "mobile friendly" will slip down on ranking while you take their place.
2) Your site isn't "mobile friendly" in Google's eyes.
Then you could see some negative impact on your keyword placement on mobile search if your keyword competitors are mobile optimized. Exactly how much you'll be penalized is up to Google and they don't share their algorithm with the public.
So how do you find out if Google thinks your website is mobile friendly? Luckily, Google has a free tool for testing this here.
What to do if your ecommerce site fails Google's Mobile-Friendly Test:
There's a lot of industry media outlets calling it "mobilegeddon" - but I don't think the sky is falling (and I hate how everybody adds -pocalypse or -geddon onto everything these days, but I digress). You're not going to loose millions in sales in the next month or two while you come up with a solution. However, if you are already responsive or move quickly on fixing things - you might stand to have a temporary uplift in organic traffic before everyone else gets in-line with Google and things start to plateau.
I also wouldn't recommend totally blowing it off - as if you're the last one in the pack to get mobile friendly then you'll have a lot of ground to gain.
Those who will be most penalized could be people who make 50% or more of their sales off mobile devices. One client, for example, has 80% of their revenue from mobile. Luckily, they've had a fully responsive site since last year.
Even if you make a very small percentage of your ecommerce sales from mobile - where you stand to loose the most is in price comparison shopping that happens when customers are in retail stores. For example, imagine an online flooring retailer - their customers don't usually buy $1000s of dollars of flooring over a website - however - they are standing in Lowes or Home Depot and Googling flooring products to see if they can save money online. After returning home, they complete the order on a desktop.
Getting a responsive ecommerce site: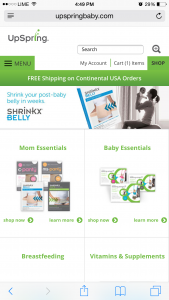 The good news is that you probably don't need to undertake a full redesign. Most modern sites that were built in the last 3-5 years will use HTML5 coding techniques - i.e. div structure versus the old table style of coding. If your website is div based, a responsive CSS sheet can usually be built without too many changes under the hood. In this best-case scenario, you can get a responsive site up within a week or two.
If your ecommerce site uses tables for it's primary structure, then there is a lot more work involved - but making your site responsive can still be done without a full redesign. Basically, we take your existing visual design and totally recode everything into HTML5 using divs - then make a responsive CSS stylesheet that contains all the rules that determine what happens to the layout when a mobile device loads a page. You end up with the same looking website, but everything under the hood has been updated to current coding standards. This usually takes us two to three weeks.
Finally, you could take the opportunity to re-design your entire site - freshening both the design and user experience while also tackling mobile responsiveness. If your website is starting to get old and tired or your conversion rates aren't up-to-par, you might consider increasing your investment and getting a new design for your ecommerce site.
A few caveats:
If you use Magento, your template could be either HTML5 or even a mix of old HTML4 and 5. The readiness of your site will depend on when your template was designed and even what extensions you use.
If you're on Bigcommerce, you might be in luck as many of their templates are already responsive or at least HTML5. What's more, Bigcommerce's template system has had full HTML5 support for years. Shopify sites are also likely HTML5 ready.
If your ecommerce site is on 3dcart - you might need to re-code your design or re-design your site. Unfortunately, they only rolled out HTML5 support last year, so a significant amount of their websites are not responsive-ready. Volusion customers will find themselves in a similar situation. On a good note, there is full HTML5 support from both so your site can be fixed without the need to re-platform.
Good luck! If you have any questions about how Google's Mobile-Friendly update affects your ecommerce site - feel free to contact us! We can help!