Once you've past the onboarding quarter, most of the initial research is completed and your inbound marketing agency will be grinding out deliverables:
Planning
Campaigns
Content Calendar
Social Media
Daily Monitoring
Daily Engagement
Curation
Sharing New Content
Re-sharing Old Content
Increasing Fan/Follower Base
Blogging
Writing Blog Posts
Incorporating CTAs
Promoting Content Offers via Related Posts
Content Offers
Research
Selecting Offer Based on Persona and Funnel Position
Writing Copy
Creating Visual Assets
Client Review
Publishing and Sharing
Email
Creating Content
Targeting Segments
Email Blasts & Newsletters
Optimization
On-page SEO
Code Changes
Adjusting Content and Copy
Page Speed Improvement
Conversion Optimization
Analyzing
Past SEO Successes/Failures
Future SEO/Keyword Opportunities
Buyer Personas
Do we really know our buyers?
Do we need to adjust our personas?
Conversion Rates
In addition to strategy execution in the form of deliverables, we'll also be communicating with you and providing reports:
Bi-Weekly Email Check-ins
Quick wins or other updates.
Monthly Report and Phone Call
What did we do?
How are we doing?
Are you doing anything we should know about?
Quarterly Video Meeting
How did we do this quarter?
What is our strategy for next quarter?
We try to use data to drive every decision we make. We use the following tools throughout the quarter to monitor effectiveness and track success:
Google Analytics
HubSpot Reporting (If Applicable)
SEO MOZ
Website Crawling (i.e. Screaming Frog)
Google Webmaster Tools/Search Console
AB Testing
Page Heatmapping
Visitor Recording
Finally, we rely on our meetings with you to tell us how we're doing. Are you getting more leads? Are phones ringing more? Are prospective customers now more educated due to the content we've created?
Inbound marketing follows a repeating cycle of analysis, strategy, and execution: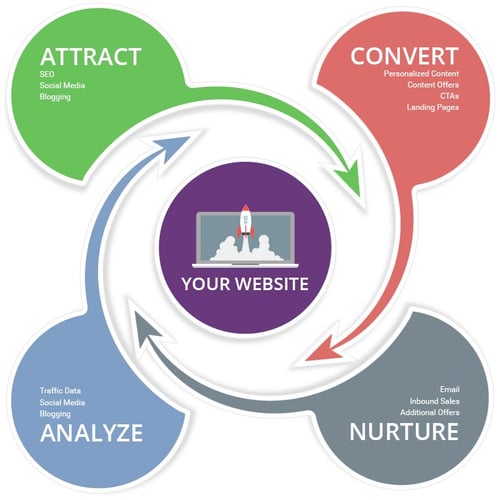 We continually monitor and analyze data and make adjustments to our strategy throughout each quarter and the year as a whole. If your products or services change, if you make discoveries about your buyers, or if you discover any other game-changing information – we'll regroup and strategize the rest of the campaign.