There are a variety of shopping cart software options available in today's market. The best way to find out which ecommerce platform fits your business needs is to be aware of and understand the different features each offers. Distinguishing between a hosted or self-hosted platform, ease of use, scalability and price are all features to consider when deciding which platform option to go for.Magento and 3dcart are two great ecommerce platforms for designing a shopping cart and selling products online. Each holds their own advantages, distinctive elements and drawbacks and for you to get a richer image of what each platform can do, it is best to look at them in comparison.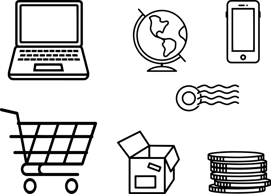 Self-Hosted and Hosted Ecommerce
One of the first choices to make after you decided to sell products online is to consider your web platform. Magento is a self-hosted ecommerce platform and requires you to run and download the software on your own server or a server you are paying for with a hosting provider. It allows for convenience of a range of customizing functions and styles and you have total ownership and control over your store.
3dcart is a hosted solution platform, which means that that the server is managed by 3dcart. Hosted solutions offer quick and easy ways to start publishing content, but you are more limited in your customization. There are fewer free templates to use and many of those available are less attractive, and less adaptable, than the premium templates. The administration panel is easy to use, and you don't need a lot of programming knowledge and skills to master the platform.
Pricing Plans
Unique customizations and the ability to have total control over your website comes at a cost. Magento plans start with a 30-day free trial, after which you can subscribe to the Magento Starter or Magento Pro solution. Magento Starter is recommended for business getting started online, with a starting price of $1999 per month. Magento Pro is more suitable for large companies who requires enterprise-grade accessibility, starting at $3399 per month. Included in this price is a dedicated launch manager and you will be able to have full visibility of your data all the time.
3dcart offers a 15-day free trial which allows you enough time to customize your online store, upload images and products and setup payment details before launching your website. 3dcart pricing plans include the basic version of $29 per month and if you are looking to add more robust features such as priority support, unlimited group and daily deals and a dedicated technical account manager the Plus version starts at $79 per month and the Enterprise version requires a consult with 3dcart to establish a price.
Marketing and SEO Features
Magento and 3dcart both offer a variety of powerful marketing and SEO benefits. Each has unique plugins and extensions which helps to boost your website's visibility, social media capabilities, increased traffic and ROI efforts, though we have found 3dcart to be limited/restricted for some of these features once you start doing more complicated and advanced online marketing.
If you are interested in designing a smaller store to improve your inventories' visibility online, and if you do not require the hassles of programming and coding, a lower tied hosted solution like 3dcart is the ideal option to go for. With its powerful product management, you can effectively run your online store.
Magento is a greater fit for online businesses with a large database, high sales volumes, or who want to have multiple product configurations. Magento has more customization and flexibility options which enables you to run multiple stores via a single administration panel and allowing you to add an unlimited number of products (single, bundled or configured), images and categories.
Deciding on the best ecommerce platform, Magento or 3dcart, ultimately comes down to your business needs. Knowing the benefits, drawbacks and distinctive elements of each platform will put you in a better position to decide on the software used to build your store. Meticulosity is a certified solution partner with Magento and 3dcart, and we have been designing websites on multiple ecommerce platforms for many years. If you have any questions, please call us today for a free consultation.