Some hosted shopping cart solutions can be compared as apples to apples - however, not all are equal. There are a lot of considerations to think about while planning which cart to start your ecommerce store on - or - which is the best platform to migrate to.
3dcart is one of our favorite hosted SaaS shopping carts. For starters, it has TOTAL flexibility for designers like us to make the website look exactly the way our clients want. Their theme system allows us to edit about 95% of the page and module layouts, giving us nearly full control of the design. Last year, they also rolled out the capability for HTML5 themes, so we're able to build completely responsive themes like we did for UpSpring Baby. As an ecommerce design firm, this total control of the theme is key to making our client's websites look amazing. Volusion and Shopify, for example, don't offer total control and that can make things hard.
As far as features, 3dcart is packed with administrative and customer-focused features.
Beyond what you'd expect from any shopping cart's admin back-end, 3dcart offers customers:
Easy Quickbooks integration
Full SEO control
Importing/Exporting functionality for products, customers, and 301 redirects
Purchase Order (PO) functionality
Fraud protection
Facebook store plugin
Checkout questions (allowing you to collect important marketing data from customers)
Advanced image editing
Homepage banner slider (lets you rotate homepage banner images without any HTML skills)
Simple CRM tool for logging complaints/order issues
Outside their own feature set, there are many plugins and direct integrations, like ShipStation, payment gateways, Search Spring (filtered search), and other plugins from their app store. One of my favorites is SmartyStreets, which allows you to perform real-time address verification on shipping addresses with a simple copy/paste Javascript integration.
For end-customers, 3dcart offers a host of other features and functionality:
Promos and offers
Gift wrapping
Multiple shipping addresses (so customers can split orders and ship to different recipients, great for gift items etc.)
Product reviews
Scheduled orders (great for "coffee of the month" clubs etc.)
Integrated blog (although in many cases a WordPress blog is always going to be more powerful)
Gift registry
RSS feeds
Social Media integration
Cart abandonment
Integrated loyalty program (so you don't need to manage and pay for a 3rd party program)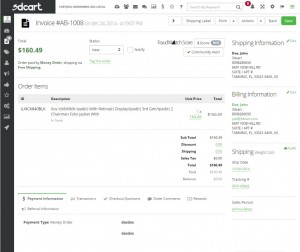 On the negative side, 3dcart doesn't have as good of a back-end admin experience as Bigcommerce or Shopify - 3dcart's admin is looking very dated and isn't responsive. On a positive note, they've announced an all-new HTML5/responsive admin that will be launching this year. No date has been confirmed, but we've seen a demo and it looks great. It should make up for the lack of UX in the admin - and it will work on mobile devices, allowing you to easily add products or view orders on your phone or tablet. Click here for 3dcart's blog post about their new admin interface.
Another shortcoming of 3dcart is the lack of filtered navigation, i.e., being able to refine product listing or category pages by size, color, or other attributes. However, you can use a Search Spring or Nextopia integration to get this done, you'll just have to pay out of pocket for it and manage the functionality on a separate website. However, many other shopping carts like Bigcommerce don't offer filtered navigation out of the box either.
Also, if you have more than a few orders a day, you'll definitely want some kind of fulfillment software like Ship Station or TrueShip. These SaaS plugins will pull your order data from 3dcart, allow you to batch print packing slips and shipping labels, and then automatically push tracking back to 3dcart and email customers. Most ecommerce platforms don't have very robust fulfillment solutions, so it's something to consider with any platform - even Magento (the Cadillac of shopping carts).
3dcart is definitely one of our top go-to shopping carts. While it won't allow total customization and ownership of the code like Magento - most businesses don't need the complexity and cost of a custom cart. With all-inclusive packages starting at just $35.99, 3dcart makes a great entry to mid-level shopping cart.