Case Study
Inbound Marketing
for Addiction Recovery Centers

Meticulosity serves several different addiction treatment centers, including gambling addiction treatment and drug and alcohol addiction treatment. The addiction treatment service industry is a uniquely sensitive space with a lot of opportunities as well as restrictions. Our team has had the opportunity to get creative with advertising and marketing to get the most out of our client's investment.
Before
Addiction treatment clients have come to us at a range of different levels when it comes to their branding, website, and overall marketing strategy. Before working with these clients, they had outdated websites, logos, and branding that were inconsistent and lacked digital strategy and social media presence.
Execution
Since working with these clients, updating their brands, and executing a complete inbound strategy, they have experienced month after month of full capacity within their programs.
This was achieved through the proper execution of a digital, SEO, and PPC strategy.
When developing a digital strategy, clients are brought through a complete website and brand update with a new logo and branding across all social platforms.
For SEO, clients receive a complete website audit of current blog posts. Then rigorous research is done to identify the top keywords to rank for in future blog posts. Through consistent blogging and on-page optimization, clients have seen incredible long-term results.
At Meticulosity, clients get to experience proprietary artificial intelligence PPC software that uses smart bidding faster and more often than any human can possibly do. On a week-to-week basis, clients get a "white-glove" approach to advertising where our internal team reviews accounts and makes updates to the AI software as needed. With the use of heat mapping and on-screen recording, we can see real-time visitor behavior and adjust our digital approach accordingly.


Algamus Gambling Treatment Services
Since 2021, Algamus' website traffic has increased by over 4,000%. Traffic continues to come primarily from direct traffic and paid search, with a significant amount also coming from referrals and organic search, all of which are increasing at a steady rate.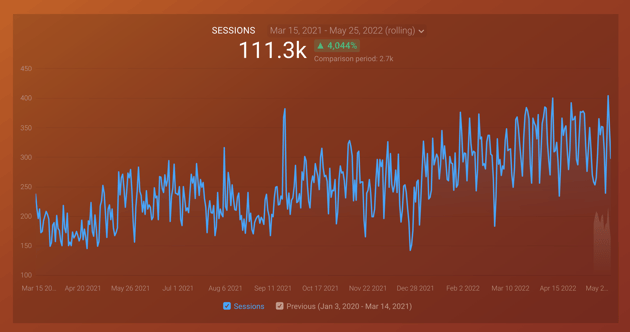 Their number of client intakes has also improved by 56%

in the past year.

Algamus' PPC spend was reduced by 51% in 4 months, from $101 Cost Per Lead to $49.69 Cost Per Lead.
Starting essentially from ground zero, the Algamus website now generates 2.8K monthly visitors (as of 2022), and is ranking for over 200 keywords in Google's Top 10.
Paramount Recovery Center
Paramount got a complete sales tracking infrastructure so that no lead goes untouched.
Paramount achieved an over

50% decrease in their cost per lead in one month.
Aquila Recovery of Virginia
Aquila's website saw a 134% increase in organic traffic in less than 6 months.