HubSpot automation technology can make tasks simpler by helping you deliver content to your leads and customers at the right time. If you want to automate your communication with leads and prospects using personalized, well-timed emails, HubSpot workflows automate actions and business processes for multiple contacts at once.
The HubSpot workflows tool is automation beyond email that helps you track your growth and spend less time on repetitive tasks. But sometimes this process can be complicated and difficult to navigate.
Here are 5 tricks to make using HubSpot automation tools simple.
1. Form Submission Kickback Emails
How frustrating would it be for your customer who has downloaded an eBook to not be able to find where they stored the link to the PDF when they're ready to read it later? Kickback emails solve that problem.
These kickback emails are also referred to as thank-you emails. Whenever a prospect, lead, or customer submits a form on a landing page, a kickback email should automatically be triggered.
The trick is to make the CTA clear in these automatic kickback emails. Keep In mind that the CTA should link to the direct offer, not to the form. In these emails, simply thank the reader for their form submission, and give them what they requested, whether it be a link to the PDF of an eBook, instructions on how to activate their free trial, or a coupon.
According to HubSpot, you should try not to overcomplicate the appearance of these emails. The reader isn't looking for additional information, but rather the offer or content they are redeeming.
2. Schedule Follow-up Emails
You can add actions into your Hubspot workflow. Actions are individual functions that execute as part of a workflow, such as sending an email, adding a delay between actions, or setting a contact property value.
When it comes to these types of actions, you can set delays, use branching logic, or set lead nurturing or administrative actions. For example, you might have workflow that delays two days after a contact enrolls before sending them an email.
3. Create a Smart List to Build an MQL
Building HubSpot smart lists that enroll members based on their conversions is another good trick. For instance, if someone downloads your eBook, it will add them to the Inbound Awareness conversions list. Anyone who converts on an interest offer is considered an MQL.
Build smart lists to collect a master list of all MQLs across all of your core offer funnels. That way, regardless of which "track" of nurturing a contact is in, an MQL master list built on Lifecycle stage will allow you to see how many MQL's you have converted in your marketing. This can be repeated for all lifecycle stages.
A simple workflow can be triggered whenever a contact is added to the Interest stage identifier list for the first time to have their Lifecycle stage automatically set to MQL.
Segmenting leads while building lists and workflows in HubSpot can get super confusing and complex really fast. The trick is to build a funnel diagram you can make your lists and workflows match. It gives you a visual to help interpret the necessary logic inside of HubSpot.
4. Test Your Workflow
It is important to send test emails by enrolling yourself as a test contact. Testing could help you identify an issue with your delays, personalization, or possibly a type of email that you are sending.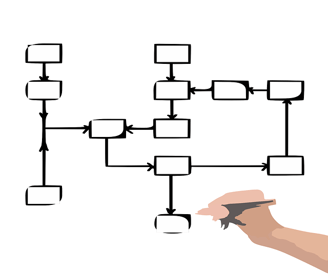 5. Use If/Then Branches in Workflows
You direct enrolled objects down one path or another based on set if/then conditions. One trick is to add a delay before your branch to ensure that your customers have time to engage with your content if your branch criteria is based on a contact or associated contact engaging with content in a previous action in the workflow (e.g., contacts opening a marketing email sent in a previous action).
It is important to note that in contact-based workflows, you can add up to 19 if/then branch levels. When you attempt to add more than 10 if/then branches, a warning message will appear, advising you to streamline your workflow by enrolling contacts into another workflow. Also, you may see degraded performance when you have more than 19 branch levels in company, deal, quote, and ticket-based workflows.