With blockchain and cryptocurrencies firmly in the public-eye there's never been a better time to take your FinTech product or service ICO live. You've put in the work to develop your product but might not know how to build your user base, find investors, and explain your complex product to the masses. The best way to bring your idea to the people is with Inbound Marketing. Leveraging this form of online marketing for FinTech companies allows you to turn complete strangers into loyal users, customers, and even evangelists.
Inbound FinTech Marketing is a vast process, but there are a few things you can implement today to help you kill it in 2018. Let's take a look at where you can start:
Using the Buyer's Journey
One of the main foundations of inbound FinTech marketing is marketing to people who are already searching for a service, or idea, or solution instead of cold-marketing to a wide range of people not looking for anything in particular. The difference between traditional marketing and inbound marketing is the difference between casting a wide net, unsure of what you're hoping to catch and having to throw back a lot of things, and casting a smaller targeted net where you truly understand the behaviors and ideals of those you're looking to convert into users, customers, investors, and partners.
Inbound FinTech marketing can still reach an incredible number of people, but by taking advantage of the buyer's journey (see below) you can make sure the people who see and interact with your content are highly likely to engage and share it further. In the buyer's journey we focus on awareness, consideration, and decision stages knowing that you want to interact with a potential investor, buyer, or user at all three stages: when they're searching for the solution to a challenge or problem (attract), when they are identifying the way to solve their problem (consideration), and when they're selecting a product to do it for them (decision).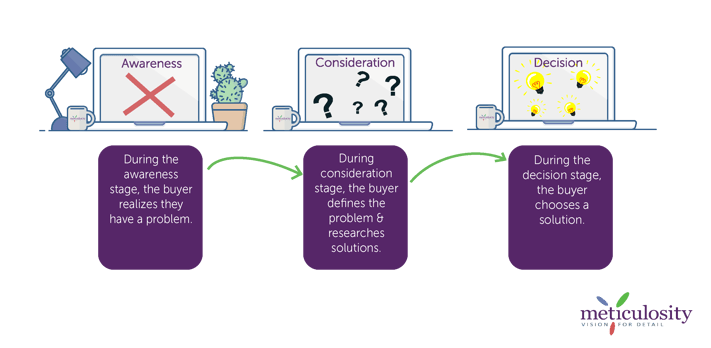 If you make sure all of your content is tailored to these three stages – for example during the awareness stage you might craft content that discusses the various challenges or current state of an industry – you'll quickly find your conversion rates sky-rocketing as you attract qualified leads. Too often brands intuitively start with focusing their efforts on the decision stage of the buyer's journey. Having content that focuses on this stage is great but by ignoring the first two stages of the buyer's journey you're missing out on a serious amount of qualified leads.
Actionable points to do today:
Make sure all of the content you create – blog posts, social posts, videos, and so on – align with one of the three stages within the buyer's journey.
Identify and understand how your product or service solves a challenge or problem for your audience, investors, and users.
Reflecting on Social
Social media is a huge component of inbound marketing. Given that the average millennial spends over 5 hours a day on Facebook alone, presence on social media isn't just something for your FinTech company to consider – it's essential. Focus on building your reputation as a trusted and genuine content provider on social. Shortcuts lead to shortfalls on social, so the only way to properly growth hack your accounts in 2018 is to be real. Offering educational content to your audience can increase conversions significantly (to users or investors).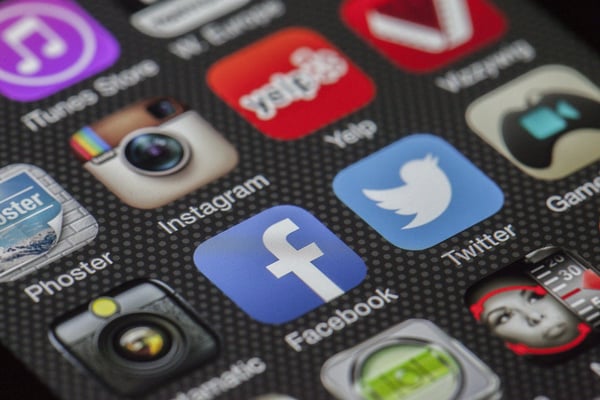 This year, social video is more important than ever as native videos tend to generate up to 1200% more shares than text and images combined.
Actionable points to do today:
Create engaging videos for your FinTech product or service that explain blockchain marketing in a compelling way.
Identify the channel that's right for you when it comes to social; a lot of ICOs use Telegram (not surprising given Telegram's future ICO plans) so don't forget to consider where you want to talk with your audience as well as where you wish to attract them from. Some social networks have advantages beyond the audiences on them – the likes of google plus is great for search engine optimization – so consider the wider impact of your accounts when reviewing.
Get on Search Engine Optimization
Inbound marketing is all about attracting users, investors, and audiences searching for something (even if they don't rightly know what that thing actually is – sometimes it's your job to tell them it's your product or service). One of the major ways to do this is through search engine optimization.
We're all waiting to see which blockchain decentralized internet takes off, our favorite is Blockstack right now, but until the day when the majority of people are committed to any one given blockchain product for now you're going to need to target people using search engines like Google and Bing the ordinary way. In 2017, Google accounted for over 79% of all global desktop search traffic, followed by Bing at 7.27%, Baidu at 6.55% and Yahoo at 5.06%.Search engine optimization works.
Actionable points to do today:
Do some keyword research on your product. What are people searching for? Where are you ranking on search engines? You can use products like Raven or even something free like SERPS to check this. Knowing where you rank is only half of the equation. From this, you'll need to create an actionable plan to improve your rankings that involves content creation, and various on-site SEO refinements (things as small as the alt-tags on your images can make all the difference).
Be mobile. This year, whether or not you have accelerated mobile pages (AMP) for your site will influence your rankings.
Understand how voice search is changing the SEO landscape. Voice searches through Google, Siri, and Alexa continue to increase year on year, so conversational keyword phrases are a key component of SEO in 2018.
Partnering with An Agency
Even taking a look at these small areas and reviewing your efforts, you'll quickly find there's a great deal you can do to improve your blockchain and FinTech marketing prowess this year. The more you do in blockchain marketing, the more qualified leads you'll gain. It's as simple as that.
Finding the amount of work that you need to do on this overwhelming? That's okay. Partnering with a FinTech marketing fgency can free you up to focus on your blockchain product or service knowing that you have an expert team working on your marketing processes.
At Meticulosity we're one of the few agencies in the world with a focus on Inbound marketing for blockchain and FinTech – or what we call "Blocketing." From PPC management to search engine optimization; from content planning to dedicated social media advertising; our proven processes suit the innovative nature of FinTech and blockchain technologies.
What makes us special is our extensive experience in taking complex ideas and communicating them in engaging and compelling ways through inbound marketing. Our global team is dedicated to providing qualified leads and increasing conversion for our clients. We're not just tech savvy, we're FinTech savvy. You can call us today for a free FinTech consultation.