As a HubSpot user you know know that your contact database is a goldmine of sales opportunity. Having lots of segmented lists, custom workflows, lead scoring and full contact records can help you be an agile marketer ready to deliver custom content for the right contacts at the right time. But sometimes we can get a little greedy with our contact list and keep people on it much longer than we need to.
Here are four reasons why you should delete your HubSpot contacts:
Why You Should Delete HubSpot Contacts
1. Your poor quality contacts can cost you. HubSpot charges you based on the number of contacts that you have (at certain thresholds). Keeping a long list of bouncing emails is going to cost you $$ in your monthly fees. Plus, once you hit a billing threshold you're unlikely to get it reduced. Prune that list regularly to make sure that you're not paying for bloat.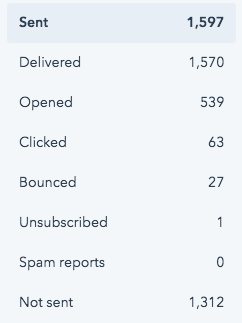 2. You're not delivering emails to them anyway. HubSpot isn't sending your emails to people who have bounced or who have low engagement, so you might as well take these people out of your database if you're not contacting them for any other means other than your marketing emails.
3. Reduced deliverability to all contacts. Trying to send mass emails to contacts that don't even exist sounds like something only a fool would do. A fool or a spammer. If you're engaging in this activity you're likely to spark some interest from spam filters and might inadvertently get more of your messages filtered out.
4. Better contact management. We've seen accounts nearing 100,000 contacts where only about 25-50% of them are actually good leads. For the people responsible for managing these contacts, it's completely overwhelming. Sometimes just finding and merging duplicate contacts can go a long way in cleaning up your database.
Quality Over Quantity
It's hard to delete old contacts but leaving yourself with a list of quality contacts is going to be much more valuable in the long run. Trust me.