Google is ever evolving and their search results page (SERP) has grown beyond merely the top 10 organic search listings.
You may have noticed the landscape of the results page showing all kinds of extra content like lists, answer boxes and now Google Featured Snippets which has become the holy grail of SERP features.
When planning your SEO Strategy you should always strive to get featured AKA "Position 0 (zero)".
What are Featured Snippets?
Featured snippets are search results specially promoted by Google to the top of organic results page. Featured snippets are a way to give the search user quick answers without having to click through a result. Getting a featured spot means greater search visibility your brand.
Check your Featured Snippets & find critical SEO issues affecting your site's indexability.

We're scanning your website right now & we'll email your report shortly.
You can audit another site
Snippet History
Are you having a difficult time building traffic from search engines? Even with a good SEO structure and PPC advertising, you may not capture as much traffic as you could with featured snippets. This Google feature gives your website some prime real estate at the top of the search engine results page for relevant keywords, particularly when your brand is searched.
This feature became popular in 2017, and it continues to elude businesses due to the formatting requirements. If you want to be featured at the top of a Google results page, then you have to structure your content a certain way and be the best answer to the search query.
So how do you get featured and why are featured snippets important for your website? Here is our complete guide.
How Do Featured Snippets Drive Traffic?
Google introduced snippets as a way to preview the top answers above the first result. Marketers try their hardest to earn one of these since it places your content in "position zero," or the highest spot on a results page.
These results are selected by Google and typically have a photo, text, and links that go directly to your website. Snippets are also referred to as "answer boxes" by some search engine marketers.
This is because Google snippets try to answer the most searched questions on a particular topic. When your website is featured, it's more likely that you will get clicks and traffic organically.
One report showed that the click-through rate (CTR) of a featured snippet increased to eight percent. This increases revenue from organic traffic by 677 percent as well.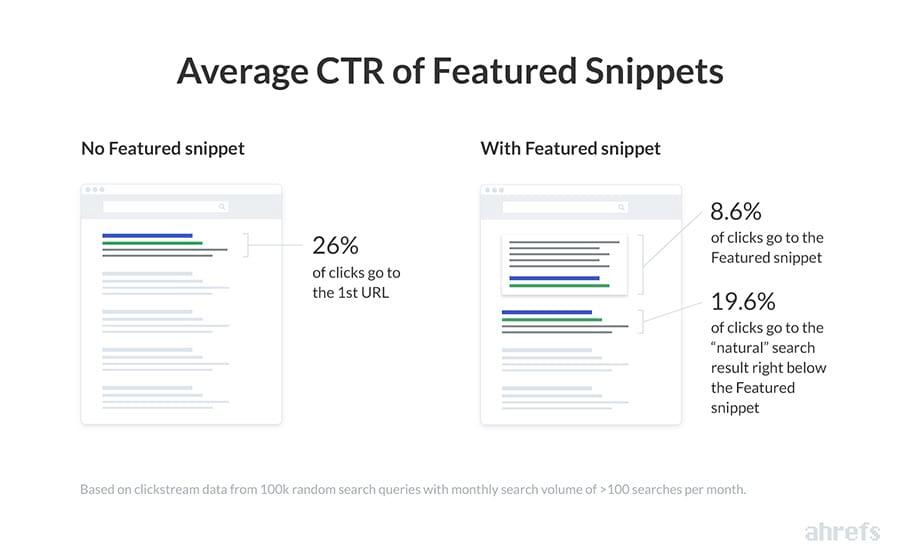 Examples of Snippets Include:
There are three main types of snippets currently. These include the following:
Paragraph answer, which is typically text in a box with an image and link attached.
List from your website
Table of information
See this figure below for an example of a paragraph featured snippet with an image: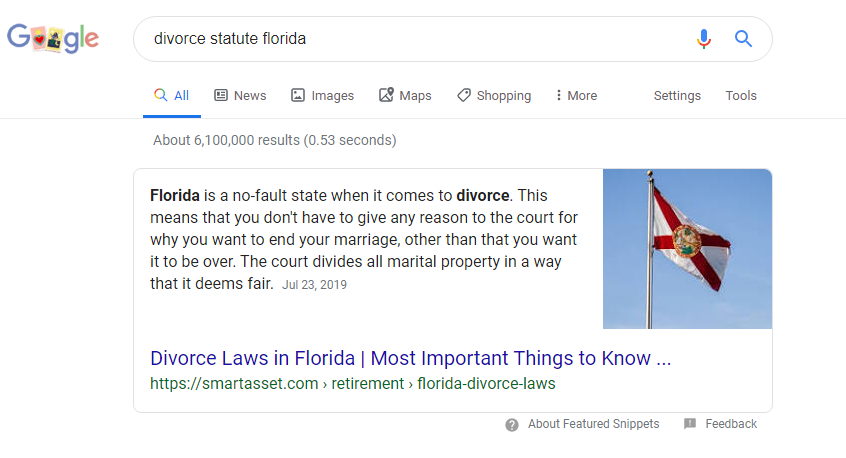 Do All Websites Get Snippets on Google?
The truth is that if your website is already ranking highly for certain keywords, it has a better chance of earning a featured snippet. One study found that 99.6 percent of snippets ranked in the 10 results in Google for the related search queries.
However, another report found that 70 percent of snippets were not ranked highly. Rather, they had structured information and were ranked at least in the top 10. This means that you do not have to right within the top three results to earn a featured snippet.
Wikipedia receives the most snippets. This is mainly because of the site's informational nature. It's viewed as an authority and resource for all kinds of information.
There are website categories that are featured more often than others. These include:
DIY tips and tutorials
Healthcare information
Financial guides
Laws and legal problems
Requirements
Status
Transitional information
Ahrefs also reviewed the most common words that triggered snippets. See this figure below for more information: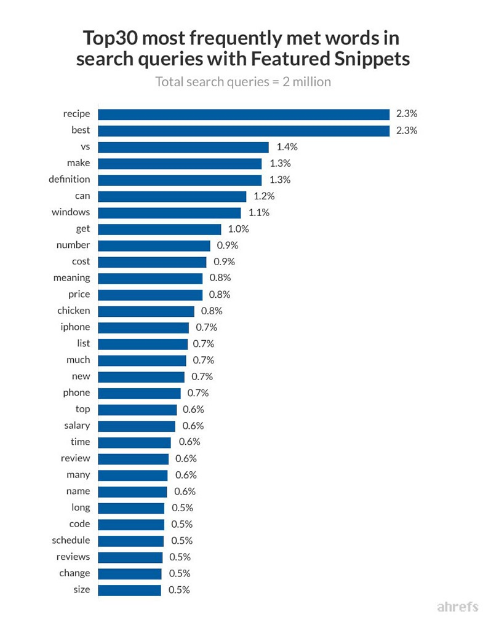 Basically, if you have a niche website that answers a popular question, you are likely to receive a featured snippet if you are already in the top 10 results. Most businesses will need to update their content to include information needed to build a snippet according to Google standards.
How Can You Earn a Featured Snippet
Most studies by marketers find that snippets show up when long-tail keywords are searched. In fact, with more words in the query, the likely you will get a featured snippet if you match the keyphrase accurately.
Question-type queries linked to informational intent are the best to optimize for as these trigger snippets more than other queries. You may want to use a keyword research tool that also shows if a featured snippet will be triggered. Tools like Serpstat show you a number of keywords that will trigger a featured snippet.
Here are some steps to take if you want to be featured:
Create Keyword Buckets to Rank for
Do you know what keywords are most popular for your brand? Do you have a list of long-tail keywords that you want to rank for? You have to analyze your keyword opportunities first before you can strategize your content. The right tools such as Ahrefs Site Explorer can help you search for long-tail keywords to target and feature in your content.
You should also google keywords and questions to see what triggers a featured snippet. Maybe there are some questions you can search on Instagram, Facebook, or Twitter to see how you can build more content around these questions.
Maximize Your Domain Authority
If you do not already have a blog, you should set one up immediately. This helps you publish content for your readers as well as rank higher for certain SEO topics. Your blog offers an amazing platform to answer questions as well, which can help you rank higher in SERPs and trigger a snippet with the right phrase.
Beat Out Your Competition with SEO
Your competitors may be featured higher in rankings, but that doesn't matter if you show up first with a featured snippet. You should strategize your content to show new and relevant topics. You may want to add new long-tail keyword content to your website to earn more traffic.
Structure Your Content to Target Snippets
You know that there are three main types of Google snippets. These include structured content that includes paragraphs, tables of data, images, lists, and how-to steps.
Most of the time snippets are answering long-tail keyword questions. When you create your content pages, you should create structured content with titles, subheads, bulleted lists, and images.
Use FAQs and Q&A Content to Target Long-Tail Keywords
The best way to answer long-tail keyword questions is through a frequently asked questions page or a question and answer format. You may want to look up brand mentions, Twitter content, or talk to your customer service team for what questions to feature on your site.
Marketers suggest creating a dedicated page for some questions, but if all of your FAQs relate to one topic, you can also group them on one page.
Use Schema Markup
You can make it easier for Google to understand your content by using schema markup or structured on-page SEO. You can use this guide to structured snippets to format your content. This may give you a better chance to get featured in Google.
How to be the Best Answer
When you answer questions directly, you should use concise, clear answers. Google prefers when content is less than one paragraph and can be featured directly in the snippet. One study found that the average length of a snippet is 45 words.
This doesn't mean that the entire page should just be 45 words long, but your answers underneath the questions should have a short paragraph to start that sums up the answer. You can think of this as a snippet formatting style, and it includes:
Asking the question directly in the messaging.
Provide the answer right beneath the question in short 45-word answer.
Elaborate on the answer below that if a longer explanation is necessary.
Many marketers have found that adding questions to your SEO pages generally increases page session times and click-through rates as well. You should use a combination of broad and specific questions to help your content rank higher.
One Page for All Similar Answers
You can create a page of content that answers several topics. Perhaps you have products that are all about fishing. You can answer "all beginner fishing questions" on one page, or you can dedicate a page to questions all about fishing reels. The topics are up to you, but this strategy has helped many businesses build their SEO and earn a snippet in Google.
Do You Already Have Snippets for Certain Keywords?
You may want to try different tools or search your most popular keywords to see if you are already being featured. Do you like the image? Is the text saying what you want in the snippet? You can optimize this content so that your best messaging and images show up for the right keywords.
How Do You Get Video Snippets?
For certain questions and tutorials, you can rank in the highest visible spot if you have a video on YouTube.
Google tends to show these videos when they are highly relevant to the searched term, but you must have a considerable amount of views or be highly relevant to the question asked. Some questions may even be answered by the description in the video, but only the featured image will show up in the snippet.
You have to make sure that your featured images and headlines are highly relevant to the search.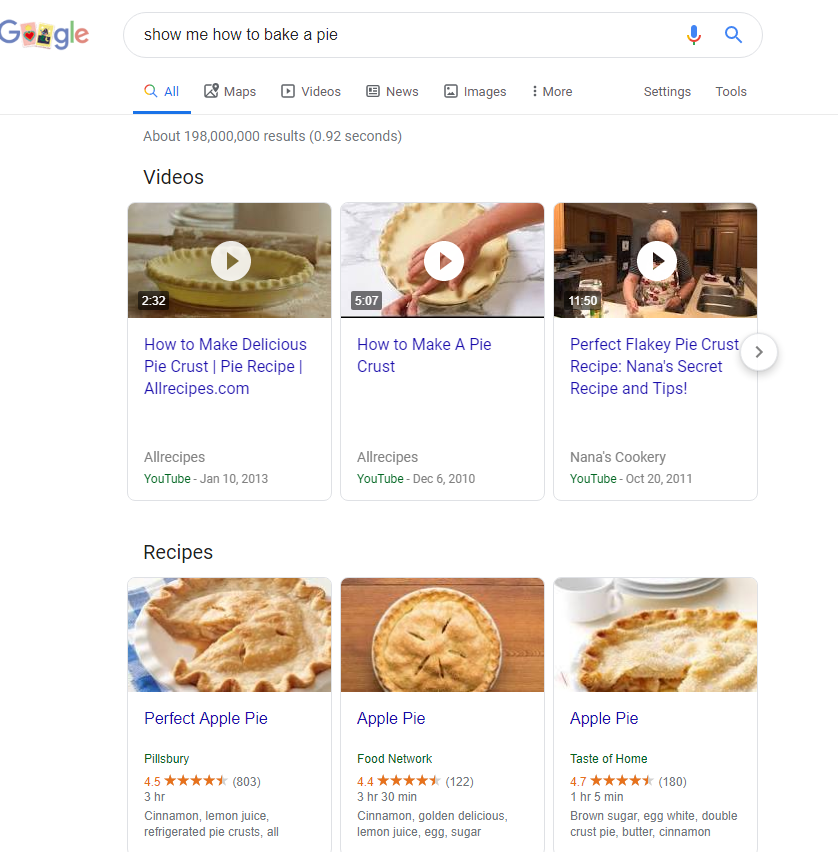 Do Reviews Help You Get Featured?
If you are receiving reviews on Google and you have a four-star or higher rating, then you are more likely to be featured. Your rating and reviews will show up underneath your URL in the search result snippet.
Do Some User Research
Do you know what your customers are searching? How are they finding your content or similar pages? You may want to take a poll, talk to your customer service team, or ask your followers directly.
It's also important to talk to people about voice search and how they are asking Alexa or Google Home to find products. You may be missing out on some questions that could help you bring in more traffic.
Wrapping Up with Snippets
While it may take a few weeks to rank higher in Google, you can still earn snippets by posting your content frequently and getting traffic from social media. As you build more links and shares, Google will recognize your content as an authority and boost it up to a snippet if it answers more questions.
If you haven't already done so, you should conduct a content audit of your site to see where you can add long-tail keywords and questions if you want to rank higher for snippets.