Google Search Ads remarketing is a marketing strategy that targets users who have previously visited your website or engaged with your brand. It works by placing targeted ads on Google's search engine results pages to remind these users about your products or services and encourage them to return and convert.
Increase Sales and Conversions Through Remarketing with Google Ads
Remarketing Lists For Search Ads (RLSA)
Let's be honest, advertising with Google Ads can be an extremely daunting experience. Especially when you're first starting up and you don't know much about the ad formats, keywords and the many nuances about PPC marketing. And I'm saying PPC marketing, not advertising for a reason. While running a basic search ad campaign seems to be a fast and straightforward method to get your company known, there is a secondary PPC strategy that matters even more, but is often overlooked by marketers. I'm talking about a Remarketing strategy (see the word marketing in it?).
There is nothing better and more cost-effective than a properly configured Remarketing ad campaign that only serves ads to a very narrow but extremely targeted group of people who have already shown interest in your products and services. We're talking about your previous website visitors (drum roll) who clicked your ads recently. We believe this audience deserves a lot more attention because:
Whoever clicked on your Google ad will almost certainly keep searching for other similar topics online, checking out your competitors' ads. Wouldn't it be great if you could capture this audience and be the first to offer your product or service when they search for it next time?
It actually costs much less to raise your bids for this more targeted audience, than it does to try and keep multiple bids lower for other broader general audiences.
So, in this blog, we want to share with you a great way to utilize the Google Ad platform as your ultimate digital marketing vehicle that uses remarketing to serve more ads only to the most targeted segments of your website visitors.
Step 1: Setting Up Remarketing Lists For Search Ads (RLSA)
Before we attempt to setup any type of remarketing ads, we need to do the following:
Install the Google Remarketing Tag on every page of the website. This will allow us to break down website visitors into segments later on.
Create a dedicated landing page just for paid search traffic. This way, we'll be able to track only traffic that Google Ads brings while keeping other organic traffic apart.
Create a new audience in the Google Ads Audience Manager, call it All Google Ads Traffic and assign the URL of the landing page you've just created for paid search traffic.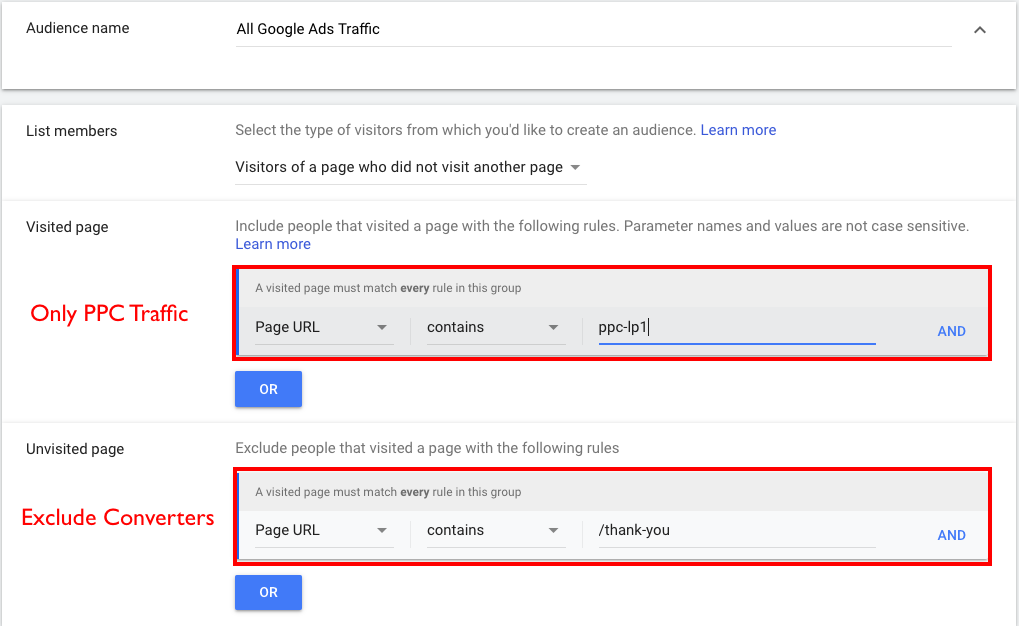 Step 2: Creating an RLSA Ad Campaign
Now, our website is ready to receive paid traffic, so it's time to create our first RLSA ad campaign.
Here's how it's done:
Create a new search ad campaign as usual: compile a keyword list, create relevant ad groups, adjust campaign settings etc.
In the "Audience" section of your ad campaign you will find 2 different targeting options: Observation and Targeting. Select "Targeting" in order to enable the very narrow audience segment to see your ads, then select "Browse" and then look up the audience you created in step 1 called "All Google Ads Traffic"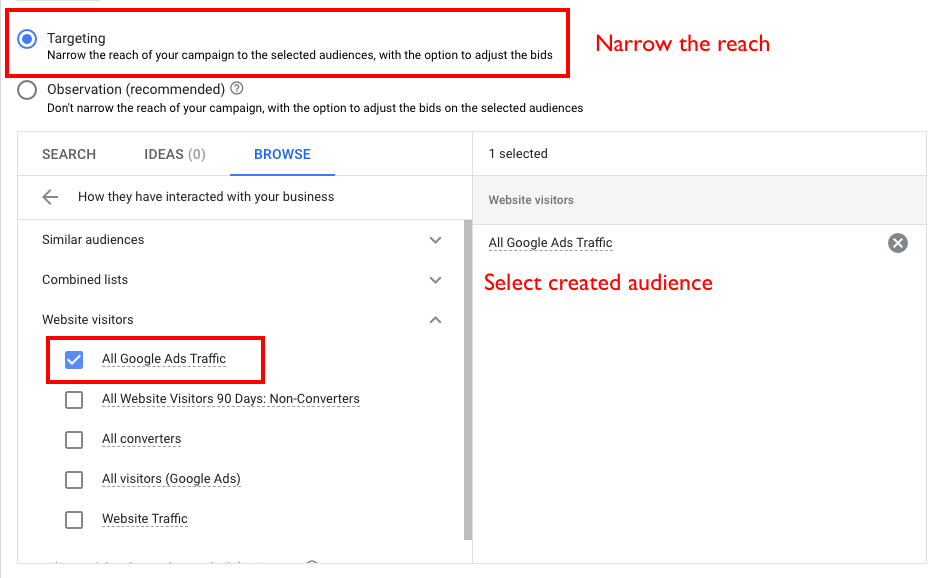 We are almost done with the ad campaign setup. Now the search ads will only be visible to paid Google Search website visitors. But there is one more step to complete.
Step 3: Increasing Keyword Bids
This step is very important because for this very targeted audience segment, we actually want to outrank any competitor that is using the same keywords.
Locate the Manual CPC option in the ad campaign settings and raise the bids.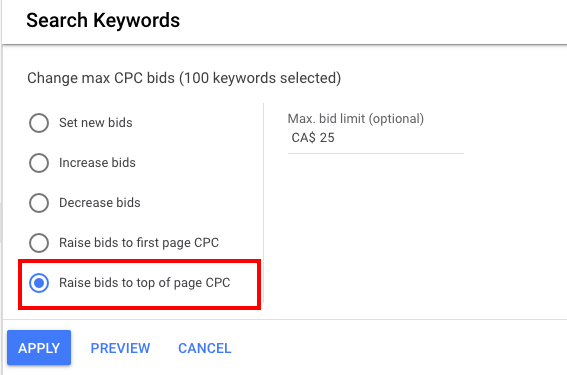 So now instead of just narrowing our targeting method, we're also hijacking all the search traffic by raising our bids as high as $25 per click and above (depending on the industry's highest CPC). We are aiming to be at the very top of the page because the whole point of this ad campaign is to be constantly present in the top search results, outranking your competitors no matter how big and influential they may be.
We also recommend expanding the keywords and even removing a keyword matching type, keeping the keywords as broad as possible. This only makes sense when running RLSA ad campaigns because your targeting is limited to your website audience, so you won't drain your ad budget by doing that.
Ideally, you need to start running regular search ads first to allow the Google Ads Tag to accumulate more data (1,000+ web site visits), however, when you know you're ready to step up your PPC game, that's when Remarketing Lists for Search Ads come in very handy.
Would you like to learn more about our meticulous way of building PPC ad campaigns? We're here to help you. Book a free 30-minute consultation with me, our PPC expert and learn how you can increase your conversion rates and sales today.