As a result of the current pandemic, many businesses have started to really appreciate the importance of social media and digital marketing. By increasing your presence and visibility online, you can give your business the opportunity to reach a whole new audience that you could not have reached with traditional marketing.
Instagram is one of the biggest social media platforms, gathering over 1 billion monthly users, and is a fantastic place for brands to interact with the Instagram community and develop a brand new customer database. So what is the secret to effectively marketing your brand on Instagram and converting your followers into loyal customers?
1. Optimize Your Instagram Profile
One of the most important, yet most neglected steps on Instagram is profile optimization. It's important to think of your Instagram account as your business card. Ensure your business stands out from the crowd and answer all the inquiries your future customers and followers may have.
The first step should be to register as a business account on Instagram. This will allow you to access valuable analytics and data which will be useful in creating a great content strategy and converting your followers.
Next, add your website or offer link. This will appear in your bio and will direct customers to your website or to the offer you are currently promoting (make sure the link is working properly).
Now the most important: your bio! Be sure to write an interesting bio and keep it simple and easy to read, using line breaks, punctuation, emojis and capital letters. Create a hierarchy in your bio. Instagrammers visiting your profile need to understand what your business is about, what service you provide or what product you sell, how you might help them and whether there is any extra information they should be aware of.
A good bio on Instagram is proven to convert 15% of new visitors into followers and customers. Definitely not to be neglected!!!
2. Polish Your Branding
Instagram, as you probably know, is a visual social media platform. This is why it is essential to work on your business branding. With numerous visuals shown to your potential customers everyday, it's important to stand out from the crowd and ensure that they can easily recognize your brand at a glance.
Besides branding, you will also need to focus on the cohesion of your pictures and the overall look of your feed in order to make it visually appealing. A strong feed is proven to encourage people to follow you, and naturally, more followers means more potential customers!
3. Build A Content Strategy
Putting together a content strategy on Instagram is essential if you want to market your business on this platform or in fact, on any other online platform. Your content should be designed and planned around your upcoming offers, launches, events, and news, and should drive your audience in the direction you want them to go.
The aim of a content strategy is to build a strong base of followers who will not only follow you, but will also engage with your brand and your content, re-share it and spread the word for you. This is extremely valuable, as it is possibly the cheapest form of marketing you will ever access. It also greatly increases your business' credibility.
If you don't have the resources to create the content strategy yourself, I would strongly recommend that you ask a third party or an expert to do it for you!
4. Target The Right Audience
Putting together a content strategy and targeting the right audience is essential. Many brands focus on their number of followers rather than their target audience, but just because someone follows you, doesn't mean they are necessarily interested in your offer. However, if you focus on your target audience and have the right strategy in place to lead them to your profile, you are much more likely to increase your sales!
There are several ways to target your audience - by choosing the right hashtag strategy for example, or following your competitors. It also helps to communicate with your ideal clients to understand what type of content, products and services they would like to see more of.
5. Create A Sense Of Community
Converting your followers into customers on Instagram is pretty simple: you need to create a community! You need to start caring about your followers and engaging with them. Make them part of your business process, ask their opinion, message them, and reply to their comments. The more you engage with your followers on Instagram, the more they will feel a connection with your brand and will in turn start supporting your business.
This is also a great way to understand what these potential customers really want. They can tell you their preference between two products, services or offers; they can express their opinions on a launch or an event; or just support you by engaging with your posts and buying your products.
6. Track The Results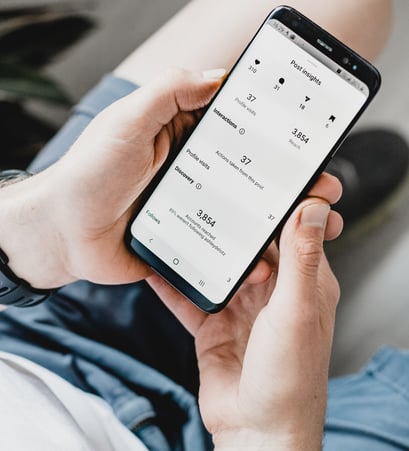 If you are planning to scale and grow your brand through Instagram, you absolutely must track your results. By doing so, you will understand which type of content your followers like the most, what kind of offers they respond to and the types of campaigns that bring you the most visibility.
Knowing these results will not only help you monitor your Instagram growth, but will also help you to shape your future offers and plan your business strategy. Social media is such a great way to understand and stay in touch with loyal customers that it would be a shame to not to take advantage of it!
Remember, Instagram communicates a lot about your business values and brand identity. Understanding the importance of social media and its impact on your business will allow you to gain visibility and also achieve greater success.
Instagram has an amazing selection of tools for businesses to connect with an exclusive audience, so don't miss out - start marketing your business on Instagram.