A lot of organizations use headless applications these days and many people are wanting to know whether or not HubSpot can be a headless CMS. Today we're going to look at what "headless" means, why you would want to use it, whether or not HubSpot can do it, and what the benefits are of using HubSpot as a headless CMS.
What is Headless?
"Headless" is a really big buzzword right now, but why is that? What is headless and who needs it? First of all, most people are in luck and they don't need to go down that very complex road. But enterprise organizations that have a lot of multiple systems with really complex requirements will need to use headless in order to accomplish their many different goals with different software in a more cohesive manner.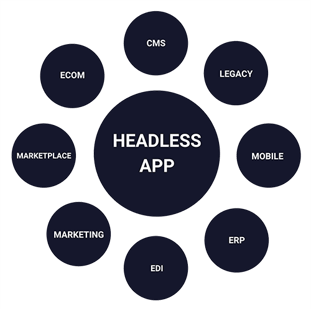 Of course there are many different ways to use headless apps and meet a lot of different needs, but one example could be of a website where you need to be able to offer an experience that you control the design of and every aspect of the UX. Maybe you also need that website to interact with a CRM, with an e-commerce system, with a personalization system and some legacy thing in a warehouse somewhere. And you have to have a website that can talk to all those things while you can also own the experience. That's what a headless application or headless website is: you build a framework on the outer layer and you custom program to talk to all the different tools that you use. In the context of HubSpot, you may want to do next-level marketing automation, and want to have a CRM, a CMS that's simple for your marketing team to use, but you have to integrate with this complex e-commerce thing and a HIPAA thing.


HubSpot as a Headless CMS
Up until recently, we haven't been able to use HubSpot as a headless CMS. Fortunately, HubSpot is now catering to enterprise needs. Although it's not necessarily headless in the traditional sense of that of an open source app, you are able to interact with every single aspect of HubSpot from the data side through the API, the content on your pages, social tools, blog tools, the CRM deals, and all kinds of custom objects. HubSpot still does the things that you would need it to in almost every single instance, except potentially for really complex enterprise file system requirements or data handling. HubSpot might not be perfect, but in almost every sense, you can get it to do what you want. So the good news is, while you might not call it a headless app, HubSpot's CMS and everything that's outward-facing from their product can be used through an API in a headless application.
The benefits of HubSpot as a headless CMS, or just as a headless marketing and sales platform, is that you get to play nice with all of your other systems, rather than having it as an island. It can really integrate and work with legacy stuff with other sales or marketing tools or big data. It can do it all now, which really allows you to have your team be able to use the next generation or best practice marketing platform and automation platform and work within all of their awesome tools, but at the same time, being able to meet all of the other needs that you have.