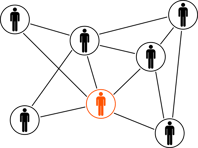 With a latest Magento release, Magento 2.2 delivers exciting new capabilities and provides opportunities for ecommerce companies to grow. With enhanced security features and improved Business to business (B2B) functionality, Magento 2.2 promises to become an indispensable tool for entrepreneurs who want to save time, reduce costs and succeed in the B2B ecommerce sector.
Following are the highlights of the key features and improvements that come with Magento 2.2.
Improved Built-in B2B Functionality
Magento has long claimed its crown in ecommerce development, and now with the release of version 2.2, its position will solidify even further. If your company is targeting the B2B marketplace, here are the major benefits of Magento 2.2:
Independent account management allows corporate buyers to manage their own accounts. This helps companies reduce costs, easily view and manage all their quotes, as well as having the ability to assign their buyers to specific roles.
Magento 2.2 allows B2B customers and merchants request and monitor quotes until they are finalized. This will help in building customer relations and buyer relationships in the future.
There are many options of payment, and for the credit option specifically, Magento 2.2 allows merchants to set different credit limits for different companies and adjust the options as per their convenience.
It provides the ability to easily create company specific product pricing and catalogues, and
Merchants can configure, manage and monitor the credit purchasing conditions for their B2B customers.
Fast, Friction-Free Purchasing
With quick order forms, requisition lists, and easy reordering, Magento 2.2 promotes fast and friction-free purchasing. Merchants can now add multiple products to their cart with the Quick Order Extension and can search for products on the site with the help of Stock Keeping Units (SKUs) or a CVS import function. Also, requisition lists are now available (in addition to native wish lists) which allows customers to create lists of frequently purchased products for easy reordering. Merchants can set up as many lists as needed and assign lists to specific buyers.
Performance Improvements
Optimized performance and deployment processes minimizes production downtime. Compared to Magento's previous versions, 2.2 comes with many performance improvements including better optimization of the indexer, cart, and cache, allowing customers and developers to make the most out of them.
Magento 2.2 also offers a performance toolkit. From the performance toolkit, it's possible to visualize profiles by a vast range of variables. Merchants can either use predefined settings or create new presets from scratch.
Integrated Fraud Protection from Signifyd
One of the biggest challenges when running an online store is avoiding fraud. Magento now includes an option for direct integration with Signifyd, a fraud detection and prevention service. Apart from identifying and rejecting fraud attempts, Signifyd also offers 100% chargeback protection. This enables higher order acceptance rates with lower risk.
Social Extensions
The new version of Magento comes with a Magento Social extension. This extension creates a connection between your store and your companies' Facebook page allows integration of your product catalog with Facebook. Once the Magento Social Extension is integrated, shoppers who click on a product on Facebook will be redirected to the corresponding product page on your website.
Magento 2.2 includes a wealth of new, functional and time saving features that help ecommerce stores capitalize on opportunities and conduct businesses in both B2B and B2C engagements. To learn more about Magento 2.2 and its expanded features, you can watch their webinar or read about their useful extensions here.