Having your local business rank well on Google Maps & Google Local Search Results is absolutely essential to drive new new customers to your store instead of having them wander over to a competitor. Having NAP consistency (name, address, place consistency) is one of the most important things to rank better on Google Maps and get that foot traffic.
Google's Map Ranking Factors
There are many different factors that go into strong local listings on Google. Many of those items are the same things that you need to do to rank well in the regular web results: good descriptions, optimized categories, good links, and good authority. Your reviews may play a role in rankings as well, but that's a whole other blog post. One of the most important, easiest to manage factors, is making sure that you're using the same name, address and location in your listing that you have on the site and on other business listings. This helps reduce any ambiguity and helps solidify a stronger placement in Google Local Business Listings.
Building Trust with NAP Consistency
As a local business, you need your contact information on your website and it needs to be accurate to ensure a good client experience. Google's goal is to provide the best search results, and if the name, address or phone number on the business listing doesn't match what's on the website, how are they to know if maybe one of them has changed and just hasn't been updated on the other? Which one is correct? Or are these two separate businesses?
NAP Consistency & Call Tracking
We use call tracking for a lot of our clients; it's a great way to attribute leads that we otherwise wouldn't have known about. Our success as a marketing agency is largely judged on how many leads or sales we generate for a business and with Google moving to a zero-click search experience there is a solid chance that people searching for you don't ever even reach your site. No site visit or form submission = no analytics or lead generation data ☹️ Using a custom call tracking phone number in your online business listings can help fill in those lead attribution gaps.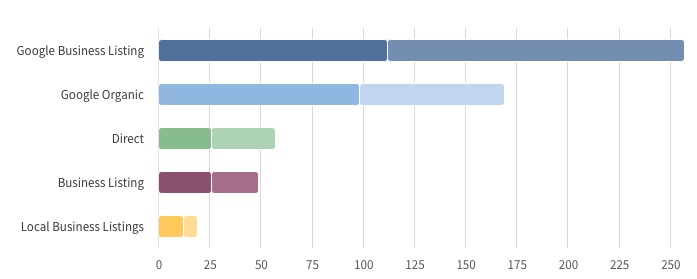 But using a different number on the site than you use in your Google My Business listing can sabotage your tracking efforts. Google will sometimes change the number on your listing and mess up your tracking entirely or they'll conclude that instead of showing people the wrong number, maybe they won't show your listing.
To prevent this, pop into your Google My Business listing and edit your phone number. When the edit window opens you'll see the option to have two phone numbers. Add in your tracking number as your primary and your regular number as your secondary. It's your way of saying, "Hey Google, I have two numbers."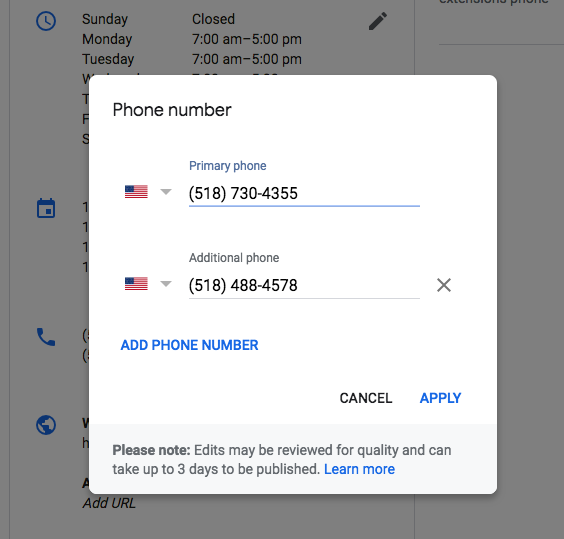 Don't Forget Social Media
Social media profiles can make a huge impact on your local search results. Making sure your NAP is consistent on social is important, too. For brands with multiple locations but one brand page, this has been a bit of an issue in the past. Which number do you use? Which address? And as people started checking in at locations you saw a proliferation of brand location pages that are not actually owned by the brand 😱 This of course leads to people tagging the wrong accounts, loads of duplicate places and pages and just a general decline into chaos (OK, that might be an exaggeration but it's still a PITA).
There's a few steps you can take here to manage those erroneous listings and make sure your audience is getting the right information. First, you'll want to find, claim and then merge or delete those listings. Then, you'll want to update the ones that are left with the correct information. These ones will often inherit the contact info of the main brand page and if you want great local rankings, you'll want that to change.
Your Local Business Linking Strategy
When you have one website with one contact page and one physical location, maintain NAP consistency isn't generally too hard. If you have several locations, with different phone numbers and different location pages on the site, then things become more tricky. One of the most overlooked things in these scenarios is how you choose to link your business listings to your site.
If you are a single brand with a single content page and a single service, most people clicking the website link in your listing will expect to go to the home page which is probably where you were sending them anyway.
But, if you're a multi-franchise company you'll need to change that strategy. Each of your business listings should have the custom localized information. In this case, each showroom would want to have their own phone number and address, and the website link shouldn't just hit the root domain of the corporate website, it should go directly to the landing page for that specific showroom. This helps the overall user experience and helps you pick up some of those localized keyword searches, too.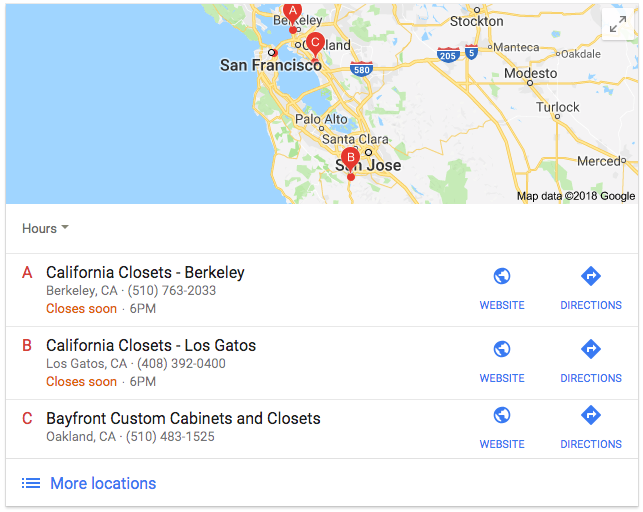 One Last, But Important, Tip
Even if you verify and own all of these business listings, the information in them may get changed when you don't expect it. Review all your business listings on a regular basis to avoid any nasty surprises such as your phone number no longer being accurate. Also do some vanity searches for your own brand name to uncover new listings that you might not have known about.
The fun/challenging thing about local business listings on search, social, directories and other channels is that they are always changing and there is no cookie cutter solution to any one. We've help hundreds of companies through their local business ranking issues and can help you through yours, too.