The Top 5 Mistakes in Paid Advertising (Part 1)
If you think your ad campaigns are underperforming and you don't know why, let us share with you these Top 5 common mistakes online marketers make when launching an ad campaign. These tips apply not only to Google Ads, but also to Facebook/Instagram ads, Microsoft ads (formerly Bing Ads) and many other ad networks. So, let's get started!
Mistake #5 Making False or Non Data Based Assumptions
Decisions that are not backed up by a solid understanding of marketing data won't stand the test of time. This is why so many advertising projects fail prematurely. The reason our team is tracking absolutely everything that is happening on a website is because we like to feel empowered by hard data prior to making any type of recommendations to our clients. Using Google Analytics is great, but digging even deeper by utilizing heat maps, CallRail, HubSpot CRM, Google Ad Manager, LinkedIn Ads Manager, Facebook Ads Manager and other reporting platforms is always the best. And keep in mind, there is no single data tracking tool that can tell you everything, but a 360 degree view of all related data analytics is what so many marketing teams are missing out on.
Mistake #4: Targeting segments that are too wide
Reaching out to an overly broad segment of the online audience means either one of 2 things:
You don't understand enough about your customers' online behaviour, buying journey or psychographics (aka Buyer Personas) etc.
The money you're spending is not your own, so why not have some fun with the ad budget?
When analyzing data, it really helps to read between the lines and ask yourself these questions:
Why am I seeing the results that I'm seeing?
How do I improve the ROI of my ad campaign as soon as possible before it spends too much, getting too little in return?
By asking these type of questions, it is possible to clarify who the key buyer personas may be. Are you seeing a great CTR rate for females in their 40s or a sudden drop in quality scores for certain keywords? All of these indicators mean only one thing: someone out there is trying to reach out to your brand, but you are losing sight of them amongst all the irrelevant noise you see when looking at your ads dashboard. So HELP your real target audience find you faster by optimizing your audience segments in a very precise and discriminating way. Remove that 90% of noise by excluding the people from your core target audience who don't want to see your ads anyway.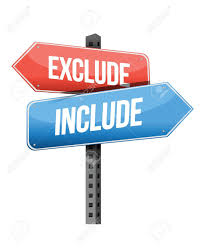 Mistake #3: Not using the "Exclude" option enough
Typically, a good online marketer always keeps an eye on the target audience, however, what separates a good marketer and a ninja marketer is the ability to understand what type of audience can drain the ad budget and make things worse. Let's say our client is a law firm that helps victims get compensation by signing a class action petition. Now, being good marketers, we are probably going to start by skilfully crafting ad copy that will not violate any of the numerous Facebook privacy policies. Then we would define the age and location of the potential clients (which comes from your buyer personas). And finally, we would try to focus on a specific area of interest that is commonly shared by many people who have experienced trauma in the past, like PTSD recovery groups, insurance claim topics, legal advice interest groups etc.
However, if we really want to crush it and increase the conversion rate, then we can also exclude some people who are not going to be targets for this campaign: students, practicing psychiatrists, other lawyers etc. For Google Ads campaigns, this means creating as many negative keywords as possible and filtering out some ad placements, audiences or even devices that may increase the ad spend but not conversions. And again, it is always best to have some data before excluding certain elements of your targeting from the ad campaign. So A/B test everything before jumping to any conclusions and watch your conversion rates skyrocket!
Mistake # 2: Thinking that having a very limited budget is OK
There is a common misbelief out there that if you spend more money on paid ads, then this will negatively impact your SEO, and you will end up being another pawn in Google's plan to charge local businesses millions of dollars. However, if we take a closer look, Google has nothing to do with how much money an advertiser has to spend every day for their ads to rank well. It's the competition that sets the tone for this CPC/CPM game. This is the reason why cost per click used to be much lower 10 years ago when there were fewer local businesses competing for the same keyword. In this day and age, when Google is the world's top search engine, spending less than $50 per day means being completely out of the game for some business niches. Simply look at your impression share and you will see how much of the market your ad campaigns are capturing. This may not be true for some very unique business niche areas, but in general, it is best to step into the world of paid ads having a decent budget allocated for this purpose. You can certainly test things on a limited budget, but to dominate your category bring deep pockets.
Mistake # 1: Treating Desktop and Mobile traffic equally
In 2020, when so many people are walking around with their smart phones in their hands, it should be illegal to consider desktop computers as nearly equal to smart phones. First of all, mobile phones are now more popular than desktop computers, but also it is much easier to segment traffic into multiple categories for mobile devices. For example, using Exclusion filters, we can completely eliminate traffic from older mobile phones, cell phone carriers, some game app placements OR we can totally control on which mobile app we want our ads to appear (the Kijiji app is a great marketplace and you can be there using Google Display ads). Another great feature of mobile devices is the location tracking, so if you really want to know where your target audience spends their time - targeting mobile traffic should be the first priority. By raising bids for some mobile devices (iPhones) while filtering out some others (Tablets) is a sure way to get your ad campaign on the right track.
Tune in next week for Part 2 where we will have another article with the next Top 5 Paid Advertising Mistakes.
Read more about PPC ad campaign optimization from Meticulosity PPC industry experts.