If you're not already on top of your Facebook holiday ad spend you're missing out on huge potential revenue. Although much of the planning for your Q4 advertising should have happened months ago it's not too late to jump in and start leveraging the power of Facebook and Instagram paid ads to reach more customers and increase conversions over the holidays.
Q4 matters when it comes to sales on social media. According to Facebook, 20% of shoppers start buying their gifts in October with 49% buying in November. Here's a look at what you can do today to kickstart conversions and make the most of seasonal interest in your ecommerce site or store.
Around 56% of US shoppers say they use their mobiles when shopping in-store, and most of these do so to compare prices and products, so hope isn't lost when your audiences hit the shops. Plan your ad spend right and you could see your sales skyrocket over the festive period.
For ecommerce sites, the biggest thing to be on top of right now is your holiday product catalog.Veterans to Facebook and Instagram ads should already know that this is going to be especially useful for dynamic shopping ads as well as Instagram shoppable ads and shoppable posts. Setting up a product catalog is relatively easy. Connect to your ecommerce platform of choice, and update those ads! Facebook can integrate with Shopify, WooCommerce, BigCommerce, Magento and Google can be used to set up your catalog quickly if you have too many products to do this manually. Once this is set up, roll out some well timed ads.
Interestingly, product catalogs have had some exciting updates recently ahead of the holidays:
Dynamic Ads and collections now have customizable overlays including holiday specific content, which is a great way to revamp those product ads.

Collections have been revamped. Advertisers can now highlight products by grouping them with labels like

"Suggested for You" or "Most Viewed."
Once you're all set with your product catalog, here our some recommendations for the months leading up to the festive season when it comes to your ad spend.
Recommended Ad Campaigns for October
Brand Awareness & Reach
Lookalike Audiences
Lead Ads
Brand awareness and reach campaigns are especially important in early October, moving into lead generation and conversions later in the month and into November. While 20% of shoppers on Facebook are actively seeking gifts right now, you can still use the first few days of your campaign to increase your reach, increase awareness of your brand, and test lookalike audiences.
Lookalike audiences are particularly useful if you're already using a Facebook pixel, or have a list of current customers. Facebook can generate an audience who are similar to your current customers in specific locations.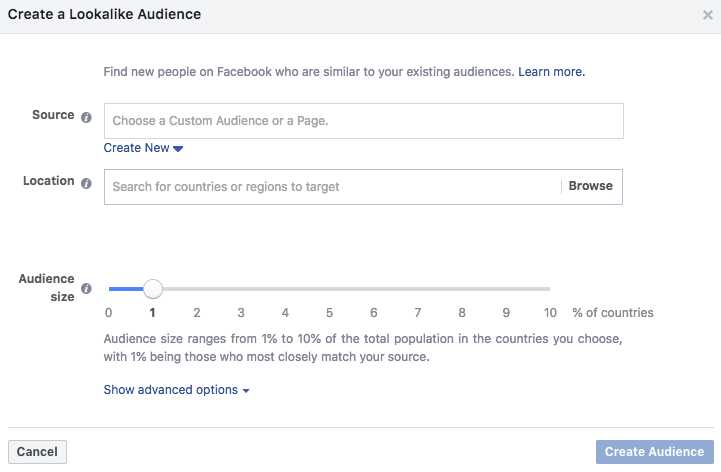 While you're running brand awareness campaigns, remember to run a few lead ad campaigns too — these are ads that lead directly to native forms people can fill out in Facebook — in order to build email lists for holiday promotions and gather interest in your upcoming offers or deals. Lead Ad forms are great because they're often pre-filled (Facebook already knows the lead's name and email address) and so they're more likely to convert.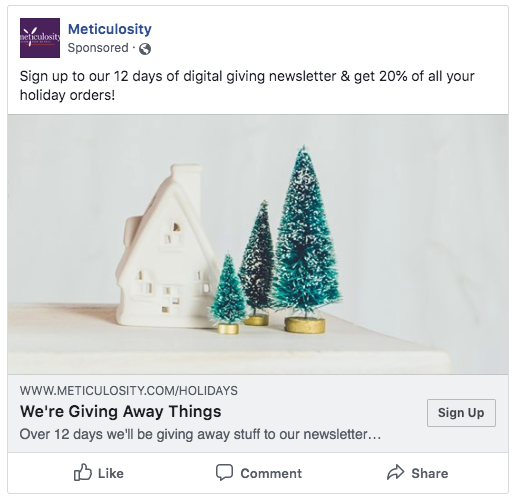 Lead ads are quite easy to set up in Facebook. Just select Lead Generation as a goal (under Consideration) when setting up a campaign and then create your ad. You will be required to make a form, and link to your website privacy policy, before you can make this campaign live.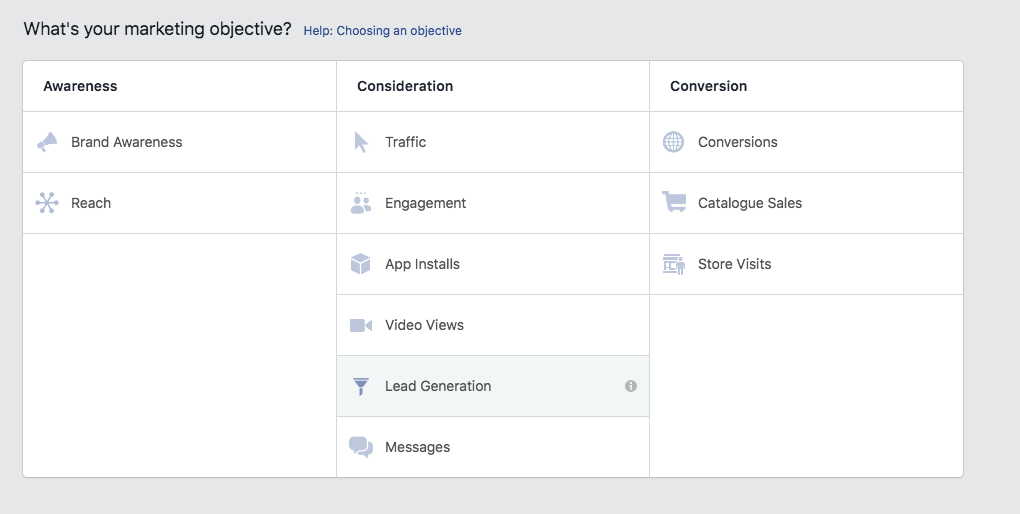 Remember: The maximum number of questions you can ask in a lead ad is 15, although we'd recommend asking as few as possible to maximize conversions at this point.
Recommended Ad Campaigns for November
Add Custom Audiences into the mix
Limited time offers focusing on conversions
Product catalogs
During late October into November you're going to want to ramp up your ecommerce campaigns to eleven. Alongside your lookalike audiences and core (demographic targeting) audiences remember to target past or existing customers.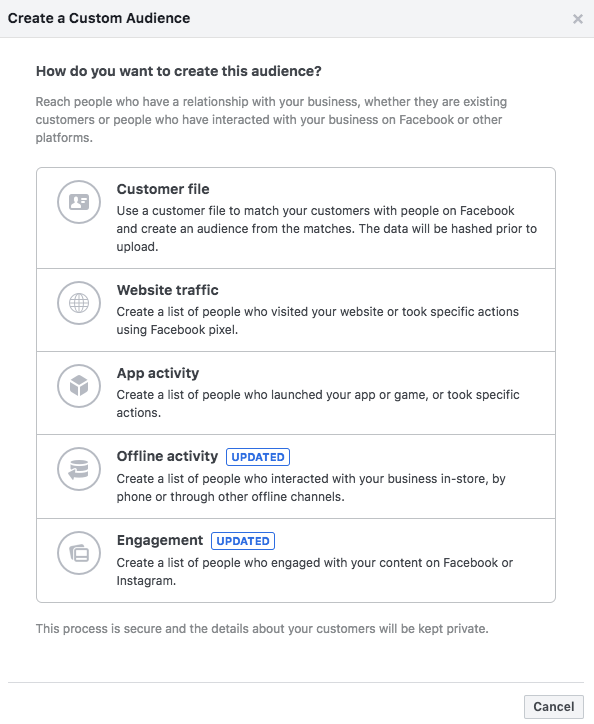 While you're going to want to go hard, try to avoid ad fatigue. This can be easily done by setting frequency caps on ads to make sure no one person is seeing an ad too much. If frequency caps are unavailable because of the chosen objective, you can easily set up alerts in Facebook that will either notify you or turn the ads off dependent on certain factors. Take a look below to see how this is done within the Ads Manager.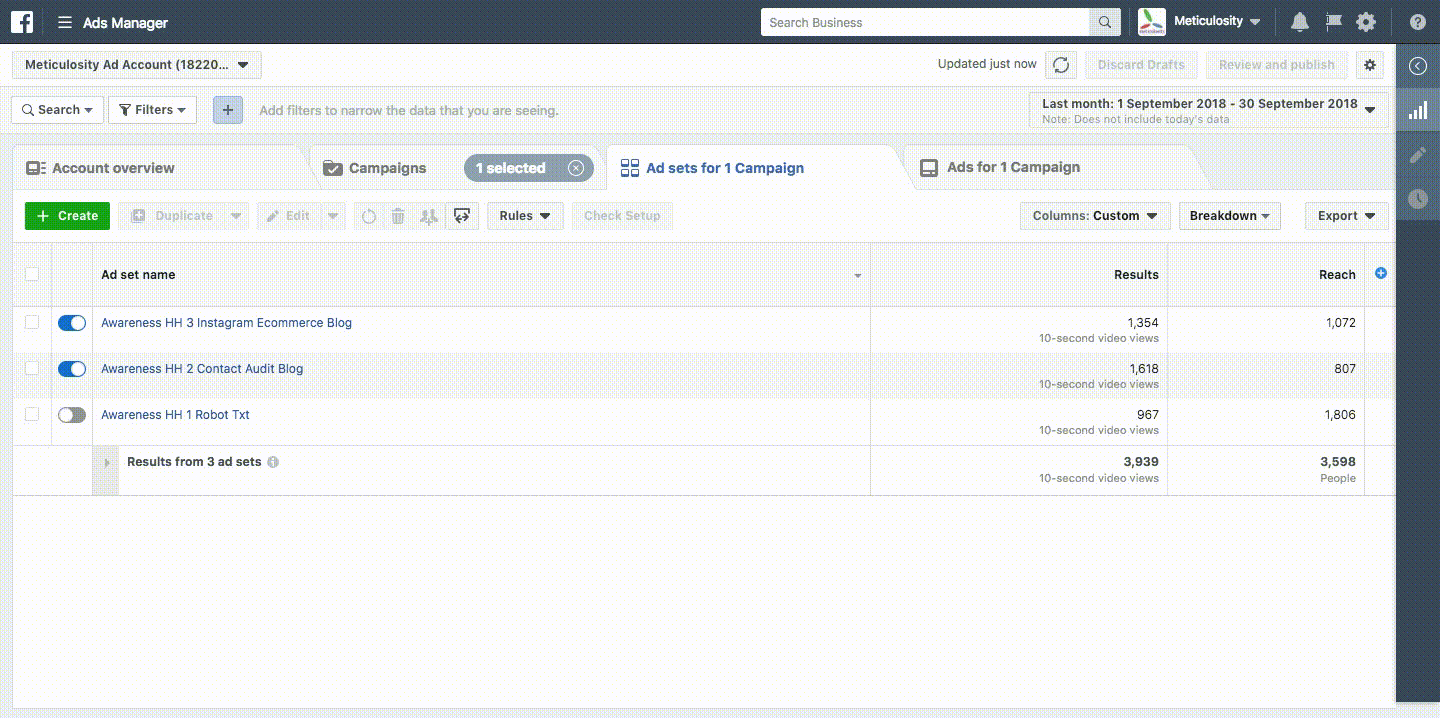 Limited time offers that focus on making sales are going to be especially effective at this point too. You can create online only, in-store only, and online & in-store offers. In-store offers can be promoted through the Store Visits objective in Campaigns if you have location pages, which are especially useful for those with multiple storefronts.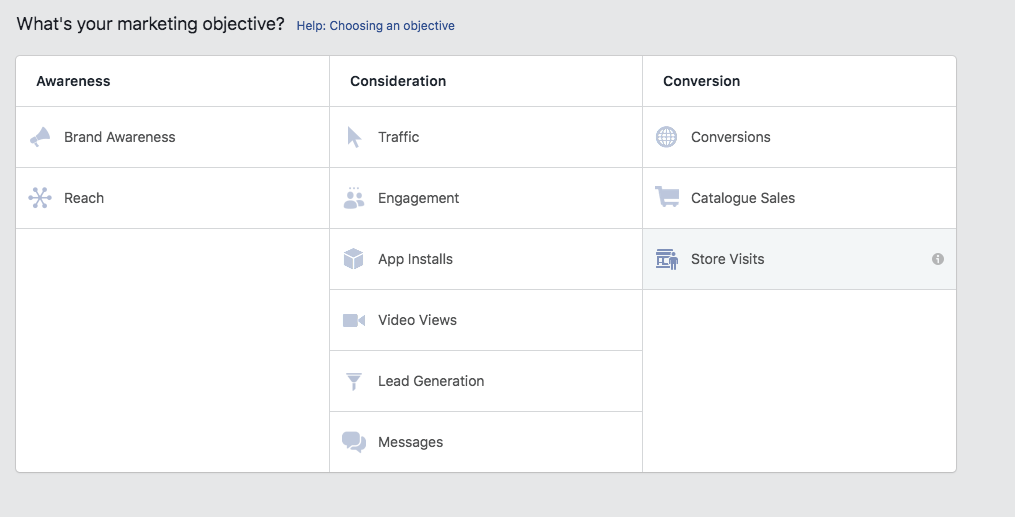 Recommended Ad Campaigns for December
Cross selling and up-selling of items
Gift card sales
Optimize for Conversions
December is a month of going big or going home. Remember to retarget leads, and up-sell where possible. Gift card sales tend to surge at this point as we near the moment of diminishing ideas and delivery options for consumers.
Your Custom Audiences and Lookalike audiences are going to be pivotal during this month — but so will those frequency caps we spoke about before. Remember to make sure none of your ad sets are accidentally competing against each other at auction as this could be a costly mistake.
Try to generate interest using limited time or discount offers on your page and remember to optimize for mobile because we know that over half of shoppers browse ecommerce sites while they are in store.
General Tips & Tricks for Paid Facebook Holiday Campaigns
Make use of all of the calls to action options Facebook has in your ads, and partner this with compelling cop

y. You can run offers organically or in paid ads on Facebook too.

Don't forget about January. Use the month for some post-holiday sales and the chance to turn holiday

customers into repeat business.

There's a huge opportunity to be had during the post-holiday sales.

Facebook has seen a surge in success for personalized gift experiences recently, so this may be something to leverage — most notably Lego say they saw a 71% reduction in cost per purchase offering this through Facebook Messenger Ads.

Keep posting organically. The best campaigns use a blend of organic and paid content to drive conversions of the holiday period.
Let us know how you are planning on leveraging Facebook and Instagram for holiday sales in the comments below!