The world we're living in has fundamentally changed. And not just for the next 6-18 months - the way we used to do things just isn't going to be the same, and we are all learning to adapt. As a society, we have also recognized that the way we order, purchase and receive goods and services is changing as well.
For small business owners who have survived the initial temporary closures of certain sectors, and are now looking at ways to safely open back up, there are likely many questions keeping them awake at night:
I know I have to adapt, but what does this mean for my retail storefront business?
Is my storefront business sustainable without moving online?
How can I pivot and move online while still maintaining a retail presence in this new economy?
Will my business survive?
NAVIGATING THE POSSIBILITY OF A START-STOP ECONOMY
As business start to re-open under the government guidelines for limiting customer interactions, maintaining social distancing and increased sanitation, will customers show up? Will they feel comfortable in a retail environment? Will things ever go back to the way they were?

In addition to releasing guidelines for safely restarting our economies, many health authorities worldwide are also preparing for the predicted "second wave" of Covid-19 this fall and winter. What we may end up seeing, from an economic perspective, is that there will be ebbs and flows to the retail economy. It may start to come back, but if storefronts have to temporarily close again, or endure further restrictions, adding ecommerce fulfillment options may be the only way to survive.
Canadian Retailers ARE THE LEAST PREPARED
For years, Canada has existed in a traditional retail bubble, withstanding much of the pressures of the ecommerce wave seen elsewhere around the world. According to a Retail Insider article published last fall, while Canadian Retailers have indeed seen in-store traffic decrease year-over-year, in-store conversion rates have actually increased. Canadian consumers are doing online research and are more likely to be well-informed before they even step foot in a store, and are often ready to buy. As a society, we have resisted against giving up the in-store experience - the ability to touch a piece of clothing, sit on a sofa before purchasing, and interact with business owners and their staff. That is, until our world flipped upside-down earlier this year.
Covid-19 has forced an instantaneous adoption to ecommerce coast-to-coast for a lot of business that up until now, were humming along just fine without it. Business are not just be setting up ecommerce stores for 18 months and then planning to go back to the old way of doing things. We've been forced into a natural evolution in our economy that may have on its own happened over 10 years, but has now been condensed into 6 months. And we're never going completely back - while we all long to set foot in our favourite shops, we also recognize that we may need to support them in different, innovative ways.
Creative Ways Retailers Have Adapted to Covid-19
Even with restrictions easing in some regions, customers are unlikely to show up in droves the day that business physically reopen, but many consumers are eager to support their local economies with a commitment to "shop local". In the last few months, locally here in the Okanagan, we have seem some creative ways that our own local business have quickly pivoted, with stop-gap, temporary solutions to maintain their customer base, such as shopping via Instagram stories for local clothing stores, a local paint studio offering previously-booked workshop participants taken-n-make kits to complete at home, along with instructional YouTube videos, and countless restaurants/coffee shop/grocers who have adapted to curb-side pickup and innovative take-away menus.
Now is the time for business to adapt these creative fixes to their business model permanently, and cater to both online and in-store customers - a model we can call "Hybrid Retail".

What is Hybrid Retail?
Beloved BC Provincial Health Officer Dr. Bonnie Henry (so popular in the province she has shoes named after her) started using the term "Hybrid Model" as a way for business to get creative:
"...Henry said that over the summer, business owners should consider a "hybrid model" — and think about how they can reopen while maintaining physical distancing, increasing online options and offering pick-up." (cbc.ca)
As for retail businesses that have been temporarily shut down, Henry said they should be thinking of how they can reopen while maintaining physical distancing, and turned to grocery stores as an ideal model. Many grocers, big box and hardware stores are limiting the number of people allowed in a store at a given time, and moving to more "hybrid" systems where customers can place orders online or by phone before coming into a store to pick up goods.
Hybrid Retail is the idea of offering multiple fulfillment possibilities and experiences to your customers, by blurring the lines between traditional and online retail. This approach will allow retailers to pivot between bricks-and-mortar and online sales through the uncertainties of the next 6-18 months.
So now, let's look at what the can actually look like from a digital storefront example.
Multiple Fulfillment Options for Online Orders
Hybrid ecommerce is the offering of physical brick-and-mortar commerce as well as pickup/delivery options for retail customers:

Carrier Shipping (i.e. FedEx or DHL)
Local Delivery
In-Store/Curb-Side Pickup
Appointment-Based Brick-and-Mortar Shopping
Carrier Shipping
One advantage to business moving online is that suddenly, your potential customer base increases exponentially - potentially on a national or even global scale. Along with that comes the need to offer shipping on items where possible. And this is where smaller retailers can have a tough time competing with ecommerce giants like Amazon. We've seen countless large American retail chains fall prey to Amazon's prowess over the last several years, as its incredibly difficult to match Amazon's 2-day Prime shipping and competitive shipping rates on regular orders.
Retailers and delivery carriers are going to have to adapt, and likely absorb some shipping costs into their margins to get items into people hands in a competitive timeline.
Local Delivery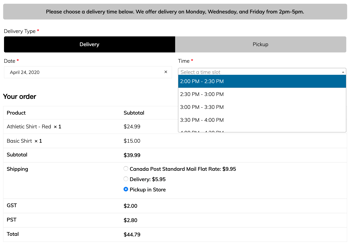 Delivery services are common place now for food items - Skip the Dishes, Uber Eats, Door Dash, etc, but there will likely be market here in the retail goods sectors as well. Don't be surprised if you see these services branch out into sectors, like the Postmates model in the US. Soon you may be able to place an order to your local Best Buy or Staples and have your item picked up and delivered within the hour.
Retails can also fulfill delivery orders themselves. For example, free delivery with a minimum purchase order, or set delivery days for different areas of town, and the like. And this functionality can all be built in directly to your ecommerce site. Of course, retailers need to account for increase costs of offering delivery as well, but for businesses with a fierce local following, it can help maintain business volume through challenging times.
From a technical standpoint, this option has a few more complex requirements to implement onto your site, due to the need to have delivery options available only at certain times/certain days/when a customer knows they'll be home, etc. We will likely see a lot of new apps, platforms and third party tools, as well as custom modules. Magento and WooCommece already have these capabilities, and Shopify is likely working on something similar as well for an extra monthly charge.
In-Store & Curbside Pickup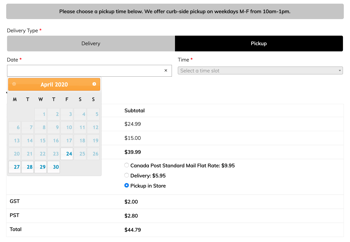 Think of this as the 'Restaurant Take Out' idea, adapted for retail, and likely a key fulfillment method that makes a lot of sense for small businesses for the next while. The concept of ordering retail goods online and picking up at a physical location is fairly new for retail. It's only in the last few years we've seen big box stores like Home Depot and Canadian Tire offer this option, although we've seen it used in grocery for sometime now. Retailers now are going one step further, and offering not just pickup, but contactless, curb-side pickup for their customers. In many cases, you don't even need to enter the retail establishment at all to pick up your goods.
Your customers can place the order online, and then they call or text with their order number when they arrive and their order is brought out to their car. Some stores are even designating specific parking spots for curb-side pickup.
For example, see how curb-side pickup for ecommerce works on WooCommerce:
These functionalities can be relatively simple to add, depending on your ecommerce platform.
Appointment-Based Retail Shopping
Lastly, we're seeing clothing, beauty & health retailers offer personal shopping appointment slots. Pre-booked online, this ensures the store is reserved for them or a safe number of customers in order to maintain appropriate social distancing practices. This has also proven to offer a unique, personalized, and unparalleled shopping experience!
This functionality is quite simply to add to an existing website using free or low-cost options such as calend.ly usually doesn't require any special integration with your online cart.
Matt, our Sales Expert, shows us just how easy this is with a small business client:
Today's retailers are innovative, and re-creating the retail experience despite the ongoing uncertainties. Flexibility is going to be incredibly important in the coming months as we navigate this storm together. Whether you need to set up a simple online shopping site, appointment booking capabilities, or delivery options - our team of dedicated ecommerce experts is here to help.