Schema markup is now a necessity for ecommerce product rankings. With the fierce competition on Google, you want to do everything you can to differentiate yourself. Here are some of the different schema markups that you can use for ecommerce sites.
Ecommerce Product Schema
Product schema showcases basic product information. Take a look at the above search results. These are the Top 3 results for 65" 4k TV. The first two are product listings with product schema (ratings, reviews, prices, etc.), all included in the results listing. The third result is a "Best of" list from a popular tech website. As a retailer, if your 65" 4k TV doesn't have schema markup, it's not going to compete with these Best Buy listings.
Rich snippets, which involve the code of schema markups, are very beneficial. They help your listings stand out, provide the information someone is looking for before they even click through, which will in turn increase the CTRs for your listings and bring you more traffic.
Econsultancy reported the following stats:
61% of consumers read reviews before making a purchasing decision
63% of customers are more likely to make a purchase from a site that has user reviews
Reviews produce an average 18% uplift in sales
You'll want to include all of the product markup that is relevant for your products, including:
Aggregated rating
Availability
Awards
Brand
Category
Color
Description
GTIN (UPC Code) and/or Serial Number and/or MPN
Height, width, depth, weight
Image
Item Condition (new/used)
Manufacturer
Product Model
Date (for example, the year of a vehicle)
Reviews
It's important to note that schema markup isn't necessarily going to increase your product rankings, but it will make them stand out, which can get you the click-through that's necessary for the sale.
You or your development team can add schema rich snippets to your website template directly that can fill in the data across the site. Alternately, you can use tools like Google's Structured Data Markup Helper to generate the code on a product by product basis.
Business Info Schema
It's not just your product listings that will benefit from schema markup, you can use the company info markup to improve local visibility as well. Mark up your contact information to make sure that your potential visitors are finding the info they need when they want it.
Some Schema Markup for Places include:
Address
Aggregated Ratings (your overall business ratings)
Area Served
Branch
Contained In Place (for example, if your store is contained in a mall)
Email
Geo Location Number
Map URL
Business Logo
Opening Hours
Photo of the Business
Telephone number
Business Name
Alternate Name
Description
Area Served
How Can I Tell If My Site Has Schema Markup?
It's easy to see if your schema implementation worked. Google has a handy Structured Data Testing Tool that lets you check any URL to see if they've detected the structured snippets on the page.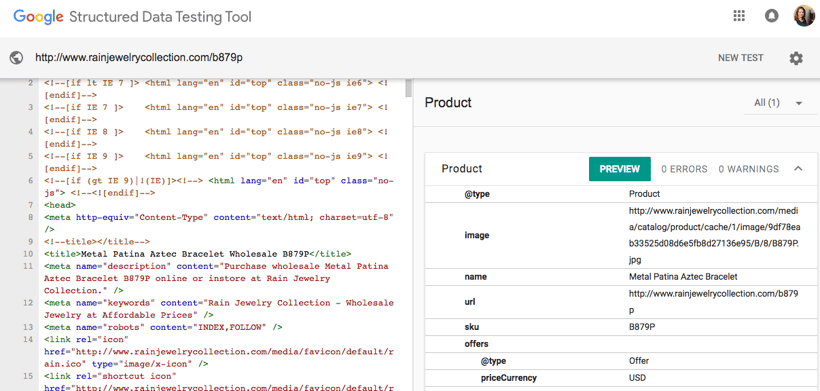 AdWords Extensions
Adwords has numerous rich snippet ad extensions that can make your product ads stand out from the crowd and drive both online and offline sales. While product schema generally won't improve your organic listings, your adwords extensions and markup will improve your Ad Rank which can give you better ad position for a lower CPC.