Google Ads Callout Extensions are an effective tool for taking your advertising to the next level. However, why should you use them? In this blog post, we'll look at the advantages of including callout extensions into your Google Ads campaigns.
We'll go through how they can boost the exposure of your ad, enhance click-through rates, and ultimately drive more conversions. This information is vital for anyone trying to optimize their advertising approach, whether you're new to Google Ads or a seasoned pro.

What Are Google Ads Callout Extensions?
Callout extensions are words or phrases that appear below your ad's description text. Their purpose is to promote specific offers or highlight the features of your business. This is where you provide the reasons why someone would want to select you instead of one of your competitors. For example, you may choose to highlight the fact that you offer free shipping, a free trial, or 24/7 customer service.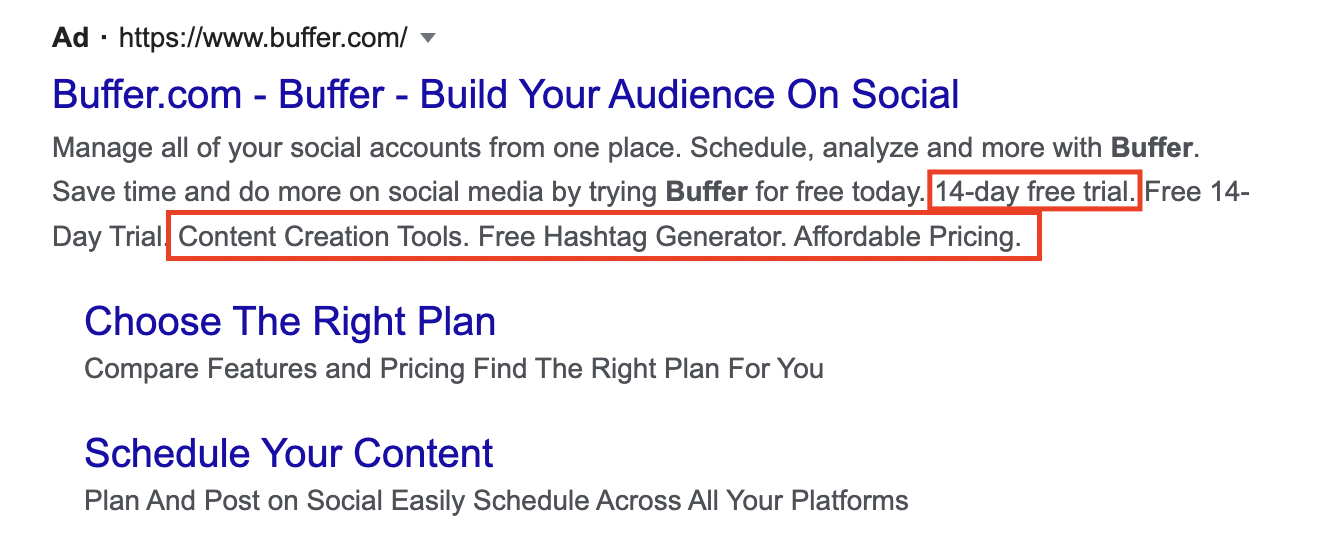 This ad from Buffer uses callout extensions to highlight that they offer a 14-day free trial, content creation tools, a free hashtag generator, and affordable pricing. These are all relevant things that a person may be looking for in a social media tool, and therefore make for great callout extensions.
The Difference Between Callout Extensions and Sitelink Extensions
Callout extensions look similar to sitelink extensions and often get confused with them. While they are short and grouped in a similar way, they have a major key difference: they do NOT link to anything. Callout extensions blend right into the rest of the text.
Where the goal of sitelinks is to showcase a complete group of products or services which will direct users to different landing pages, callouts offer advertisers the space to display additional messages which highlight individual aspects of your business. For best results, use sitelinks and callouts together so that your ads can be more effective.
Here is a great comparison of sitelink extensions and callout extensions that Google put together: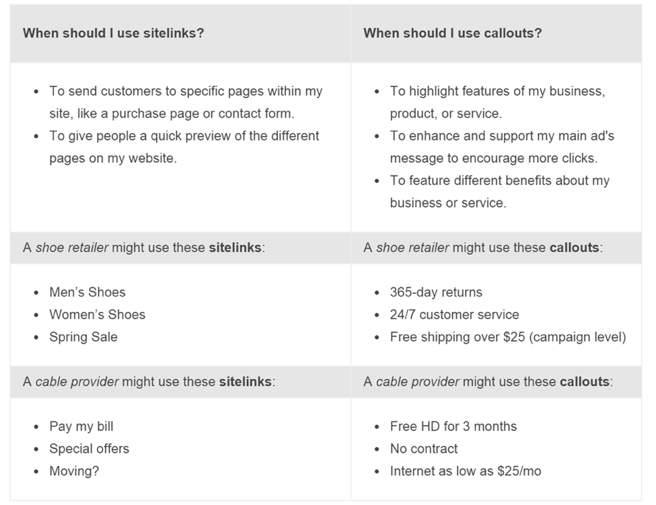 How Callout Extensions Work
Callout extensions automatically show up when people search for certain keywords on Google. When a user clicks on an ad that contains a callout, they will be taken to the landing page for the ad in which the callout has been placed. Each ad can contain up to 10 callout extensions, and it's recommended that you use at least 3-4.
Callout extensions can be set at the account, campaign, or ad group level so you can make them pretty specific to the ads that are showing and keywords that are triggering them. For the account level, you may add your site-wide "Free Shipping" promo, whereas at the adgroup level you might have a promo for that select group of keywords such as "50% Off Lego" for your Lego adgroup.
Creating a Callout Extension
Creating a callout extension is very simple to do, and only takes a few minutes.
Here's how to create your first callout extension:

In your Google Ads account, go to "Ads & Extensions" in the left sidebar and select "Extensions."
Click the blue + icon, select "Callout Extension" and choose the level you want to add your callout to (account, campaign, or ad group).
Type the text for each callout in the "callout text" section
Click save, and you've created a callout extension!

Benefits of Callout Extensions
Callout extensions have many benefits, including the following.
Increased click-through rate: Callouts help increase the number of click-through rates that your website receives, because they take up more real estate in search results.
Ultimately, callout extensions make for a better ad, which gets a better ad rank on Google, which ultimately results in more clicks. Google ads with extensions are more likely to rank higher than those without.
Flexible & customizable: You can easily add and edit callout extensions through your Google Ads account. You can also remove callouts for specific ad groups, which can be useful when you are creating specific ad groups that require more specific text that isn't related to your account or campaign.
Additional customization features, such as being able to schedule your callouts, gives you more flexibility regarding when the callouts will be displayed.
Encourages users to take action: Although callout extensions aren't links themselves, they do encourage users to visit your website based on what is offered in the callout text.
They're free: Callout extensions are free to include in your ad, you will only be charged for the clicks on your ad as usual. So why not get started with callout extensions today?

Improved Ad Rank and Ad Position: When calculating ad rank, Google evaluates the relevancy and expected impact of extensions. You may boost your ad rank and gain better ad positions by employing callout extensions efficiently. Your ad gains more visibility when it appears higher on the search results page, resulting in more impressions and more conversions.
Tips for Using Callouts Effectively
Callout extensions are an excellent way to improve the performance of your Google Ads campaigns. Here are a few things you can do to ensure optimal performance.
1. Keep the Text Short
Although you can have up to 25 characters in your callout text, only highlight what's necessary so as not to overfill your ad. While keeping it short, try to make your callout text as specific as possible. For example, rather than saying "we offer a free trial," simply say "14-day free trial."
Focus on highlighting what makes you great and what sets you apart, to encourage someone to pick your company over another.
2. Schedule Your Callouts
You can schedule your callouts so that they only appear on certain days and times. This can be helpful particularly if you have an offer that is running for a limited time, or on certain days of the week, etcetera.
To schedule a callout extension, go to the "advanced settings" in the same section where you created your callout extension. From there, you can select a start date and end date, as well as a time of day.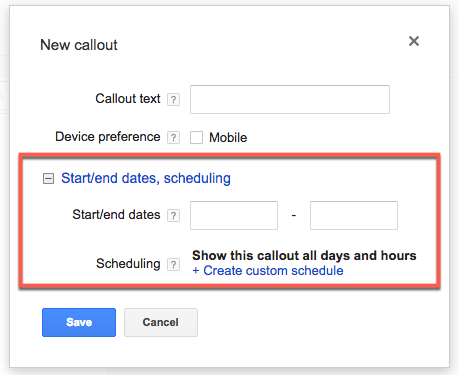 3. Track Your Callout Extension's Performance
Review the analytics of your callout extensions frequently to determine which ones are driving conversions and clicks, and which are not. You may find that certain audiences are simply not interested in certain callout offers.
How to Test and Optimize Callout Extensions
Callout extensions are a valuable feature in Google Ads that allow advertisers to highlight additional information about their products or services directly in their ads. These extensions can greatly enhance the effectiveness of your ad campaigns by providing more details and enticing potential customers to click on your ads.

However, simply adding callout extensions to your ads is not enough. To truly maximize their impact, you need to test and optimize them.
1. Understand Your Goals
Before you begin testing and optimizing your callout extensions, you must first define your objectives. What do you hope to achieve with your advertising campaigns? Do you want to boost your click-through rates, conversions, or total ROI?
Having precise goals in mind can assist you in efficiently structuring your testing and optimization efforts.
2. Create Multiple Callout Variations
It is critical to establish numerous callout versions to assess the performance of your callout extensions. This lets you to test alternative messages, formats, and lengths to find which ones are most effective with your target demographic.
3. Implement A/B Testing
To do A/B testing for callout extensions, assign each variation of your callouts to separate ad groups inside your campaign. Other components of your ads, such as headlines and descriptions, should be consistent between versions. This manner, you can isolate the impact of callout extensions on ad performance.
4. Monitor Key Metrics
During the testing phase, keep an eye on key metrics including click-through rates (CTR), conversion rates, and cost per acquisition (CPA). These metrics will assist you in determining the effectiveness of each callout variant.
5. Optimize Based on Insights
Optimize your callout extensions based on the analysis of your testing outcomes. Consider using the best-performing callout versions in all of your campaigns.
6. Continuously Test and Iterate
Callout extension testing and optimization should be a continual effort. It's critical to maintain testing and iterating as your campaigns evolve, user behavior shifts, and market trends move. Revisit your callout extensions on a regular basis, try new versions, and track their performance.
Get Started with Callout Extensions
Callout extensions are a powerful way to attract and convert customers through Google Ads. If you need more insight on how best to use callout extensions, reach out to our Google Ads experts.
To learn more about the different types of extensions that Google offers and how to best implement them in your ads, download our free guide on Google Ads Extensions.