Case Study
"In a highly competitive New York market, we have seen the site go from no traffic to amazing traffic with 1st page results & delivering several new case inquiries every day."
Prestigious New York City Law Firm
Services
Growth Marketing
Search Engine Optimization

Founded in New York City, this law firm fights cases nationwide, representing clients in personal injury, medical malpractice, construction accident, defective product, dangerous medication, consumer fraud, and product liability.

The partners have handled numerous high-profile cases across the United States and have been part of cases that have resulted in excess of 3 billion in settlements and awards.
Before
Less than 100/month in total site traffic, no conversions & no page 1 rankings.
Challenges
Had duplicate content and was under a "Google Penalty". Their authority was non-existent, the partner attorney names had no brand equity in SERPs and broad match keywords were being dominated by smaller law firms.
Website was not responsive, no link building strategy and internal links were siphoning off link juice to a 2nd website. Additionally opt-in & visitor retention mechanisms were non-functional and lacked metric accountability.
The site was previously in the hands of another NY SEO company and had not seen any organic SEO growth while other firms continued to gain a foothold on SERPs month after month. They had no market share despite being one of the top firms in the city.
SEO helped the client realize that there was an untapped marketplace of high quality case leads for their firm.

The additional traffic put their law firm in front of thousands more potential clients with the total traffic peaking at almost 13,000 visitors.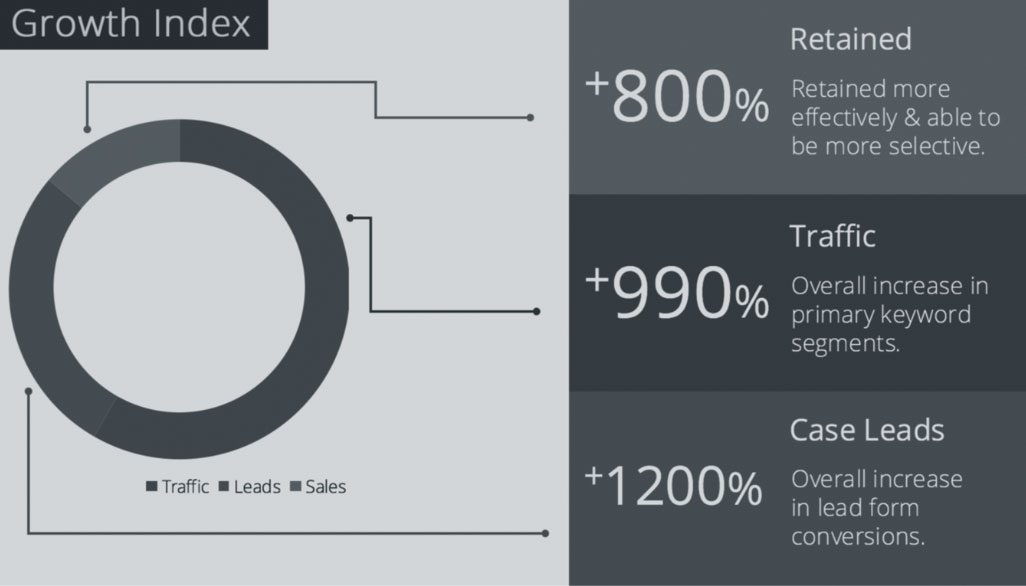 Results
Their 1st place & 1st-page placements have offered a sizeable return on investment and stimulated new cases.

They have now closed the NYC competitor gap and are expanding rapidly into PA, DE & CO. This new growth has also allowed the client to reinvest into more keywords, PPC & FB Ads.

The next phase will be to compliment their strategy with Unbounce landing pages & boost conversion efficiency.