Case Study
"Before SEO we had little or no search presence & were being outranked in Google by much smaller dive companies. Today we have position #1."
Largest US & UK Commercial Diving Company
Services
Growth Marketing
Search Engine Optimization
Locations
USA - CT, MI, TN, WI
Global - UK, Brazil, India, Japan, China

The company specializes in providing commercial diving services to a diverse customer base. With nearly 50 years of history behind them, they are one of the most experienced commercial diving contractors in the world & the largest in the US.

They staff more than 200 divers, as well as supervisors and project managers that operate around the globe & working for some of the world's largest OEMs.
Before
Less than 250/month in total site traffic, no conversions & no page 1 rankings.
Execution
Their brand & keyword equity was extremely low for a company of this size. They were consistently being outranked by very small, 6 to 20 person dive companies. Website was not responsive, had no link building strategy and had no value proposition information channels.
Additionally opt-in & visitor retention mechanisms were non-existent and lacked metric accountability to Google Analytics, goal tracking & HubSpot.
The site was previously in the hands of another SEO company and had not seen any significant organic SEO growth while their competitors continued to gain a foothold on SERPs month after month. They had no market share despite being the largest in the US and top player abroad.
SEO helped the client realize that there was millions of dollars worth of projects passing them by every day.

The additional traffic put their company back in front of thousands more potential customers with the total traffic peaking at almost 12,000 visitors.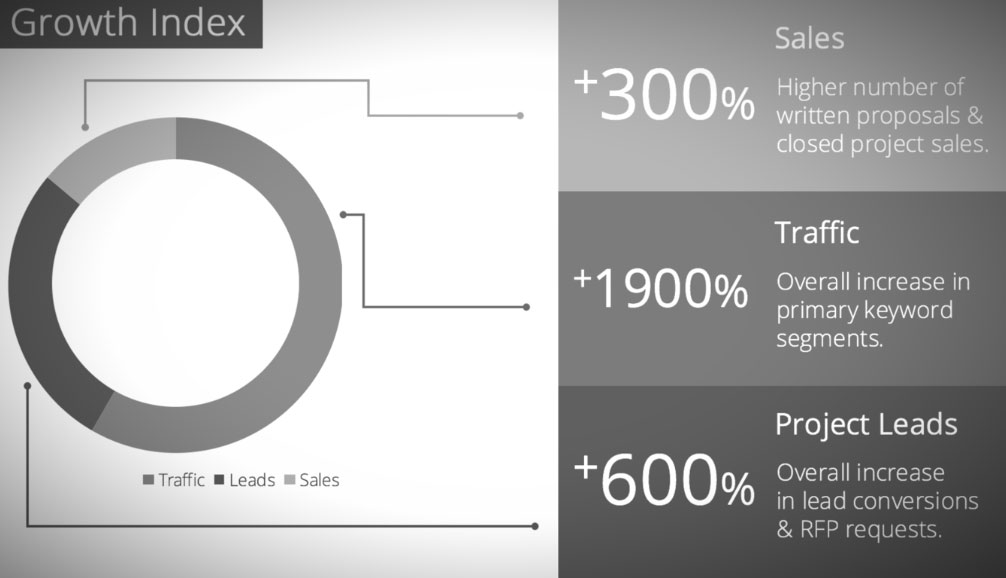 Results
Their 1st place rankings have offered a sizeable return on investment and created growth with their diving services.

They have now toppled their competitors and are expanding rapidly into the UK. This new growth has also allowed the client to reinvest into more keywords & their brand image.

Next phase will be to increase their marketing and expand into additional US & global markets.