As ecommerce sales are growing at such a fast pace, it is important to capitalize the digital platforms.
Your customers are online and are on the go. Google AdWords gives you the chance to connect to your potential customers easily, no matter where they are. Google's AdWords Affiliate Locations Extensions give you the power to do just that, even when you don't have a retail store.
What Are Affiliate Locations Extensions?
As a retailer or manufacturer that sells your products through retail outlets, the affiliate location extension can help you reach your customers the moment they think of buying your product. Similar to the AdWords location extensions ad extension, the affiliate location extension will show the nearest location where the product is carried as an address or on a map. These extensions are highly impactful and have the potential to improve your product visibility.
How to Set Up Affiliate Locations?
Setting up Affiliate Locations is simple, all you need to do is specify which retail outlets stock your product. You don't even need to link to to a Google My Business page, which you would need to do for a standard AdWords Location Extension.
Affiliate location extensions can be set at account, campaign or ad group levels of your Google AdWords account, which allows you to specify different stores for different products, or only use the affiliate location extension for a few of your products that it's relevant for.
Sign in to AdWords account
Click the Campaigns (or Ad groups) tab and pick an existing campaign (or ad groups). Proceed from All campaigns for account-level affiliate location extensions.
Select the Ad extensions label
Click "affiliate location extensions"
Indicate the retail outlets selling your products
Save your settings.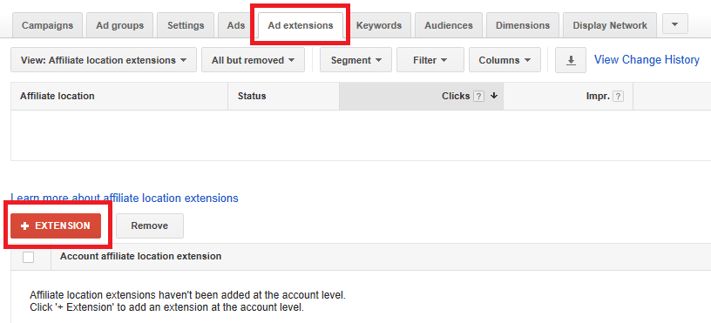 How Do Affiliate Location Extensions Work?
Here's how affiliate location extensions could help you improve your visibility:
Someone searches for a product on Google.
Your ad shows with your affiliate location extension.
The person sees the nearest store that sells your product, either as an address or on a map.
On mobile, the person can tap to get directions to the store.
The person heads right to the store and buys your product.
How Can the Affiliate Location Extension Help Your Business?
As the extension allows you add additional information, your ad gets more prominence on the the search results page which results in greater click-through rates (CTRs) and an improved quality score. So here's an extension that not only provides you greater visibility but also helps you build those important relationships with retailers around you.
As 75% of consumers who perform a local search on their phones visit the store within 24 hours, it is important to grab the attention of the customers at the right place and time. Leveraging the affiliate location extension will help your customers in their journey towards purchasing your product.
Are you still wondering how to add this extension? Contact us today and we can help you!