With Google AdWords Price Extensions, you can highlight your products or services and include an eye-catching price point in your ad. Price extensions are almost a hybrid of a sitelink extension + callout extension + structured snippet extension.
What are AdWords Price Extensions?
Google's price extension allows you to display prices for products/services within the ad. The prices and products that you add are displayed in a horizontal sliding format, so that your visitors can swipe through them easily!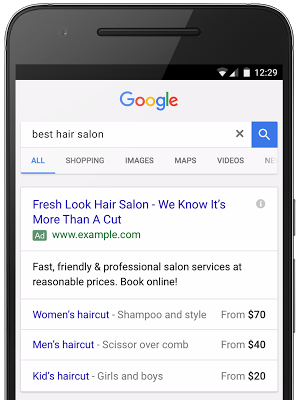 Details You Need to Know Before Setting Up Price Extensions
Setting up price extensions in AdWords is simple and quick. But before you set them up, you need to bear a few things in mind:
The price extension can be set up at account, campaign or ad group level.
It should be relevant to the keywords for that particular ad group and should be consistent with the types of products that you advertise.
You will need to set up a minimum of three and a maximum of eight price extensions.
The headers and the descriptions are limited to 25 characters.
How To Set Up Price Extensions
Just as other AdWords ad extensions, you will find the option to add in Price Extensions in the Ad Extensions tab.
What Are the Benefits of Price Extensions?
They give extra information to potential customers with minimal work. You don't need to take up precious text ad characters to highlight your price in your ad.
They are one click away to conversions: when users click on your price extension, they are taken to your website straight away.
They are easily set up, and can be quickly updated and used for special offers.
They are flexible and customizable.
It is recommended that you review your price extensions on a regular basis – don't just 'set & forget'! If your price extensions don't align with the prices on your site, your price extensions will get disapproved and will stop showing.
Keeping up with all the Google updates can be daunting, contact us today and we can guide you in the right direction.