Your customers are online and are on the go. Google Ads gives you the chance to connect to your potential customers easily, no matter where they are. Google's affiliate location extensions give you the power to do just that, even when you don't have a retail store.

What Are Google Ads Affiliate Location Extensions?
Similar to the Google Ads location extension, the affiliate location extension will show the nearest location where the product is carried as an address or on a map. These extensions are highly impactful and have the potential to improve your product visibility.
As a retailer or manufacturer that sells your products through retail outlets, the affiliate location extension can help you reach your customers the moment they think of buying your product.
How Do Affiliate Location Extensions Work?
Here's how affiliate location extensions could help you improve your visibility:
Someone searches for a product on Google.
Your ad shows with your affiliate location extension.
The person sees the nearest store that sells your product, either as an address or on a map.
On mobile, the person can tap to get directions to the store.
The person heads right to the store and buys your product.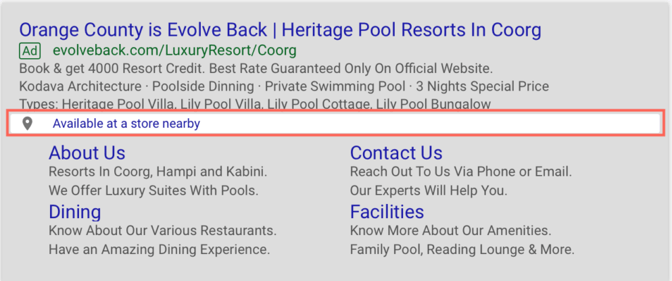 The Difference Between a Location Extension and an Affiliate Location Extension
Location extensions and affiliate location extensions sound similar, but they are two different types of ad extensions that can help businesses grow their reach.
Location Extensions
By displaying your address, a map to your location, or the driving time to your establishment in your ads, location extensions can assist customers in finding your locations. People may then click on your extension to access your location page, which gathers the most crucial business data in one spot, for more information about your location.
Affiliate Location Extensions
Affiliate location extensions, on the other hand, help people find nearby stores that sell your product. This means that you are essentially working with an affiliate marketing partner who will place ads on behalf of your business.
This type of agreement benefits both parties - the affiliate owner gets paid for their ad placement, while you receive exposure through the popular ads.
For example, if you offer your goods through retail chains, affiliate location extensions can assist you in reaching customers as they are selecting a product and a store.

Benefits of Using an Affiliate Location Extension
There are many benefits to using affiliate location extensions, and the sooner you start using them, the better. Here are some of the main reasons why affiliates should consider employing this strategy:
1. Increased Reach
When affiliates use affiliate location extensions, they can increase their reach by targeting more specific markets. This can result in higher conversion rates because potential customers who live near an affiliate's shop will be more likely to visit it.
2. More Sales
Using affiliate location extensions also allows affiliates to sell products from multiple stores simultaneously without having to leave one store and switch over to another. This helps them generate higher sales volumes overall with less effort on their part.
3. Improved User Experience
Affiliate location extensions allow people who are looking for local services or products to find them much faster than if there were no such information available.
How to Set Up an Affiliate Location Extension
Setting up an affiliate location extension is simple. All you need to do is specify which retail outlets stock your product. You don't even need to link to a Google My Business page, which you would need to do for a standard location extension.

Affiliate location extensions can be set at account, campaign or ad group levels of your Google Ads account, which allows you to specify different stores for different products, or only use the affiliate location extension for a few of your products that it's relevant for.
In Google Ads, click the campaigns (or Ad groups) tab and pick an existing campaign (or ad groups). Proceed from all campaigns for account-level affiliate location extensions.
Select the Ad extensions label
Click "affiliate location extensions"
Indicate the retail outlets selling your products
Save your settings.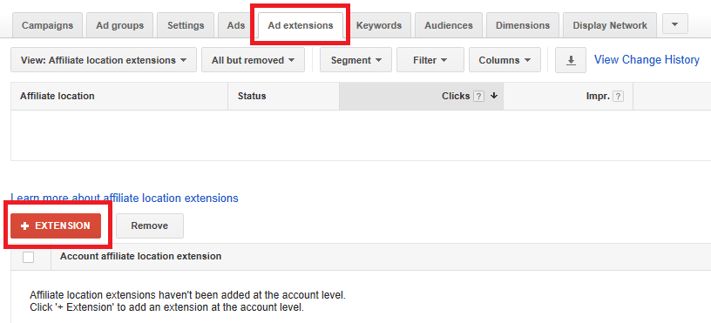 How Can Affiliate Location Extensions Help Your Business?
When someone searches on Google Maps for "deals near me" or "best deals," they'll see ads from your business in those locations based on their search activity. If they click one of those ads, they'll get taken directly to the page where the deal will be available—no more guessing where those deals are going to be.
As affiliate location extensions allow you to add additional information, your ad gets more prominence on the the search results page which results in greater click-through rates (CTRs) and an improved quality score. This extension not only provides you greater visibility but also helps you build those important relationships with retailers around you.
Get Started With Affiliate Location Extensions
Since 88% of consumers who perform a local search on their phones will either phone or visit the store within 24 hours, it is important to grab the attention of the customers at the right place and time.
Leveraging the affiliate location extension will help your customers in their journey towards purchasing your product.

Do you have questions about setting up Google Ad extensions? Contact our Google Ads experts for assistance.