You build your marketing plan; the campaign is running and now you're waiting for new leads to start converting. However, does your messaging resonate with your targeted audience? Did you base all your inbound marketing efforts around a buyer persona?
In marketing, a buyer persona helps you define the type of person you're trying to attract to your brand. When you know your buyer intimately, you can deliver more relevant content that's aligned to their needs.
So, whether you are aiming for buyers in a B2B niche or among consumer groups, a buyer persona is an integral aspect of marketing if you want to generate new leads.
What is a Buyer Persona?
A buyer persona is a semi-fictional profile of a person who works for your ideal customer. We build the profile around market research, sales data and your existing customers. A buyer persona is a tool used across your organization by Sales, Marketing and Service to facilitate specific interactions such as content creation, branding and support.
Buyer Persona Examples
Below is a B2B persona where we'd typically target decision makers or influencers of decision makers.
In our case example we're looking to engage with a VP or Director of Marketing that works for a $20+ million organization in one our primary service industries.
Buyer Persona Template
A buyer persona template will help you create organize and document all of your personas. To get started, use our Buyer Persona Builder Template.
Marketing Persona for Business
For starters, a marketing persona (AKA buyer persona) helps you understand who's buying your products or services. You know what their lives might be like. Most importantly, you recognize this demographic's unique needs. What's the background for someone who'd buy your products or sign up for your services?
Marketing personas are highly detailed. The more you know about your buyer, the better you can market to them. Besides that, it enables your sales staff to move these buyers through the sales pipeline more effectively. By the way, you might not have just one persona. Depending on your products or services, there may be multiple personas.
Non or Negative Persona
As you work on the ideal buyer picture, you quickly learn who's not inside your targeted group.
People with no need for your product or service might be those who've graduated to require a more advanced offering. They have a different set of requirements. Besides that, you might woo them differently than you would a person who's interested in your lower-level product or service setup.
Marketing to your Persona
You understand your ideal buyer. You know them so well that they might as well be a real individual. Your marketing department can now target advertising campaigns to this person. It can hit the right emotional note and not eclipse the level of technical lingo that this group prefers.
Besides that, you can create sales collateral that addresses this person as they're going through the sales pipeline. It's possible to pinpoint the person making a decision as opposed to the one who's considering price points. This level of specialization doesn't come by chance.
How to Create a Buyer Persona
You're convinced that you need a buyer persona. You're ready to start right now. So, what's the first step? The answer is simple: research.
There are no shortcuts to take here. In fact, there more time you spend on putting together your data, the more detailed your persona will be later one. Although you might decide to eliminate some data points, remember that you may not have an opportunity to go back and ask more questions. Therefore, ask them now!
Examine your current list of buyers. What connects them? Look for obvious markers such as gender, age, location, and profession. Next, encourage website visitors to fill out forms that feature identifying questions. You might do so when someone signs up for a newsletter or a coupon offer.
For example, if you engage in business-to-business sales, find out how big their companies are. When you target the private consumer, determine the sizes of their families and maybe also the ages of children. Does this buyer have pets?
Remember to get sales team input. Whom do they talk to? Who's asking questions about the product or service? Do they offer comments about your service? Any feedback should become part of the persona. Talking to your customers is essential to understand their needs and challenges.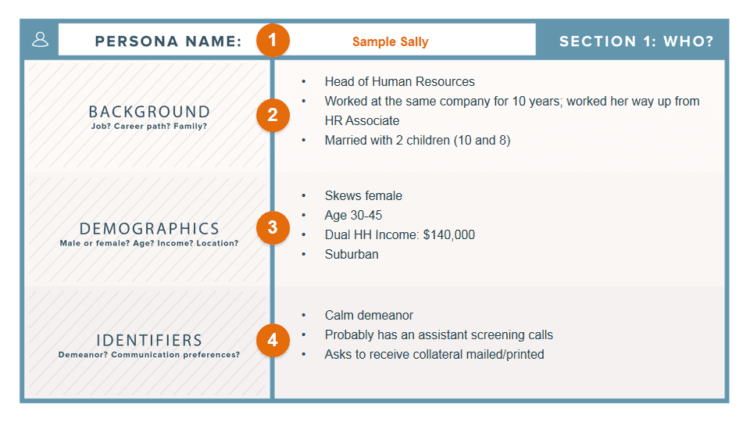 Sorting Interviewees for Persona Research
It's tempting to select the last couple of pages of the previous sales report to conduct your personal interviews. However, you'd be short-changing yourself. There's a better and more productive way of identifying four groups of individuals who can give you ideas of the ideal buyer – and the person to whom you don't appeal.
Brand ambassadors
Talk to your happy customers. These are the people who leave glowing reviews on Yelp! and other websites. They interact with you on social media. These might be return customers who also refer new buyers to your company. They'll tell you what you want to know and will do it gladly.
Disgruntled customers
Another subsection of buyers isn't happy with your product or service. They might balk at the price, say it's too tricky to use your products or services, and have negative opinions about your use instructions.
Although this isn't a positive experience, it offers you valuable insight into this group of people. Besides, you might be able to turn an unhappy customer into a happy one just by hearing them out.
Leads
These are people in the middle or near the beginning of the sales pipeline. Find ways of reaching out to them. What attracted them to the services or products you offer? Why are they looking at your company and not the competition?
Alternatively, are they doing so right now? What's driving their considerations?
Uninterested prospects
Consider these interviews fact-finding missions. For a small stipend, these strangers to your service or product, company, and marketing will answer your questions.
They'll comment on your marketing materials and offer first impressions. They might also be able to talk about the emotional appeal of your advertisements.
The How-To of Finding Interviewees
Recruiting interviewees doesn't have to be awkward. Be clear in stating that you're not selling anything. If there's an incentive, say so at the beginning of the conversation.
Next, schedule the interview right there. In some cases, the individual may have time to have an interview at this time. Take advantage of this offer.
How Many Interviewees are Enough?
More is always better. However, you don't have to overdo it or take your staff off their functions to conduct these talks. If you can do five interviews with representatives from each group, you'll have a workable sample.
Ideally, the answers to your questions should be similar in each group. If there are variations, you might need to increase the sample. It might also work to tweak your interview questions.
Buyer Persona Survey Questions?
Understand the person's role. Get a title and skill set. Most importantly, find out what tools and knowledge-base this person needs to do their job. How do they spend their days? What is their position in the corporate pecking order?
Determine the company's makeup. Ask the interviewee to define their company's niche and size.
Find out about targets. What is the individual's goal professionally and personally? How do they measure success?
Learn about obstacles. What stands in the way of success? What obstacles does your interviewee need to overcome?
Who are the influencers? Are the publications that the interviewee reads consistently? Do they belong to professional associations? How do they stay competitive in the marketplace and on top of their job skills?
Who is the interviewee on a personal level? How old is the interviewee? What's the home life like? Find out about the educational background and the corporate ladder they climbed.
How does the interviewee like to do business? Does the individual like shopping online? Do they prefer to talk by email or on the phone? Why did the person make the last purchase that they completed? What was the main reason for buying from one vendor rather than another one?
"Why" is the Most Important Question
As you can see, there are a lot of who, what, why, and how questions. Don't assume the answers. Listen to what the person says. Find out what makes them tick. If you're not sure that you fully understand what a person says, dig deeper.
It's essential that you write down the questions you plan on asking. They should follow a logical progression. That said, don't fear to move away from the script if necessary. You may glean additional insights by letting the interviewee go off on some tangents.
Turning Interview Research into a Persona Pattern
You have pages of research. You have raw data. Now what?
The trick now is to look for patterns. When three of the five interviewees share a trait, you have a pattern. With a pattern, you have a likely element of your ideal buyer persona. Determine as many profiles as you can find.
Put an Ideal Customer Demographic Together
Organize the information to show what the least likely buyer looks like, too.
It enables your sales department to prepare collateral that targets the right demographic. Besides that, it may help them with addressing potential buyers far more confidently. Most importantly, it helps them understand motivation.
Share Your Findings
By the way, don't sit on the information. Once you created one or more personas, share the data with your staff members. Everyone needs to know who the ideal buyer is.
Besides that, everyone must know what they can do – individually and within their roles – to help this persona meet their goals. Whether customers are dealing with sales or service staff, everyone plays a role in shaping the consumer's experience.