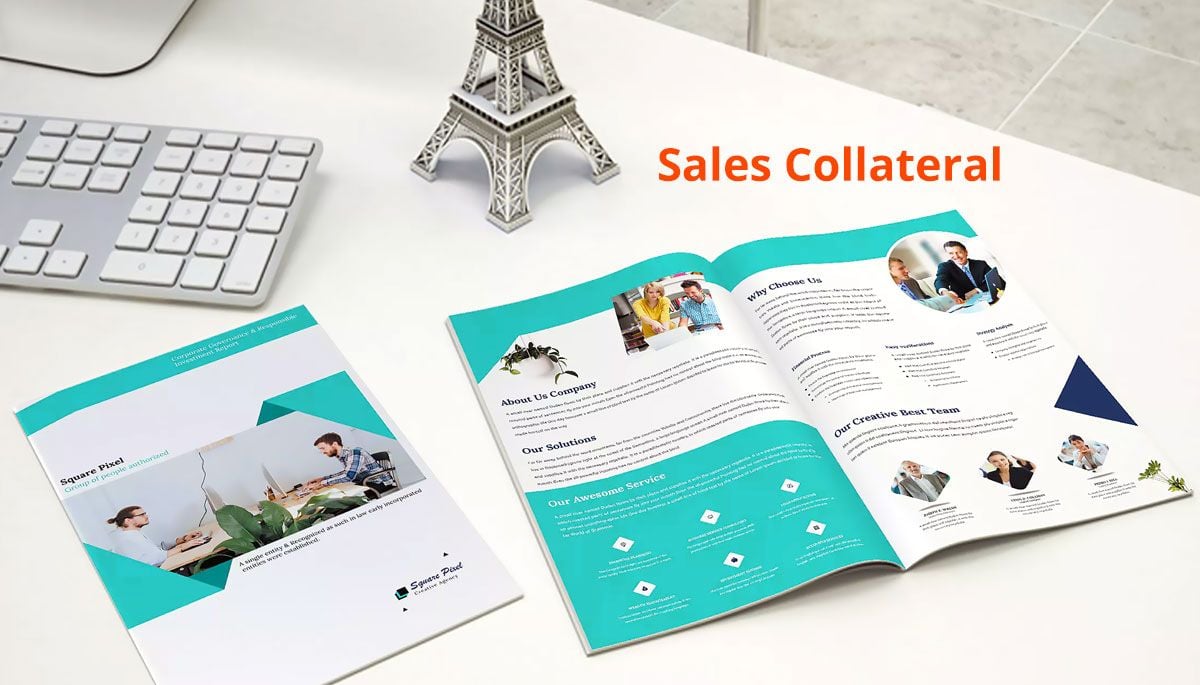 What is Sales Collateral?
Sales collateral are the assets created by a business that's used to advance the sales process. Sales collateral is most effective when developed in alignment with each stage of the buyer's journey. Collateral assets such as videos, demos and tip sheets can communicate value proposition or how to solve a problem.
THE DEFINITIVE GUIDE TO SELLING BETTER & FASTER.
Learn how agencies & top sales producers are crushing sales goals & generating 4x more leads. Grab your Sales Guide Now >
Sales Collateral Aligned with the Buyer's Journey
Whether you're a large or small business, each has a unique sales strategy that requires specific collateral. I'm not talking about dropping your company logo on "tchotchkes" or "swag" either! We're talking about real sales collateral that delivers real value at the very moment the buyer needs it.
However, no matter the business niche nor the products or services being offered, the buyer still has a problem that needs a solution. So, this is the perfect time for your marketing and sales teams to align with a shared mission in closing more business.
The Buyer's Journey represents the active research process a potential buyer goes through leading up to a purchase. Your sales collateral will resonate better with prospects when aligned to the appropriate stage of their journey. When sales assets are aligned properly, the buyer will advance through your sales process from Awareness > Consideration > Decision.
Awareness stage - Person is experiencing a business problem, need or challenge.
Consideration stage - Person has defined problem and is evaluating a solution.
Decision stage - Person has decided on a solution strategy.
Here are eleven types of sales enablement collateral you should develop with buyer stage alignment if you want to close more deals.
Sales Collateral Examples
1. White Papers
White papers are used in the awareness and consideration stages. They play a big role in educating prospects and showing your expertise on a subject.
They make for a great piece of sales collateral that generate new leads when used as a top of the funnel offer. They're effective because they're low friction assets that don't have overt sales signals. It's also hyper focused and you'll know where they need help.
When engaging a prospect based on the premise of being helpful first, you can have a better conversation focused on their specific challenge - right!
2. Spec Sheets
For those selling products or software you'll want collateral to appeal to your technical audience. Creating sales sheets that outline specific aspects of your product that give you competitive advantage can help crowd out the competition.
Your sheet should feature information that's highly focused on one product only, rather than a family of products. This singular approach removes all other distraction.
Specification sheets work well in the consideration and decision stages. They can be setup to download via your website so as long as it's gated with a form. However, I've found better success when included in a segmented automation sequence or sales outreach email.
3. FAQ Sheets
FAQ sheets are great for addressing resistance. It allows you the chance to pre-answer sales, product or service questions in advance.
I like to use these in the consideration stage sending them as an email attachment to continue the sales conversation momentum. They also work well for restarting conversations. You've seen it before; a prospect shows an early interest but then the communication goes silent - send an FAQ sheet.
4. Tip Sheets
A tip sheet is an insider's view of your expert content. It's your secret sauce that you give away for free. I like to think of them as mini DIY outlines.
So why would I give away company secrets I'm trying to sell? Simple, in exchange for their name and email.
BTW - tip sheets make great offers in the awareness stage. Remember, people research Google trying to educate themselves first. Tip sheets help prospects become aware of their problem and there's a real process in which to help them... within your tip sheet.
Tip Sheet Examples
Top 10 tactics for generating new leads
7 foolproof ways of starting a new conversation
3 tricks to get a someone to return your call - every time
you get the idea...
To further illustrate my point, let's say you want to become a black belt (1st Dan) in Taekwondo. I hand you an outline of all pattern and skills requirements and you read all content.
Do you think you can pass the test?
Do you think you can defend yourself?
OK, it's an extreme example but you'll at least become "aware" that you need to start but taking lessons first :)
5. Case Studies
I can't say enough for a good case study to move a prospect through any stage of the buyer's journey. Especially, in the decision stage to generate that well-deserved conversion. So, it just needs to be part of your sales collateral - period!
When executed properly, a case study will:
Position your product as a viable solution for their problem
Show how a similar company benefited from your work/product.
Offer positive growth results and outcomes.
6. Product Video
Product videos are a powerful force in the sales process and will increase conversions on your landing pages by 86%. This is a tremendous asset for your sales collateral and should be used for all your long-term considered purchase offers.
The videos should show value...
easy your product is to use
they can save time
it makes their life easier
they become more efficient.
they can same money
Videos are most effective when introduced in the consideration and decision stages. For additional impact, you might also have different flavors of your videos that appeal to different buyer personas.
Video Use Case
You might create one video that speaks more to time savings and another video may speak to cost savings.
Have your marketing team setup an automation sequence that segments your prospects into a more relevant experience. Doing this, you'd deliver a more specific message based on what's important to the prospect in their job role.
7. Product Demo
As business and technology evolves, so do product demonstrations. Now a product demo can be setup as a user-guided or salesperson-guided tour online and can have a massive impact on your sales.
For salesperson-guided demos, this is your opportunity to showcase the best parts of your product while customizing the entire user experience. You can also set a comfortable pace while showing how your product is the right solution to their needs and challenges.
In addition, the online demo can be used show your competitive advantage and foster trust. You can also use the momentum gained by the demonstration to move the prospect to the next stage of your sale process. For user-guided demos, the sales team should be notified when the demo concludes so they can follow-up.
8. Competitor Comparison
Creating a full chart, side-by-side comparison of all competitors in your niche can help prospects see the entire playing field at-a-glance. Good for those analytic folks that need to be certain that your company, product or service stands above the competition in the decision stage.
9. Slide Presentation
You may not think of a slide presentation as a sales tool, but you should. It's a great way to showcase your topic quickly and in an informative way.
Using SlideShare, you can repurpose other types of sales collateral into a series of slides. Take existing media like a product video, FAQ list, tip sheet, case study, product comparison, etc and drop them into your favorite presentation tool like PowerPoint, KeyNote or Google Slides first.
Once you have your content organized, on brand and ready for prime time, then upload you'll want to upload it to SlideShare. Now that your presentation is online you can link directly to it via your prospecting emails, social shares or embedding in your blog posts.
10. Post Sale Customer Service and Support
What does life look like after the sale? That's what prospective customers are asking themselves so, this is perfect for the decision stage.
Don't hide how great your customer service is. Be proud, be transparent and let everyone know.
If you find a deal stalling, then it's a great time to differentiate your service yourself from competitors. Show how growth and prosperity begin post sale. It's also a great way to justify your product or service if positioned at a premium cost.
11. Corporate Brochure
Finally, the good old printed corporate brochure. No, you may not close any deals with this asset but it's still good to have. So, the brochure still has a role in today's business culture, but it's best used for general brand awareness. Specifically, for events like trade shows used as "takeaways" or in-person meetings used as "leave behinds".
Consider the brochure as an introduction for the buyer who may not have never heard your brand before. So, in the brand awareness role, your brochure has the unique opportunity to tell your brand story as well as the problems you solve. It should never be about the products or services you sell, unless you have a patented process or technology.
Turn your brochure into a PDF. Now you can email the brochure to your prospect or make it downloadable.
Sales Collateral Development
Starting with a sales collateral audit can help uncover in-house assets already developed. You may have a broad range of flyers, brochures, and downloadables that can be great starting points for new sales content.
The trick here is to repurpose your approach with the buyer's journey in mind. By aligning them to meet consumer specific needs, you'll create new sales assets that perform better.
Similarly, creating a string of related content that share a common goal, helps the buyer to move along the sales funnel. This approach is best as it presents your information in a neatly defined series where one asset build one on the next.
Sales Collateral Best Practices
When developing your sales collateral, you'll want to adhere to these best practices:
Keep your message concise, impactful and on-brand.
Use each piece to complement and support the sales process.
Identify the pieces that convert best, then leverage those for future sales.
Use tools like that help align content to buyer stages... we use HubSpot.
Next Steps
Your sales team may all be superstars but they can see improved sales growth by simply refining their process.
So, even your top performers can all benefit from kick ass sales collateral that helps them really crush their sales goals. Remember, your sales collateral should not dictate your sales process, but offer additional value to help nurture and close more deals.