Using a catchy headline is an important ingredient for your article or digital ad. It consists ideas and keywords designed to inspire the user to take a desired action. That action could be a click-through to a landing page, product page, video or other piece of content.
CONTENT MARKETING GUIDE [Pillar Strategy] - Learn how to dominate Google search with content. Attract new prospects & generate more leads. Easy step-by-step Guide. Grab a Copy Now >
How To Write Catchy Headlines
You have only a second or two to capture the attention of your reader. Your content could be the most revolutionary, engaging thing ever to hit the web, but without a catchy headline to catch your reader's attention, no one will ever know.
Here are a few easy tips on how to craft a headline that will make readers stop, click and read what you have to say.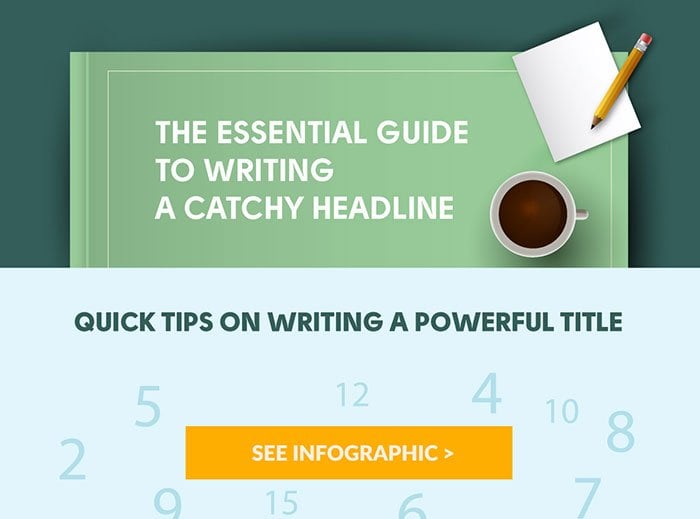 1. Make Yourself Clear
Avoid ambiguity at all costs. Instead of saying "Customer Service Improvements to Consider Today," try something like "5 Ways to Use Agent Gamification as a Competitive Customer Service Weapon." Leave no room for speculation about your topic. By being upfront, you'll draw in the exact readers you wanted to target in the first place.
2. Summarize
It's helpful to craft your headline after you've finished the body of the content. Re-read what you've written and pick one sentence to summarize the entire concept. It's easier than it sounds. What is the top takeaway for readers? If you can't answer that question, go back and revise the content until you can.
3. Don't be Cute
While it's okay to use humor and a little shock-value in your titles and content, don't use it at the expense of clarity. Make sure that your title conveys the intent of your article so that your readers won't feel duped.
4. Just Say No to Clickbait
Clickbait is along the same lines as a cheeky headline is an idea of using something scandalous to elicit a click from your reader. Make sure your title aligns with your content instead of conflicting with it.
5. Be Emotional
Use the right types of headlines to convey the emotions you want your reader to feel when they consume your content. Instead of using "Create Great Reports," try "Make Your Team Successful with the Right Reports." Be thoughtful about adjectives and expressive concepts.
6. Make Conversation
Don't try to use the biggest (or the most) words in your title. Write it as if you're talking to a friend or co-worker. For example, "Architecting Employee Engagement Programs for Increased Revenue" doesn't have the same "read me" feel as "3 Ways to Retain Happy Employees for a Better Bottom Line."
7. Write Actively
Try to avoid passive tones when you write anything, but especially headlines. An active eye catching headline is more likely to draw in your reader and keep them engaged.
8. Be Careful About Trends
While trends come and go in writing styles, colloquialisms and marketing tactics, be cautious when you use them. You don't want your content to fall off of the SEO map if a trend disappears and no one can search for your content based on your title because it no longer makes sense.
9. Don't Box Yourself in with Too Many Rules
While it's true, that catchy headlines should be concise, don't sacrifice context to stay within a character limit. As with every content strategy, common sense should be your guide. Do what works for you. Write a few pieces and then modify your tactics as you test your results and learn more about what your audience wants to hear from you.
Over to you
Try these tips the next time you craft a headline for your digital marketing content, pillar page or content cluster articles. With a little practice and some thoughtful iteration, you'll raise your content above the internet noise and make your message heard.