Inbound marketing (aka content marketing) is a no brainer for service-focused websites. But what about ecommerce sites, where your ROI is so closely tied to specific product revenue and margins are often razor thin?
Inbound Marketing Methodology
We've written extensively about inbound marketing (to say we're passionate about it is an understatement) and here are some articles about inbound marketing that are on the conversion blog. Regardless of your website's focus, inbound marketing follows the same basic principles:
Image credit: Hubspot
Attract New Visitors
One of the hardest parts of building your ecommerce sales is to attract new visitors. Typically, retailers focus on the long-tail, bottom-of-funnel keywords that have high conversion rates but there is huge opportunity to reach people further up the funnel, when they still might be strangers to your brand and your products.
Search Engine Optimization
Creating content that gets great rankings is key here. Mine your analytics to see which products and keywords get a lot of impressions and search interest and see how you can respond to that interest with content. These will typically be searches that ask a question that you have the answer for and that ties into your products – if that person is interested in moving down the sales funnel to make a purchase. It's important to remember that the purpose of this content is to attract visitors and not to hard sell them; keep the content helpful and make the opportunities to purchase more subtle.
For our client Trophes2Go.com they found that there was a lot of search interest regarding what colors are used for first, second, and third place ribbons. They leveraged this to make a helpful blog post that now does incredibly well in the search results and builds brand awareness for people who may have been strangers to the brand beforehand. As an added bonus, it's captured the top visibility spot in the Google Feature Snippet.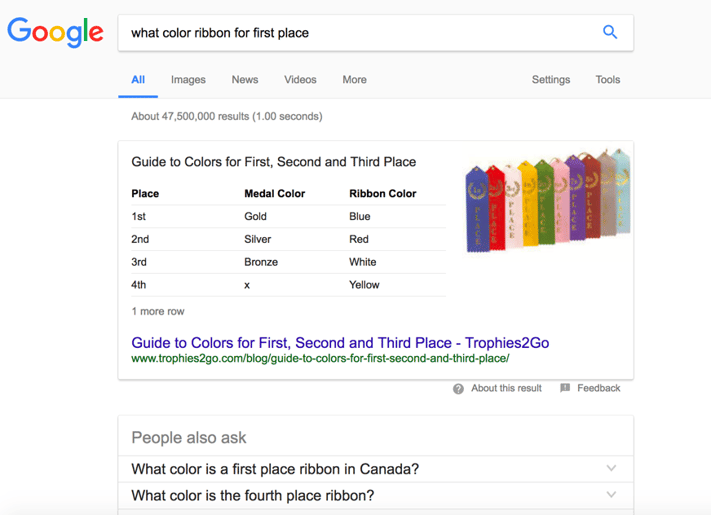 Convert Visitors to Leads
Over 95% of first time visitors will leave without making a purchase. Your goal in this stage is converting as much of that 95% into return visitors. This can be done by capturing their information so that you can effectively touch base with them again in the future. You can do this by:
Utilizing cookies so that you can remarket to them on the AdWords Display Network, Facebook, or other platforms.
Capture their information by offering discount codes or promos for signing up for newsletters or creating an account.
Encourage them to follow you on social media to get updates as they happen.
If you have an app, encourage downloads

Turn Leads into Customers
You know who has been on your website, you know what products they've looked at, now you need to close the sale. The art of conversion is part conversion rate optimization and part lead nurturing. You don't want to come on too strong by blasting out a load of emails to someone who has so graciously given you their information or relentlessly remarket to someone who is not interested, but you do want to make sure that you're bringing some value to the table and encourage the sale. Some ways you can do this:
If they created an account or signed up for an email, send a Thank You email with a discount code or special offer.
If you know that they've looked at a certain product or category, tailor your ads so that you highlight those products or categories.
Do A/B testing on your site to see how you can optimize your calls-to-action, add to cart, the checkout process, etc. to improve conversion rates.
Answer their questions! Develop more content specific to products or to your processes (shipping, returns, etc.) so that people have increased confidence in your products and your company
Turn Customers into Promoters
When the order is submitted, you've gained a customer. Make this one-time customer a life-long customer (or at least a brand advocate!) by continuing to produce delightful content that they can continue to engage with, even when they're not in the market to buy. This is the fun part of inbound marketing. When you're creating your content think about your target buyer personas; what are their interests, struggles, and goals? If you create content they love, they'll share it with their friends and continue to grow your audience. When they do, engage with it and let them know that you think they're great. Delight your customers and they'll delight you with an increased audience and more sales!