HubSpot's annual INBOUND Conference (along with everything else in 2020) is going to look a little different this year.
For several of us at Meticulosity, it would have been our first trip to INBOUND, and to Boston, to experience the excitement and learning for ourselves. Dave Ward, our CEO + Founder has been attending for years and often shares stories and insights from past conferences, (I'm still envious he saw Michelle Obama onstage in 2017...). In particular, the 2019 INBOUND conference had such a profound influence on Dave, with constant focus on the importance of video content, that this year our agency finally branched out to offer Inbound Video services.
Instead, 2020 had other plans in store: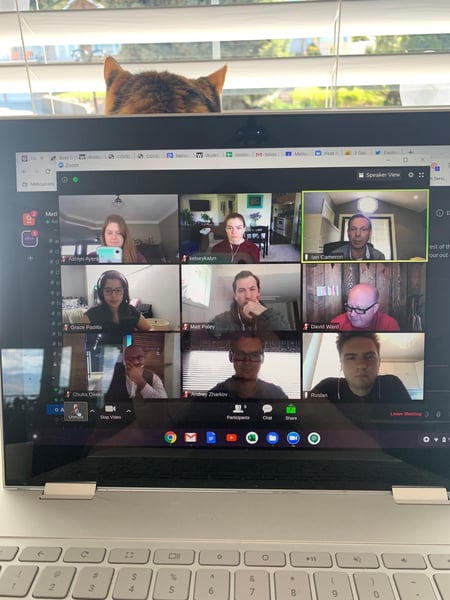 Shuttering our office for 3 months while our team went fully remote.
Surprise Zoom Call appearances by various combinations of our collective children, family pets and housemates as we all adjusted to our temporary normal. Can you spot the furry friend to the left, my constant WFH companion and frequent Meticulosity collaborator?
A significant increase in the overall caffeine consumption from our team, working bizarre hours to manage family obligations, client work, and for some of us, temporarily taking on the role of Home School teachers as well.
In the early days of COVID-10, quickly pivoting to help small businesses move online and stay afloat with simple ecommerce sites to enable online ordering & local pickup.
Re-opening our office in mid-June with safety and distancing protocols firmly in place, only to have it flood just 3 days later due to a freak hailstorm, forcing us to once-again go temporarily remote.
We have no idea what 2020 has left to throw Meticulosity's way, but we're ready for it. Despite the challenges this year, we're thankful to be able to adapt, to continue providing our expertise to our clients with a full-strength team, and work on some new, unexpected opportunities that have come up due to the state of the world right now.
So, while INBOUND 2020 was originally meant to be a rewarding team building opportunity and fun adventure, we'll happily make the most of it from afar. At one point I even had the brilliant idea to host our team at my home, setting up multiple screens throughout so we could all take part in various sessions together and still safely social distance. However, as a West-coast based agency, I soon realized that many of the sessions would be starting in the wee hours of the morning, and frankly, the thought of a Meticulosity PJ party was just too much. Although it did allow for a plethora of Community Pillow Fort GIFs on our team Slack channel...
So next Tuesday, we'll all set our alarms at home, stumble to turn on our coffee makers, and settle in for some early morning inspiration and learning, and end the days with late-afternoon Happy Hours. Here's our team's most anticipated sessions for INBOUND 2020:
HubSpot Case Study: Work Your Workflows: An Exploration of HubSpot's Newest Automation Features to Grow Your Business.
Anni Kim, Associate Inbound Professor, HubSpot Inc.
Our team is always looking for ways to increase efficiency, automate, and build repeatable processes, and using HubSpot is a big part of that. We're excited to hear about the newest features in HubSpot's workflows tool and build them into our day-to-day operations!
POWER YOUR PIPELINE WITH LINKEDIN SALES NAVIGATOR
Sandra Long, LinkedIn Consultant, Post Road Consulting LLC.
Actual, in-person networking has been put on hold this year, and LinkedIn's become an even more valuable resource for prospecting and qualifying leads.
HubSpot Spotlight
Brian Halligan, Co-Founder & CEO, Dharmesh Shah, Co-Founder & CTO, & Christopher O'Donnell, Chief Product Officer, HubSpot
The can't-miss opportunity to hear about the future of HubSpot right from its visionaries themselves. We've had an early sneak peak as a Platinum Solutions Partner and are chomping at the bit to learn more.
Scale your Content Creation Process Using HubSpot
Ana Sordo, Manager, Marketing, HubSpot Inc.
Accurate, relevant, & timely content is king to succeed in Inbound Marketing. As both our team and our client list continues to grow, we're constantly looking for ways to use technology to scale our efforts, and HubSpot helps us do that.
Building a Brand with Authenticity
John Legend, EGOT Recipient & Philanthropist & Chrissy Teigen, TV Personality & Bestselling Author
Is there a more hilariously authentic, influential couple on social media these days? These two know how to build a brand that stays true to their core. while using their reach to drive change. I'm not going to lie, myself and our two Meticulosity Interns are very much looking forward to watching the banter between these two next week!
The End of Technical SEO: How Google's AI Forces SEO Strategies to Be More Human
Dale Bertrand, President, Fire&Spark
We see time and time again, that using an authentic, relevant Inbound Methodology will always trump grey/black hat SEO tactics. Google's major algorithm update on August 10th proved just that - our clients fared exceptionally well with one client's SEO visibility up almost 2000% from the month prior.
ADAPTABILITY & INNOVATION IN TIMES OF UNCERTAINTY
Jim McKelvey, Co-founder, CEO
Square, Invislby
2020 in a nutshell. Need I say more?
Beyond a Movement
Alicia Garza, Principal, Black Futures Lab & Jesse Williams, Activist, Actor, Entrepreneur
Maintaining the momentum behind social change - an incredibly important topic to focus on as we reflect on the ongoing events of this year.
and last, but not least,
INBOUND ROCKS!
Fortune Feimster, Comedian, Dulce Sloan, Comedian & Meghan Keaney Anderson, Vice President, Marketing, HubSpot. Hosted by Whitney Cummings
We have a full-blown afternoon happy hour planned for our office to watch the stand-up comedy show live on the big screen! Bonus: due to the time difference, we'll all make it home in time for dinner as well!
So cheers to INBOUND 2020, we look forward to connecting to many of our partners and clients virtually next week!