Inbound Video
Inbound Marketing, meet Inbound Video.
Traditional Video Doesn't Work
Corporate video production techniques were developed for Hollywood. They are complex, expensive, and outdated in the modern age of digital and Inbound Marketing.

What you're selling today could be a completely different product within a year, targeting different buyer personas, all with a different buyer's journey.

By the time traditional video goes through the post-production process to become content you can actually use, you have the risk of ending up with content that is stale, and possibly irrelevant before you've even paid the bill.
"Inbound Video" is a process that re-imagines content, value, and velocity to seamlessly integrate video into your Inbound Marketing strategies and methodology.
Real People Want Real Content
So why can't we apply a similar strategy to video?
Meet Inbound Video.
Video is the Future
Video is already working for early adopters and your competition are also working on a strategy.
Video marketers are said to get 66% more qualified leads yearly than those who don't focus on video. (OptinMonster, 2019)
Click-through rates of video ads are 18 times higher then static image banners.
Ecommerce stores using video see increased conversion rates as high as 80% and increases in average order values by 68%.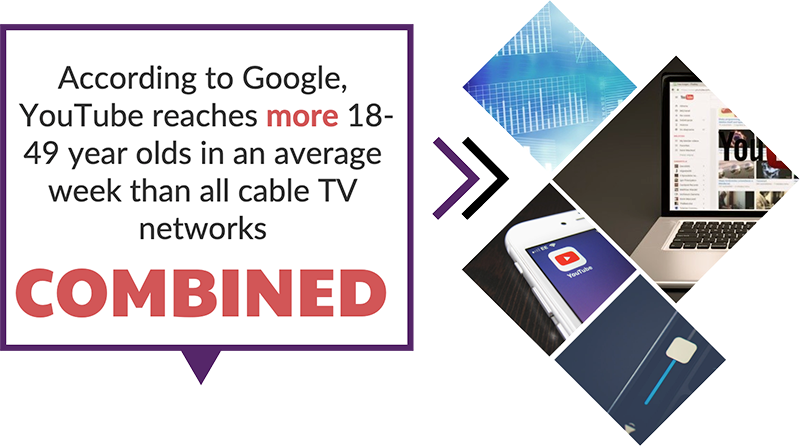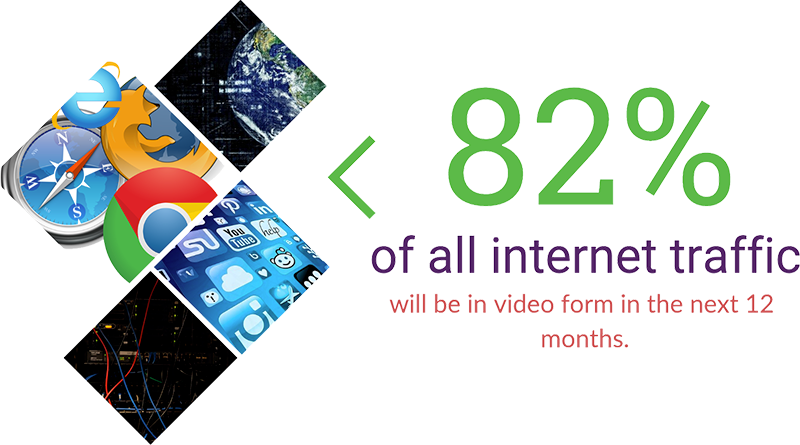 And the Future is Here
The reality is that the deadline is looming when not doing video will start to hurt businesses:
Video will represent 82% of all IP traffic in 2021. (Business Insider, 2017)
In a Q3 2018 Digital Trends report,

Emarketer

forecasted that, "Social network video ad revenues will reach $11.69 billion in 2020, more than double the $5.68 billion in 2017."
Video Expertise
From Our Blog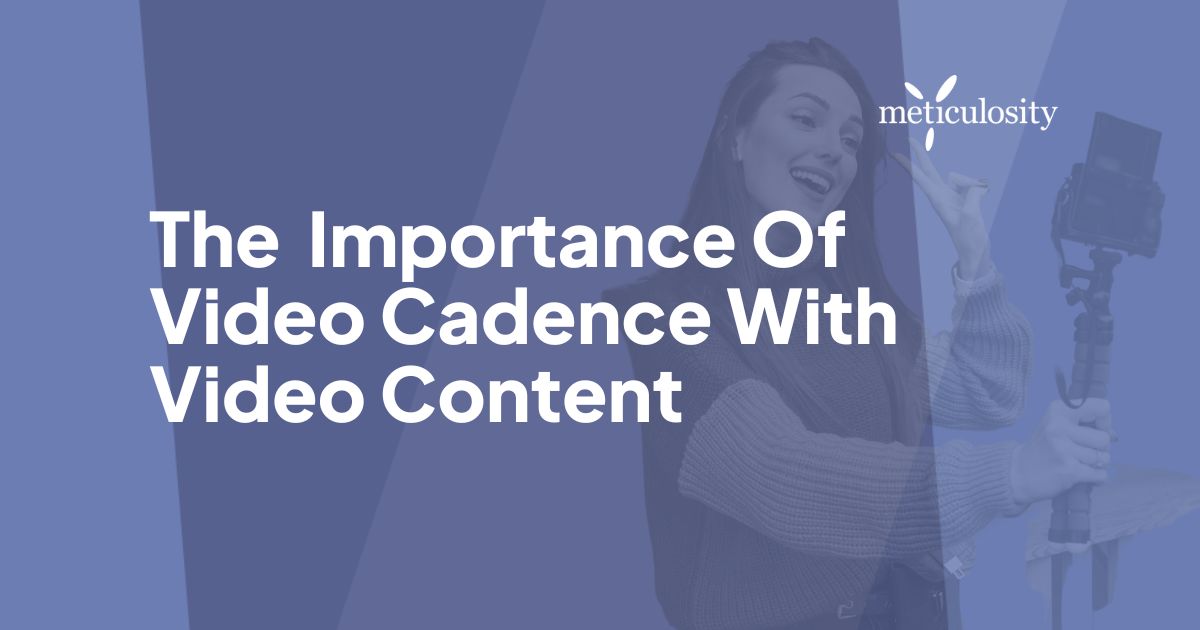 The Importance of Cadence with Video Content
Harness the full power of video integrated throughout your marketing cycle by publishing engaging, relevant video content at a regular cade...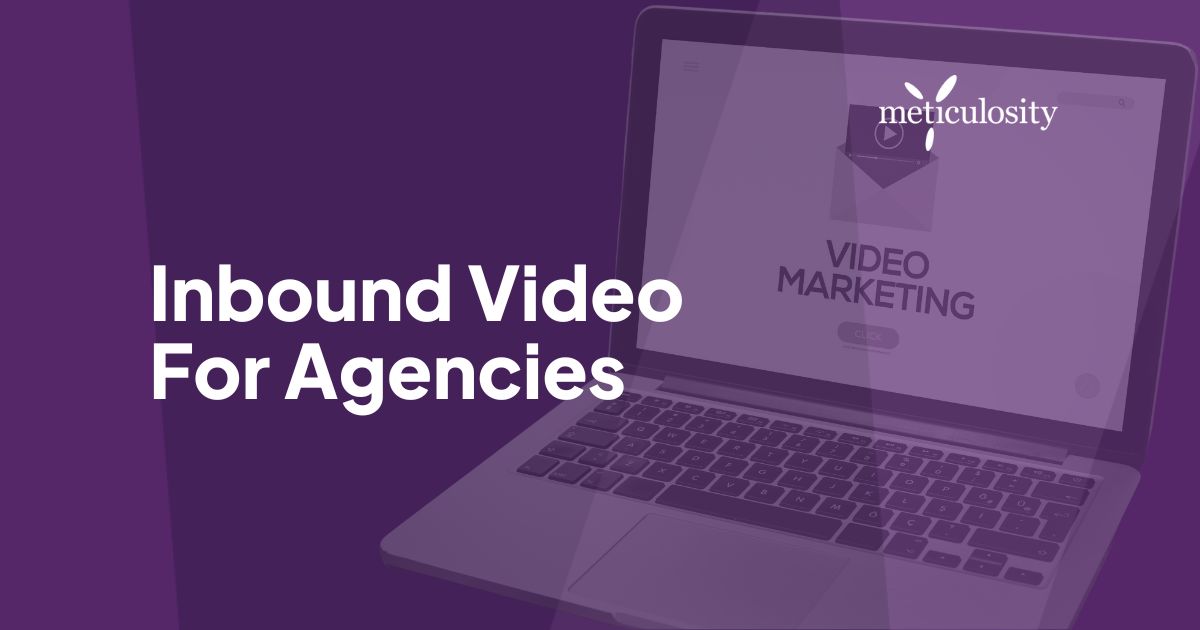 Inbound Video For Agencies
Learning how to create videos in a constantly changing marketing environment can be intimidating. Here's how our inbound video approach can...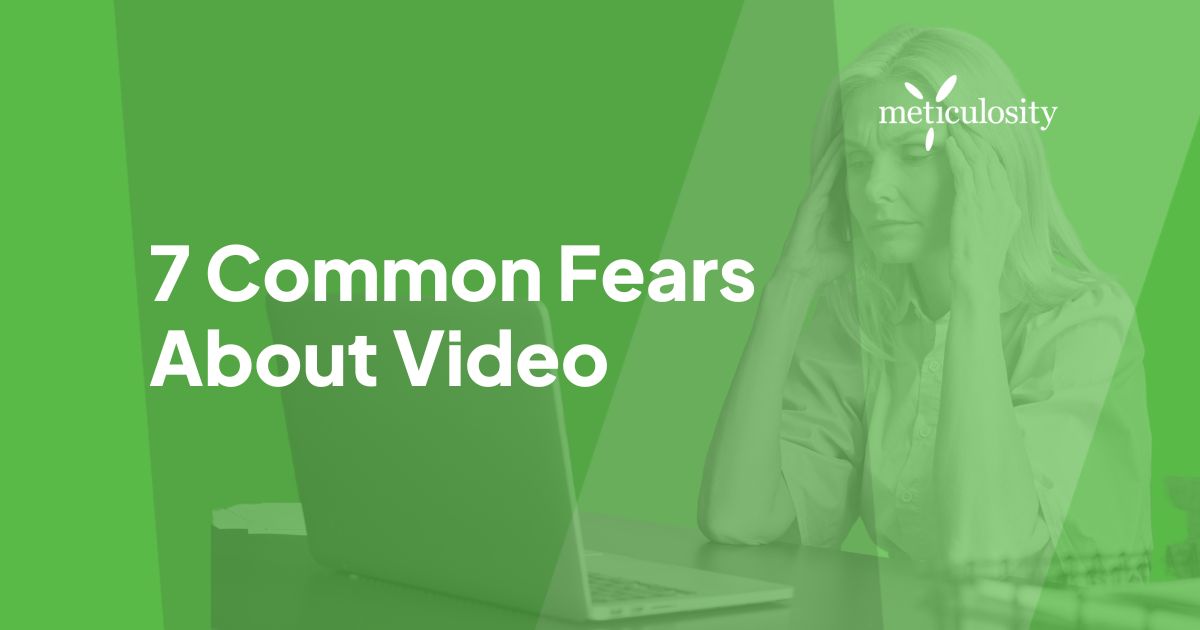 7 Common Fears About Video
Want to break into inbound video but don't know where to start? We've compiled a list of the 7 most common concerns about video and how to ...
Inbound Marketing, Meet Inbound Video
Meticulosity will coach you through scripting and capturing quality video content offers using your cellphone's camera, and we'll take your footage and produce high-quality videos for use across your website, social media, and advertising channels.
LEARN HOW TO:
Script engaging videos in minutes;

Shoot video yourself with your phone;

Get quality production done in days;

Produce videos at a % of the cost;

Add video to your Inbound strategy.

Start doing video the inbound way.
Marketers have struggled with how to effectively create video, worried about the cost, time, and expertise required to produce high-quality video to integrate into their Inbound marketing strategies.
What Makes Inbound Successful?
As Inbound marketers, we know the keys to creating effective inbound marketing campaigns:
Deliver the

right information

to the

right person

at the

right time.
The

cadence

and the

velocity

of content and meeting your customer needs in a much faster way than ever before. It's about creating relevant blogs, social content and offers that are relevant

today

because that's where your digital customers are. They're living in the now, not the past.
Creating

real, engaging content. 5-10 years ago, many companies blogged to stuff keywords so that Google would find you and give you a page rank boost. But that doesn't work anymore. It doesn't read well. And customers don't like it.
Customer Stories
Testimonials, case studies, and more. Why fly an expensive crew on location when your clients can provide content using a cell phone and guided training?
Thought Leadership
Show customers, prospects, and your industry that you're a thought leader through authentic video.
Product Demos
Show prospects how your products and services are better than the competition while building personal connections through video.
Training Videos
Teach customers how to best utilize your products and services or create training videos and build better onboarding experiences for staff.
VLOGs
Create powerful evergreen content for your website with high-value content to reach Top of Funnel (TOFU) prospects.
Social Media Video
Give fans and followers what they really want; authentic and useful video content to pull them further into your marketing funnel.
The Facts About Video
Viewers retain 95% of a message when they watch it in a video, compared to 10% when reading it in text. (Insivia)
Including video in your email marketing increases CTR (click-through rate) by 63%. (Social Media Today)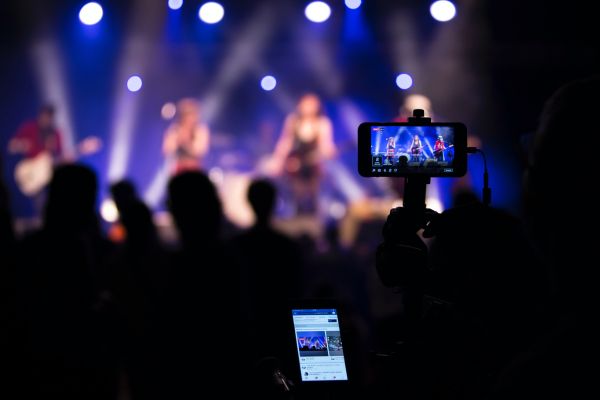 A Smartphone Is Your Production Crew
You don't need a hollywood production crew to make quality video that engages viewers to follow a call to action. To be successful with video content, you need a strategy and cadence just like Inbound marketing.
Break free from the old approach to video production and generate real returns by creating engaging content at a fraction of the cost.
Inbound Marketing Video for Agencies
Attract, Engage, Convert, Delight... You Know the Drill
We'll be the first to admit that we didn't know how to create video as a Marketing agency. We didn't know the first thing about shooting video or producing quality branded content that our clients would embrace. We thought video would be too expensive and risky to add to our offerings, so we just kept pushing it off.

The clock was ticking and we knew that if we didn't master video soon, we would become irrelevant.

We discovered that you don't need a Hollywood crew or budget to create great video. We learned if we approached video like we approach content offers, it enabled us to craft engaging top-of-funnel video content that engaged viewers and attracted relevant traffic. By doing video the "Inbound way", we were able to generate leads and tangible ROIs for agency clients.

If you're not sure how to incorporate video into your client's inbound marketing strategy, talk to us. We can show you how to coach your clients to produce smartphone video content that we can take and produce amazing videos for you. You don't need to worry about the post-production; you can focus on what you already know best.
Ready to get started?
Let's do something great together.
Augment your marketing team's bench with our end-to-end inbound and digital solutions. Fill out this form and someone from our Solutions Team will be in touch within a few days.