A meta description offers a short summary of a web page. Typically 155-158 characters or less, this snippet is important for SEO as search engine crawlers will look for keywords and phrases in the description summary.
When crafting an amazing description for search engine optimization, marketers typically write their meta so that a search in Google displays their result prominently.
What is a Meta Description?
A meta description is a snippet of text that summarizes a webpage's content and is placed within the HTML head tag. Typically, they are up to 155 - 158 characters in length, displayed in search engine results and important to optimize for SEO.
Check your Description Tags and find critical SEO issues affecting your site's indexability.

We're scanning your website right now & we'll email your report shortly.
You can audit another site
Your Description in Search Engines
This description appears underneath the headline of your page in a search engine result. While search engines state their lesser importance, adding a keyword or key phrase to your meta page summary description is just good on-page SEO.
Ranking Factors
When every page on your site has an SEO meta description, your website has the best chance of appearing in search engine results for the defined summary. However, Google has clarified that as of September 21, 2009, meta descriptions and meta keywords will no longer be a factor in their ranking algorithms.
Boost your Click-through Rate
Although it's no longer used for ranking, a good description can help your click-through rates (CTR) on the search engine results pages (SERP) which is a great ranking signal.
Quite simply, as more users click your link, your CTR increases, which sends a clear signal to Google that your result is a good match for the search query.
If more people click on your link, then Google will show your link more for certain phrases and keywords, which is why it's important to include a well optimized meta description tag on every page.
How to add Meta Description Tags?
The meta tags live in the "head" section of the webpage's HTML. So, to add the description, you'll need to access your site's source code.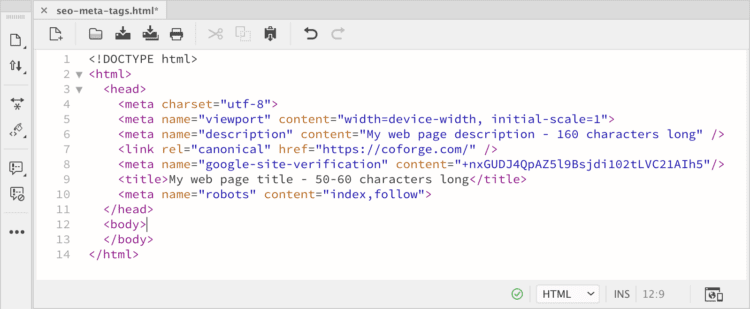 Code Example
<head>

<meta name="description" content="This is a meta description example in HTML. Search engines will typically show this text in search results.">

</head>
Here are a few ways to add meta data:
Open your web page with a text editor.
Access the "Settings" tab for HubSpot CMS (landing, website & blog).
Install a plugin to your WordPress site.
Adding with WordPress and Yoast SEO Plugin
If you have a WordPress website, you can use the Yoast SEO plugin to simply write your Meta description and SEO title (meta title) for you.
To do this, you'll first need to download the free Yoast SEO plugin. You can also login to your WordPress site, click on plugins on the right, and then search for the plugin.
Once you install and activate the Yoast SEO plugin, then you can click on any page or post and scroll underneath the main content box. Underneath, you'll find the section for Yoast SEO meta tags. This will include the page title tag, description, and focus keyword fields. This is where you can add the description using keywords that you want the page to rank for.
Empty Meta Description
If you don't have a meta tag description, then Google and other search engines will likely pull the text from the first paragraph of the post. This may not be optimal as it may not summarize your page as you'd like. It could also affect rankings.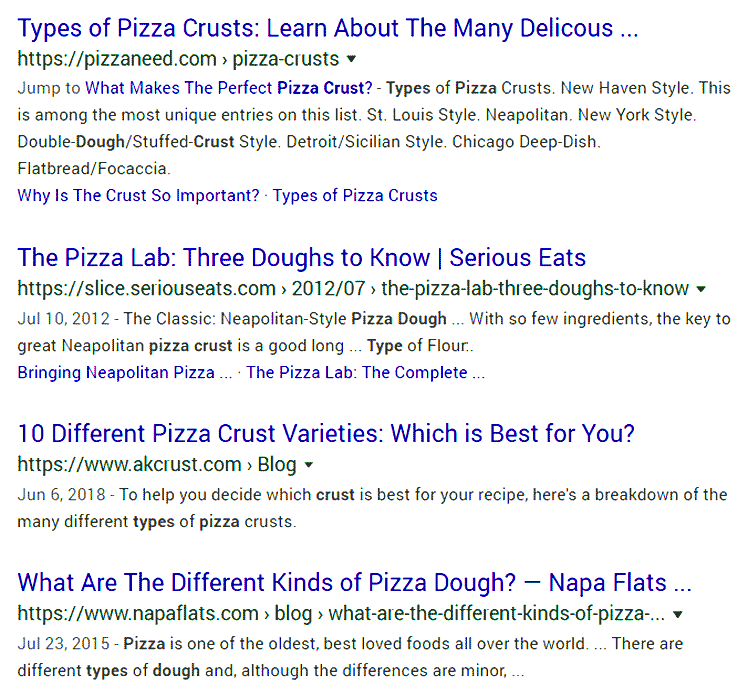 How to Write the Best Meta Tag Description
There are certain characteristics that every page summary description should have, but if you have never written one before, then there is one thing to note. These descriptions do not show up on the page. They are only visible to search engine crawlers and your developer when looking at your website's code.
Here are some other tips to incorporate when writing your meta descriptions:
1. Meta Description Length up to 155-158 Characters
While the exact length of descriptions can vary, it's really depends more on what you want to say about your content.
So, the optimal length should focus more on:
adequately describing your content,
driving clicks and
being helpful.
Google may change the length, which is why we say the best length is between 155 and 158 characters max.
Length Key
The description meta tag is more precisely represented as pixels. Now that given the various character widths, the number of characters displayed in the SERP varies.
Google
920 pixels = 158 characters

Bing
980 pixels = 168 characters

Mobile
680 pixels = 120 characters
NOTE: I personally use 155 as my max character limit for meta descriptions. It's very consistent and Google doesn't truncate.
2. Add your Keyword Topic
As a matter of good practice, you should mention your keyword topic in the first 120 characters. I like to add it within the first 10 words if possible.
In addition, everything you write in the description should be relevant to the webpage content which means re-using the keyword topic or key phrase a few more times within the body.
3. Be Persuasive and Actionable
What do you want people to know about your content that will entice them to learn more? How will you persuade them to click on your link? By using action words and writing in an inspirational tone, you'll have a greater impact on the potential visitor.
So, the user should have a sneak peak of your content and know what they get from clicking on your link. Descriptions should also be written as a tool and build the user's confidence.
Unlike a caption that displays after a post, your meta tag description is seen before the content, so it should leave the potential visitor wanting more.
4. End with a Call-to-Action
This goes back to what you want the user to do. Simple call-to-actions (CTAs) like learn more, get it now, get a free quote, sign up for free, and other CTAs make people want to click and get something, especially when it's free.
5. Add Your Focus Keyword
What is the content about on this page? What do you think people will search for to get to this page? Perhaps, you have an SEO keyword list. If you have a marketing agency, you may have gotten an audit of your website that included all of your most popular keywords and key phrases, as well as a comparison to those on your competitor's website.
These focus keywords should be grouped and separated into different pages of content. Each content page should have a description that includes the focus keyword. For example, if you want to rank for "healthy pizza recipes," then your description might start off with "See the top healthy pizza recipes and save on calories while eating deliciously well."
6. Spice It Up with Relevant Information
Specifications offer more insight into the product or service you are selling on the page. You may want to add price, SKU, manufacturer or brand name, and other key specifications within the description.
7. Always Be Relevant to Your Page's Content
It's not just about using the keyword multiple times on the page. You also want to make sure that the content matches the topic you're trying to rank for.
If your keyword is "WordPress themes" in the description meta tag, then your page should exclusively include "top WordPress themes" and links to those theme pages. However, it could also be "about WordPress themes" or "how to create WordPress themes." You may need to be more specific in relation to the page's content to be relevant in search results.
8. Write About Something New
Have you been seeing questions on Twitter or Instagram about a certain topic? What are people talking about in Facebook groups about your industry or product types? You can use this content to come up with more keywords and content ideas.
Your content must be unique in order to rank higher than competitors. Skyscraper SEO is a method where you look at the pages ranking at the top for certain keywords, and after looking at the key points of the article, you build a new one with similar content and a little bit more.
You can expand upon these sections, adding tips or frequently asked questions, and you can publish this new content to build on top of your competitors. This technique works best when your content is unique and better than ranking competitors.
9. Avoid Duplicate Meta Descriptions
If have the same or very similar descriptions in your meta on different pages Google will consider the duplicates.
Writing unique descriptions is better for search and promotes a better user experience. Duplicates can also cause Google to put less emphasis on each page with a duplicate as the algorithm can't distinguish between content.
Meta Description Examples
Someone looking for "pop figures" would love this page because it uses the brand name, and it mentions pop figures. It also mentions other merchandise, clothing, and collectibles can be found on the page.
Someone searching for "cat diet" would be attracted to this page because it mentions the "best diet for your cat" and offers some more information.
This meta tag description starts out with an actionable verb and mentions the keyword in multiple ways. It also includes links to "Step 1" and "Step 2." You can add links to the meta tags as well.

Specifications are listed here to show the expertise of the content, and it also mentions the keyword "HVAC installation."
What's Next for your Meta Tags?
If your meta tags and description aren't showing, it could be that the content is a duplicate or Google has decided to show something else. You may want to work with a professional SEO agency to audit your site's content and ensure that your descriptions are the best possible for your content.