3dcart just officially announced version 7 of their platform yesterday - and it's a home run. I had used the new responsive admin during some beta previews we were privy to, and it looks and functions great. However, I think the real gem of yesterday's announcement was the 3dcart POS.
So as much as I love 3dcart as a hosted ecommerce platform, the admin area has been lacking for some years. Not that you should gauge a provider on their admin alone (as functionality should be more important), I often found it cumbersome to find and change store settings as it required several clicks into obscure menu options. The old admin was NOT mobile friendly at all, and to a degree - it didn't help me WOW clients during presentations with it's dated design. Bigcommerce had done a much better job at the design and UX of their admin until this 3dcart version.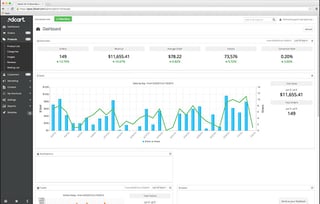 The new 3dcart version 7 software is now fully responsive in the admin area and uses modern design trends. Gone is the gradient backgrounds and dark colors - welcoming in white space and simple UX design.
In addition to looking great, they tweaked a lot of the UI and UX, making it easier to find configuration settings. They also re-designed the category and product management, making it far easier and faster manage your catalog.
3dcart also did some upgrades in the payment and shipping method sections, though I haven't reviewed them yet - and these are things you set and forget so it won't make a daily impact anyway.
Finally, they overhauled their checkout experience into a best-practice one page checkout - something that should have a really big impact on checkout abandonment and conversion rates. I haven't put it into practice yet for any clients, but it looks good and I'll report back later.
All-in-all, this upgrade is going to position 3dcart to grow their customer base - as I know firsthand that retailers looking for a new hosted cart were occasionally choosing platforms like Shopify and Bigcommerce just because of the shiny coat of paint. Existing customers will love the updates.
3dcart POS
The real surprise and winner of yesterday's announcement was the 3dcart POS. To my knowledge, there aren't any entry-level hosted ecommerce systems that offer direct POS and website integration. CORESense does this, but is in a different price league then 3dcart. Square "kinda" offers this - but it's super limited as far as functionality and only works for the simplest of ecommerce models where brick-and-mortar comes before online.

They don't have any information up online yet - but I've reached out to my partner rep for more info. Assuming it's a single inventory, order, and customer system, it should connect all the dots for brick-and-mortar stores with an ecommerce presence. I'll see if I can get my hands on a demo and report back.
Overall, a super upgrade from 3dcart that's been a long time coming, but appears worth the wait!