When it comes to ad performance, nothing is worse than ads that aren't putting your website or product in the best light.
With Google Ads app extensions, you can take control of your ad campaign and ensure that your ads are working to their full potential, and improve your app downloads.
What Are Google Ads App Extensions?
There's no doubt that Google Ads play an important role in online advertising, and if you're looking to take your campaigns to the next level, you need to check out Google Ads app extensions.
If you have an app, you can highlight it in your text ads using the Google Ads app extension. Highlighting your app in search results can be incredibly helpful to drive app downloads, which in turn helps you ensure that you are effectively cornering the market in your service offering.
In short, app extensions make it possible for text ads to link to both your website and the app store page for your company's app.
Example of an App Extension
While conducting a search for "cheap hotels," I was shown this text ad for Expedia that is leveraging the app extension.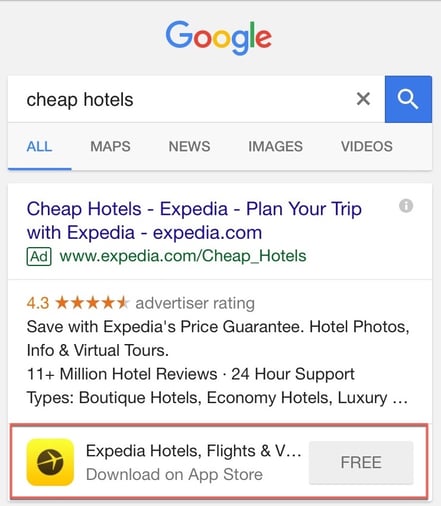 The keyword search "cheap hotels" is a really broad, high-level search and shows that I'm likely at the top of the buyer's journey, perhaps not even decided on where I'm going.
A typical searcher in this discovery stage will continue to refine their searches and until they narrow it down to something more concrete.
In this example, by providing the link to their app, Expedia is positioning themselves to capture the entire buyer's journey on their app instead of letting the user bounce from site to site to do their own travel research.
Additionally, once the user has the app on their phone, they are more likely to open the app for further research or to book future trips.
Benefits of Google Ads App Extensions
Bringing someone into your app at the top of their buyer's journey, keeping them through to conversion, then having follow-up sales is a marketer's best case scenario.
Here are some of the benefits of using app extensions:
1. Increased Ad Engagement Rates
Users who interact positively with your ads (by clicking on them or downloading your app) are more likely to spend time on your website or recommend it to friends. You can easily measure how well each ad performs with app extensions and make adjustments as needed.
2. Improved Targeting Options
With Google Ads, you have access to powerful targeting methods such as collecting location data, age ranges, interests, and so on. This means you can tailor your ads to the people who matter the most, resulting in better results.
3. Enhanced User Experiences
In many cases, users find it easier to explore on an app that is designed with their phone in mind, rather than navigating around an entire website, which may or may not be mobile-friendly.
Tips for Using Google Ads Extensions Effectively
Google Ads extensions are an amazing way for businesses to gain more exposure for their properties and services. However, effective use of these extensions requires a bit of knowledge about how they work.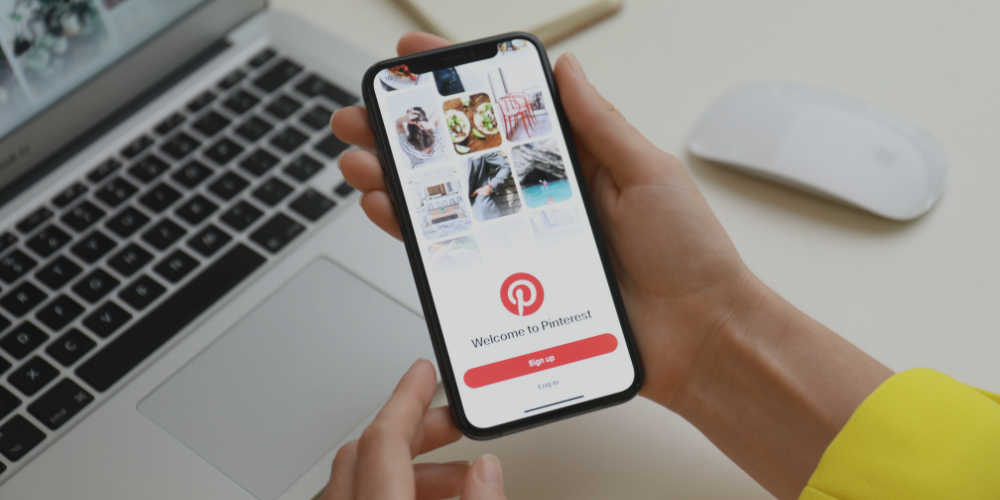 Here are a few tips to get you started:
Set up daily or weekly ad budgets - This will help you determine how much money you want to spend each day or week on ads, and also which properties or categories you would like to target.
Select specific targeting criteria - This allows you to refine your ads based on specific characteristics that matter most to your business.
Set clear goals for each extension - Make sure that you know what outcome you're hoping to achieve with each extension so that you can monitor whether or not your ad extensions are helping you achieve these goals.
Utilize bidding options - Bid strategically in order to not only increase budget availability but also ensure desired results are achieved from ads placement - such as higher clickthrough rates (CTRs).
Always test your extension - Before launching your ad extension, always make sure to test it. If it doesn't work correctly, there is a good chance your users will see errors or crashes while using it.
Get Started with Google Ads App Extensions
Google app extensions are very easy to set up and can be run on a schedule, similar to call extensions, message extensions, and other extensions.
Google Ads app extensions are a great way to improve ad performance, and they can make your ads relevant and engaging.
If your business has an app, and you're interested in using Google Ads app extensions in your ad campaigns, be sure to get a copy of our guide on Google Ads Extensions below, or contact our Google Ads experts today to get started.