If Google Ads are part of your marketing strategy, you need to be utilizing Google Ads extensions. In short, Google Ads extensions (previously AdWords ad extensions) are used to extend your ad in order to take up more space in the SERP. There are many different types of ad extensions, and it's best to use a variety based on your company's goals.


Benefits of Using Google Ads Extensions
Google Ads extensions are a great way to improve the performance of your ad campaigns. They can help you drive more traffic back to your website or landing page, resulting in clicks, visits, or conversions. Ad extensions also allow for more customized targeting, which leads to higher ROI campaigns. By using Google Ads extensions, you can increase your ad reach and improve your ad performance.
Improves Click-Through Rate
There is a clear correlation between well-crafted ads and better click-through rates. Using the full range of ad extensions increases the size of your ads and makes them appear more relevant, which in turn improves the click-through rate.
Improves Ad Rank
Ultimately, if you want your ads to be effective and generate leads for your business - then it's important to make sure that they rank well on the SERP. By using ad extensions, your ad takes up more space in the SERP, which will improve ad rank.
More Qualified Leads
When it comes to lead generation, better targeting of your ads is one of the most effective ways to achieve a high ROI. By customizing them specifically for your target audience, you are increasing the chances of landing leads that are more qualified and ready to buy what you have to offer.
Since ad extensions give the user a better idea of what you offer, the people who click on your ad are more likely to be genuinely interested in what you have to offer.
Types of Google Ads Extensions:
Google is frequently adding and removing ad extensions, and understanding each type will help you get the most out of your PPC ads. Not every ad extension will be relevant to your business, but you should try to use a variety in order to maximize the likelihood of people clicking on your ad.
Sitelink Extensions
Adding sitelink extensions to your website is a great way to make it easier for people to find what they are looking for. Sitelink extensions allow you to direct potential visitors to a page other than the landing page associated with your ad.
By adding these extensions, you can increase the number of visitors who come across your content and click through to see more information or buy something.

Callout Extensions
Callout extensions are used to highlight your value add. This is where you provide the reasons why someone would want to select you instead of one of your competitors.
Callout extensions are a great way to increase your ad reach by prompting users to take action. By targeting specific demographics, you can make sure that the ads you send out are actually reaching your target audience.



Structured Snippet
Extensions
Google's structured snippet extensions helps you differentiate your products and services you offer from your competition and allows you to include additional details about the business by utilizing 12 headers (such as "Types," "Amenities," or "Destinations") and a description.

Call Extensions
Call extensions are a great way to increase your leads and sales. They allow you to add a call-to-action button to your ads that will prompt your visitors to phone your business. With the right strategy in place, call extensions can be extremely effective in driving leads and generating sales.
Location Extensions
The Google Ads location extension allows you to show your physical business address and phone number within your ads. They include a clickable link so your customers can easily see directions to your establishment.
This is useful for businesses that sell products or services in specific locations, as it gives potential customers a way to contact you easily. Using location extensions also helps you rank higher in search engine results when people type in your specific location into the browser bar.

Affiliate Location Extensions
As a manufacturer that sells products through retail outlets, the affiliate location extension can help you reach your customers when they want to go to a store (even if it's not your store).
The affiliate location extension will show the nearest location(s) where the product a is carried. This can be extremely helpful for businesses as it minimizes search time and increases chances of finding relevant information.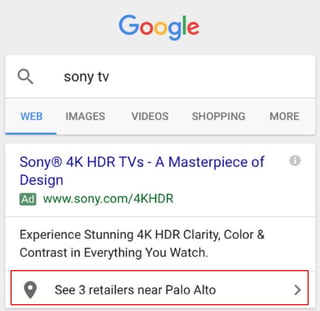 Product Extensions
Product extensions are a great way to improve your products listing on Google. By linking your merchant account with ads, you can enrich the information displayed about each product, such as price and availability.
Product extensions also give you the ability to add call-to-actions (CTAs), text links, and images directly into the listings of your products.


Price Extensions
Google's price extension allows you to display prices for products/services within the ad. On a mobile device, the prices and products you add are displayed in a horizontal sliding format, so that your visitors can swipe through them.
Price extensions are a great way to increase the visibility of your prices and make it easier for potential customers to find what they're looking for.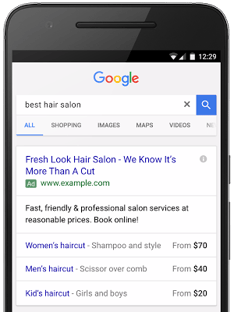 App Extensions
If your business has a mobile app, you can highlight it in your text ads using a Google Ads app extension. Highlighting your app in the search results can help increase app downloads.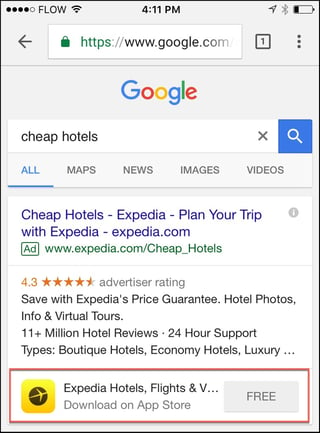 Seller Ratings Extensions
It's always helpful to have positive customer feedback, and seller ratings extensions, are one of the best ways to get it. By adding ratings below your text ads, you look more reputable to potential customers, and increase the chances of them buying your product.

Setting Up Google Ads Extensions
Here's how you can easily create a Google Ads extension:
Go to your Google Ads account, and click "Ads & Extensions" in the page menu on the left, then click "Extensions."
Click the plus button and select the type of extension you want to use.
From the "Add to" drop-down menu, choose the level you'd like to add the extension (account, campaign, or ad group).
Fill out the ad text and URL. Enter additional text about your link in the "Description" fields (optional, but highly recommended).
Click Save to save your extension setting for your campaign.
Get Started With Google Ads Extensions
Google Ads extensions are an effective way to boost your online presence and reach new customers. By using ad extensions, you can increase the number of leads and sales generated from your Google Ads account.
Extensions also make it easy to track your ad performance and adjust your ads as needed. If you're interested in giving Google Ads extensions a try, reach out to our Google Ads experts, or download our free guide on Google Ads Extensions.