If you have an app, you can highlight it in your text ads using the Google AdWords App Extension. Highlighting your app in the search results can be incredibly helpful to drive app downloads, which in turn helps you ensure that you are effectively cornering the market in your service offering. Here's how:
While conducting a search for "cheap hotels" I was shown this text ad for Expedia that is leveraging the App extension.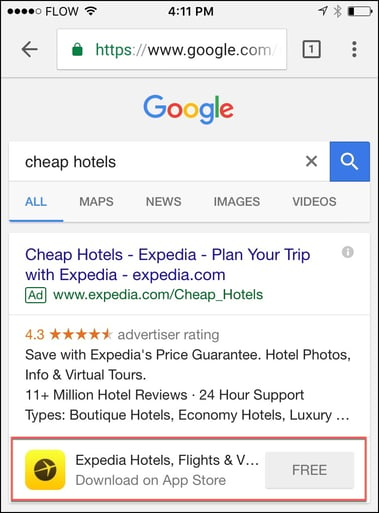 The keyword search "cheap hotels" is a really broad, high-level search and shows that I'm likely at the top of the buyer's journey, perhaps not even decided on where I'm going. A typical searcher in this discovery stage will keep refining their searches and visiting lots of sites until they narrow it down to something more concrete. By providing the quick link to their app, Expedia is positioning themselves to capture the entire buyer's journey on their app instead of letting me, the travel planner, bounce from site to site to site to do my research and make my decisions.
What's more, once I have that app on my phone I'm more likely to pop back into it for follow up research or to book future trips.
Bringing someone into your app at the top of their buyer's journey, keep them through to conversion, then have follow-up sales, is a marketer's best case scenario. It's not likely that it will play out this way for very many people but when it does you have succeeded in taking more of the market share away from your competitors at every single stage of the buyer's journey.
How to Set up App Extensions for AdWords
Google App Extensions are very easy to set up and can be run on a schedule, similar to the Call Extensions, Message Extensions, and many of the other AdWords extensions. You can follow Google's helpful step-by-step tutorial to get your App extensions live on Google today!