Our name says it all. Meticulosity has a keen eye for detail — for diligently learning about what matters most to our clients, translating our ideas into designs, and optimized websites with custom Magento web development, which we then leverage to increase traffic and sales. The holistic design, development, and marketing solutions offered by our team always prioritize our clients and communities, and due to this service-based approach for our partners, we've been featured on Clutch for our efforts and excellence.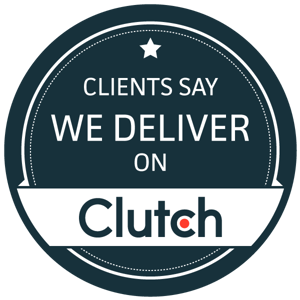 Clutch is a business insight and research firm based in Washington, D.C. that reviews and recognizes various small and mid-market companies for their performance, work, and client service. They cover over 7,000 companies across 500+ industries, ranging from web developers to answering services. By compiling and analyzing various qualitative and quantitative aspects of businesses, such as market presence, previous experience, client reviews, and more, Clutch then ranks companies, both on an individual and industry- or nation-wide basis to illustrate comparative quality and capability.
In over a dozen reviews on our Clutch profile, past and present clients share details about their experiences collaborating with our team. In discussing our project management style, communication habits, involvement, and more, clients particularly praised our commitment to their success, especially in terms of our responsiveness, flexibility, and creativity.
"The new site is user-friendly for customers and staff alike, and the new extensions have brought huge increases in sales. Meticulosity's team delivers highly responsive and personalized communications. They tailor their work to their customer's needs and contribute greatly to their success," shared one client.

"It's been a very positive experience. Meticulosity's designer was fantastic. It was difficult to narrow down my selections because they were all such fantastic designs."

"Meticulosity fulfills expectations despite complex requirements. They're responsive to urgent needs, communicative, and helpful when it comes to solving problems," noted a second client.

"They're an honorable company. They do what they promise and don't backtrack. We spent a lot more time on tracking and project management with our previous developer. Everything has been great with Meticulosity. They ask fewer questions because they ask the right questions. The company is small enough to ramp up or down as needed, but they also have resources available when we need them."

"They always exceed expectations in every way. If there's something that I expect to take 60 days, I'll get it in half that time. It's been a great experience, and I love working with them," chimed in yet another client.

"Everyone on the marketing team that I work with, from my digital director and my creative team, loves them. It might just be because of where we came from, but everyone is singing their praises. We love working with them."
Additionally, we were highlighted by The Manifest for being one of the highest performing eCommerce developers in the world. The Manifest is Clutch's sister website, featuring insights on business news and industry lists; we're honored to accept recognition on both platforms.
If you're interested in being part of a team with us and adding our attention to detail, expertise, and innovation to your business, we welcome you to connect and discuss potential projects and partnerships. Thank you to Clutch and our clients for their praise and positive feedback, we look forward to exploring future collaborations!