This is probably the most frequently asked question we get about Inbound Marketing: How long does it take to see results from Inbound Marketing?
Sorry to break this to you, but there is no magic pill that will make you loose 100 pounds in a month and there is no magic wand that any agency can wave to make inbound results happen faster.
Most Inbound Marketing campaigns take at least 6-9 months to start seeing a return on investment. In recent data collected from tens of thousands of Inbound Marketers, about 83.93% of companies using Inbound began increasing sales within 7 months. However, about 2% of companies didn't see leads increase until after 12 months: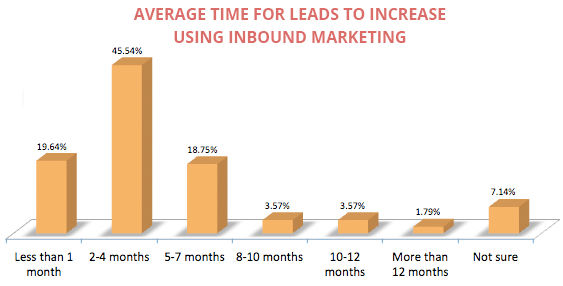 All that said, we tend to see results a bit faster, especially from companies with good traffic but who have never really done any kind of proactive marketing or website optimization.
There is often low hanging fruit on every website, so we'll usually attack those first while we work on the long-term strategy so we can try and get some quick wins for you early in the game. If you've been doing absolutely nothing with your online marketing, then you have a good chance to get some early traction while you build up from there over time.