Within the field of search engine optimization (SEO), everyone has room for improvement–even the experts. SEO tactics come and go. However, the principles for anchor text links has become part of every marketers SEO guide of best practices.
Get your website ranking in search. Easy step-by-step Guide to SEO - Download Now >
What is Anchor Text?
Anchor text is a common web page element and is the actual clickable text of a text-based hyperlink. Typically, the text anchor is blue and underlined. Basic SEO principles teach that anchor text should be descriptive and relevant to the linking resource.
Is Anchor Text Important for SEO?
Despite years of experience, SEO experts often practice the latest trending tactics only to reverse their strategy in the face of an ever evolving digital playing field. One trend could be alive and kicking, today, and dead the next.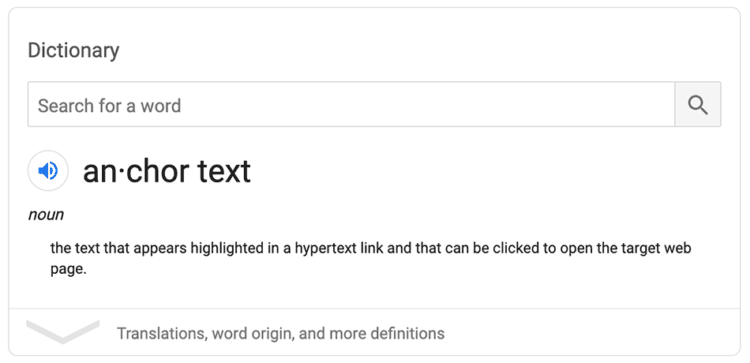 Miss out on even a single stage of evolution, and you miss out on a lot. Worse, you might lose ground to competitors in Google search.
As a result, both SEOs and businesses are always in a frenzy to get better search rankings. By working on SEO best practices, they hope to achieve the top spot on Google and to stay there, despite the constant ranking flux.
Anchor Text HTML
The HTML anchor element creates a hyperlink between the link target and the anchor text. This is the basic syntax used by text hyperlinks found in web page content. See our sample HTML anchor snippet below.

Manage Anchor Text Links
Experts and SEO agencies still try to uncover the secrets behind SEO success - why a site, page or post ranks - or doesn't. Several have performed extensive backlink research while others study search term trends. These efforts point to one truth about SEO, amidst the volley of changes: anchor links matter in your content.
To manage the anchor links sitewide you must use the best SEO tools. Performing a comprehensive Site Audit regularly, is like having for a routine checkup with your doctor. It's just good practice.
Below is an example SEMrush site audit that will uncover broken links, crawl depth, etc. It helps you find problems as well as linking opportunities for internal and external links.
The List of Anchor Text Link Categories
During the early days of SEO, only one anchor link category mattered - keywords. Link text and keywords had to be the same; otherwise, all efforts were pointless. That was back in 2009. Today, link profiles thrive on diversity.
Here are a few top categories for anchor types:
Keywords. Phrases businesses and experts try to rank on given pages.
Keyword plus. Contains the keyword and additional text.
Partial keyword. A partial match of the full key phrase.
Brand. The name of the business.
Brand plus keyword. The brand name and a keyword.
WebsiteName.com. The brand's domain in URL form.
Full URL. Just the URL the link points to.
Naked URLs. The full URL minus the https://.
Natural. No reference to the keyword.
Blog Post/Page Title. Refers to the meta title of a blog post or page.
Out of these, one rules them all.
The Best Anchor Text
The single most important out of the twelve is the Page Title/Blog Post Title. Websites referencing to other blog posts by titles are common occurrences in SEO.
Since this is a natural way to encourage other sites to link back to your posts, businesses get more links with the same link text. As a result, it fits the search engine's expectation of natural backlink profiles.
Also, page title anchor texts show up 25% of the time in top profiles. When more sites link back to your page title, expect a boost in phrases.
There's more to this link building puzzle than meets the eye. But by prioritizing this anchor text, your SEO efforts will run for miles and miles.