Search engine competition is fierce and only getting harder. Digital marketers are stepping up their SEO game. The question is - will you be able to elevate your SEO strategy this year and keep up or lose ground? So, we've compiled a SEMrush review for you to evaluate a massive set tools that can give you a competitive advantage.
What is SEMrush?
SEMrush is a software company based in Boston, MA that provides digital marketing tools to help marketers manage, monitor and research online visibility efforts. The tools focus on SEO, PPC, content, social media and competitive research and used by millions of marketers worldwide.
What is SEMrush used for?
SEMrush is used for keyword research, tracking keyword positions, competition analysis, SEO audit, backlink analysis, PPC strategy, brand monitoring and content strategy. The suite of digital marketing tools is used by marketing agencies as well as organizations big and small.
SEMrush, an All-in-one Marketing Toolkit
Having a SERP tracker you can trust to monitor your page ranking is absolutely essential, especially with the growing SEO landscape. You would otherwise waste a substantial amount of money, time, and effort as you endeavor to wrap your digital hands around your SEO campaign and rank checking.
So, with so many digital marketing tools available online, you could literally make yourself crazy...and broke, trying them all out. Luckily for you, we have done all the recon and testing for you and know the most amazing suite of tools for your SEO campaigns.
SEMRush provides amazing an all-in-one marketing toolkit with an arsenal at your disposal. To start, they include Analytics Reports that provide deep insights into your SEO but also allows a complete analysis into your competitors' strategies for display advertising, organic search, paid search and even link building.
Making Amazing White Label Reports
If you're providing SEO for your clients or just yourself, you need custom reports that display the most pertinent info when you need it.
One of the best ways to keep clients or your team informed and always in the loop is through consistent and accurate ranking reports. After all, happy clients make for good business. Keep in mind that clients favor simple ranking reports rather than elaborate ones; all they need is the information at a glance.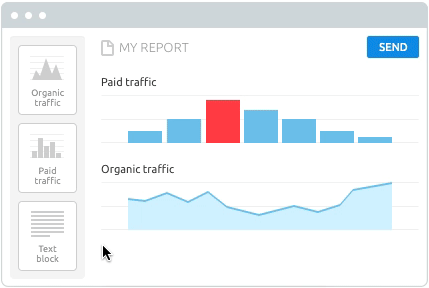 Good white label reports should have the following characteristics:
Customizable, which allows clients to add personal touches
Have the ability to send notifications and reports
Be able to be sent on a schedule
SEMrush Site Audit
The SEMrush site audit tool provides a complete website and SEO analysis report that helps find and fix critical issues preventing you from ranking. The audit checks over 120 technical and on-page SEO factors.

Keyword Magic Tool
You can Cross, combine and visualize SEMrush data so you can compare competitive domains and estimate keyword difficulty with only a few clicks. This amazing tool uncovers hidden keywords, which rank top 100 for any site. The ranking discovery tool reverse-engineers search engines, revealing secret keywords you might not even be aware of. Since these keywords rank within top positions, promoting them to even higher positions is easier.
Can provide 2 million keyword ideas
Provides keyword grouping so you can segment your keywords by topic
Select the best keywords and then save it to the Keyword Analyzer
Export your top keywords for use in companion SEMrush tools
Discover keyword search volume, keyword difficulty, competitive density, SERP features & cost-per-click data.
Don't lag behind in the SEO game this year. Use this professional agency tool or simply partner with us today and take back control of your SEO.
10 Essential SEO Tips You Need Right Now
SEMrush Review
SEMrush is an amazing SEO tool but has a hefty price tag. So, we're often asked is it worth spending $99 a month... or more? Read our in-depth SEMrush review on G2 Crowd to find out.


SEMrush Pricing
SEMrush offers three pricing tiers for their monthly and yearly subscriptions:
Pro for $99.95/m or $999.36/yr (2 months free)
Guru for $199.95/m or $1,999.44/yr (2 months free)
Business starting at $399.95/m or $3,999.36/yr (2 months free)
All three plans are monthly or yearly recurring subscriptions. NOTE: when paying annually you're only paying for 10 months - so, you get 2 months free.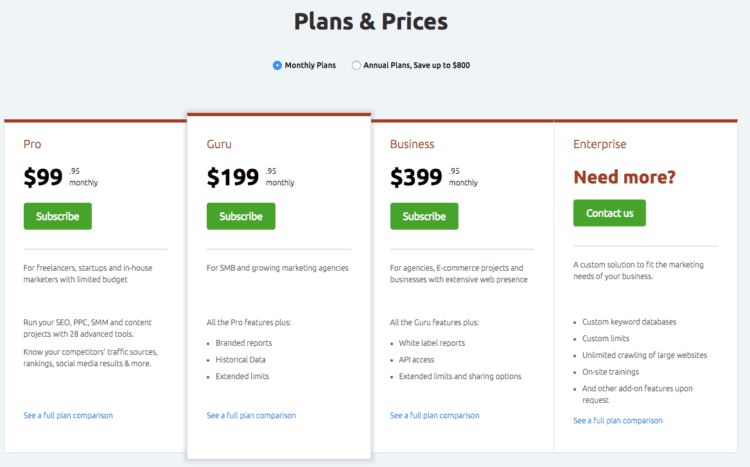 SEMrush Pricing FAQs
Can users upgrade/downgrade plans or easily cancel their subscription anytime?
Yes, downgrading and upgrading is easy with pro-rating for mid-month changes. Hassle free canceling any time.
Are there hidden fees, terms or contracts?
None.
They accept what type of payment methods?
Visa, MasterCard, Discover, AMEX
PayPal - though it's a bit hidden
Wire Transfer - but you have to contact SEMrush
Check or Money Order - for US customers only & you have to contact SEMrush
Do they offer custom plans?
Yes! They offer Enterprise plans that can be fully customized to meet your marketing needs and you'll need to contact SEMrush to set up.