The Ultimate Step by Step Guide to SEO
Improve your search engine rankings with SEO. Learn actionable techniques for search engine optimization, content marketing & link building.
When you have a problem, need or challenge, what's the first thing you do?
You Google it! Yeah me too. Why? Because we know it's Google's mission to give us fast, relevant information when searched. And they do an amazing job at it don't they?
We're in the age of the research obsessed consumer. Advanced Google Search helps with buying decisions and answering questions.
Your future customers are searching on a problem that your product or service solves - right now! The question is, will they find your website or your competitor?
SEARCH FACTS
1. 96% of B2B buyers use Google to find expert advice.
2. Organic Search is 5.6x better than Paid Search Ads.
3. 84% of Americans are online shopping - right now.
In order for your business to thrive you must be visible in Google search results. It's just that simple. And, to be visible in search you must tackle Search Engine Optimization. Not to worry, we're here to help you - after all, we want you to succeed.
In this beginner's guide to SEO, we'll show you how to do SEO like a pro. No complex theory or technical jargon.
First, we'll teach you how SEO works. Then break it down to simple, actionable steps you can follow for the best results. Finally, we'll show you everything needed to build your own Optimization Strategy to get your site ranking higher.
Basic SEO principles, Basic SEO tips and 10 Essential SEO Tips.
As a digital marketer we're always being asked to define SEO and what's the secret sauce. Though people have a loose understanding that it gets your website into search engine results, they don't see its complex nature.
Search engine optimization is a series of tactics used by marketers to make your business visible in the organic search results of Google and Bing. Its goal is to rank your web pages, blog posts and media higher in the SERPs (Search Engine Results Pages) for a given search term.
Most importantly, it's an organic process you can influence with good technical site structure, quality content and authoritative back linking. With good optimization you too can influence higher rankings and gain more visibility.
Now you have a basic understanding of what Search Optimization. But how does it work? Think of it as a repeatable process that sends signals to search engines that your content is worth indexing.
There's lots of noise and competition in search. Coupled with limited positions on the 1st page of results, your content needs to be relevant, authoritative and kick-ass. Otherwise, the search signals you send will be faint. So, to stand out in search results, create an engaging piece of quality content, that's optimized for a good user experience, and answers the users question better than your competitor does.
Google and other search engines have 3 core components, a crawler, an index and an algorithm.
Search Engine Crawler
AKA "bot", "robot" or "spider". Its job is to follow links found on the internet. When it discovers pages on your website, it will crawl your content. The crawler will follow your links, both internal and external adding new content to the index.
Search Engine Index
The index is Google's massive database or catalogue of web pages and online content discovered by the crawler.
Search Engine Algorithm
Search engines like Google use a complex formula, or algorithm, that's responsible for the search results. Google uses their trademarked "PageRank" algorithm to determine search ranking and visibility.
Here's a 3 minute video from Matt Cutts, an engineer (formerly) with Google to explain how search works in simple terms.
Google's mission has always been to present the most relevant search results to the user. In their own words...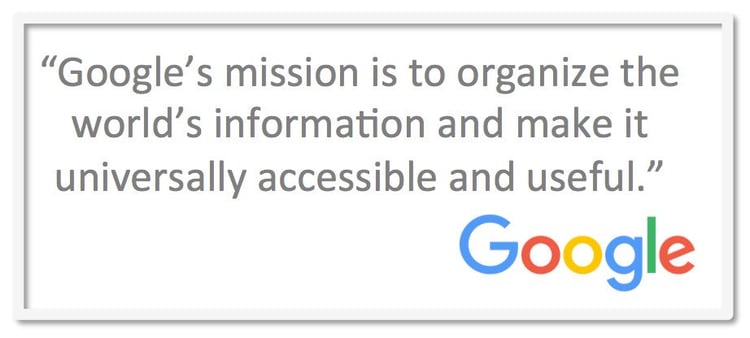 Outside of your quality content, the search algorithm evaluates over 200 ranking factors when determining your rank and prominence in the SERPs. All are important to an effective and successful optimization strategy. However, for this SEO Guide, we will focus on the top 3.
Google Ranking Factors
Technical SEO
On-page SEO
Link Building
What is Search Engine Ranking?
Search engine ranking refers to the process used to determine a web page's position in the SERPs. There are generally 10 organic listings per search page. Paid ads, featured snippets, local listings, videos and images may expand each search page.
What is Search Engine Visibility?
Search Engine visibility refers to how prominently your web page is displayed in the SERP. Higher ranking (top of organic search results) listings means higher visibility.
A few examples include: search result positions 1-3 on page 1, a featured snippet or a local listing. Less visible content wouldn't appear until page 2, 3 and beyond.
A little history ranking first. In the past, you could game the search algorithm by "keyword stuffing" and paying for backlinks. This resulted in bad search results and a poor user experience. It's also against Google's core mission and they eventually cracked down launching a zoo of algorithm updates to improve the quality of results. Learn more in our Black Hat section below.
To rank higher than the top search engine results, you must prove that your content is indeed better and worthy of indexing. To do that your high quality content needs 3 "RAD" ingredients:
Relevancy
Authority
Diversity
Search Relevancy
Show topical relevance between the search query and page content. Do this by placing relevant keywords in the page title and the written content. Other good places include headlines and the first paragraph of text. We'll discuss more in the Strategy Section.
SEO Authority
Google will boost your ranking if it considers your content authoritative for a specific topic. Authority is measured by its online popularity. The more your content is shared, discussed and linked to, the more Google sees your content as a valuable resource.
Content Diversity
Beware the one-trick-pony website. Google is always evaluating your content and that of your competitors. Give users more than just text. Add video, a podcast or a SlideShare. Integrate compelling visuals such as infographics, screenshots and animated how-to GIFs.
Yes, text is important and Google translates text best, but, we always need to "Solve for the User" first. Give the user a reason to stay on your page and your "Dwell Time" will increase. This a great "RankBrain" signal Google will reward you for.
When users discover your quality content, they'll find value and be compelled to link to you. They might also share your blog posts, videos and podcasts on social media. There may be questions and discussion leading to further broadcast through resharing. Google will see your popularity rise.
How to Rank on Google
So, how do you rank higher on Google? I get asked this question all the time. My answer is simple - "Your content needs to answer the search query better than the Top 3 search results".
The effort for ranking requires a well executed Optimization Strategy and careful SEO Competitor Analysis. Optimize your web page content to be relevant, authoritative and diverse. Users will respect you for producing high quality content that help answer their questions. When you do, you will rank high in search.
We know social media is tremendous for strengthening your brand. So, how does social help your rankings? It's a great method for off-site promotion of your content by integrating with powerful platforms like Facebook, Twitter, LinkedIn and Instagram. It creates new inbound links to your pages, blog posts and rich media.
Social platforms expose your content to an entire new audience while promoting discussion and re-sharing. The outcome of your consistent social efforts will build the necessary social signals that Google is listening for.
A word of caution. You should never use social media for self promotion! If you do, you'll lose the respect of your audience. Build brand awareness and goodwill by being helpful. Share your expert knowledge, exchange dialogue with intent to help not sell. If you gain the respect of your audience, they will see you as the expert they need to hire.
Plan your approach by crafting a social media strategy. You should post with a defined frequency. Frequent social engagement is a crucial part to your success.
Here are a few ideas to get your social juices flowing:
You can repurpose blog content into a social post series
Elicit questions from your audience
Post surveys relevant to common discussion topics
Curate and repost content your audience might find valuable
Post your rich media - videos, podcasts, SlideShares, etc.
To improve your search ranking, you'll first need a plan to help organize your tactics, approach and timing. This strategy section aims to give you the core principles for planning.
We've expanded our training series. After completing the core principles here, continue to the full training: Complete SEO Strategy Guide.
SEO Strategy: Step 1
Technical SEO
Technical Search Engine Optimization is key to your overall campaign and impacts your site, web hosting and DNS. So, it's important to optimize the items.
Building a "new website", check-out SEO for a New Website.
SEO URL
A few tips: Keep URLs short, include keywords, use lowercase letters and only use dashes in place of spaces.
Page Load Speed
Pages on your website need to load fast (2 seconds or less) for good ranking. You need not be an IT guru. Top host providers like "WPEngine" have on-board performance tools to help speed up your site. For fast page loading speed you need:
SSL certificate for HTTPS
Integration with CloudFlare DNS
Image optimization
Content delivery network (CDN)
Website caching
Website Navigation Best Practices
Google reads text best. So, use text-based navigation and anchor text body links for best crawlability results. A few link tips: use keywords for anchor text, link internally to relevant pages and link to 3rd party authority sites when it adds value.
XML Sitemap
A utility file that's crawlable by search engines, lists all important web pages and is good for a healthy strategy.
Robots.txt file
A utility file that's crawlable by search engines, has special block/allow indexing instructions and is good for a healthy strategy.
Broken Links and Redirects (404s)
When you can't find a web page (or file) the browser will show an HTTP 404 error. Not a good search signal.
Duplicate Content
It's content that's the same or similar to other content found online. Google will give preference to the original (first published) content and can work against your rankings. It's easily fixed using the rel="canonical" Tag to credit the original site.
Meta Tags
You need to add SEO Meta Tags to your site as they are important for ranking. A few top ones: Title Tag, Meta Description and Viewport.
Structured data markup
Special "Schema markup" code added to web pages that improve how Google displays your listing in the SERP. I.e. start ratings, map listings, recipes, etc.
Mobile Optimization
You may know this as mobile responsive meaning your website content adapts to desktop, tablet and mobile. So, Mobile First Indexing impacts SEO and it's "vital" to your site's optimization.
SEO Strategy: Step 2
On-page SEO
On-page Search Engine Optimization are methods used to increase user experience, rankings and search traffic. On-page methods include content, keyword, mobile and snippet optimizations to name a few.
Before starting on-page, I suggest getting to know your audience first by developing a buyer persona. This will help show their problems, needs and challenges. Then you can start researching relevant keywords.
What is a Buyer Persona?
A buyer persona is a semi-fictional depiction of your ideal customer. It helps frame-up the type of customers you'd like to engage with and outlines their goals and challenges. Once outlined you'll use new keywords to position your product/service as a solution to search questions.
Example Buyer Persona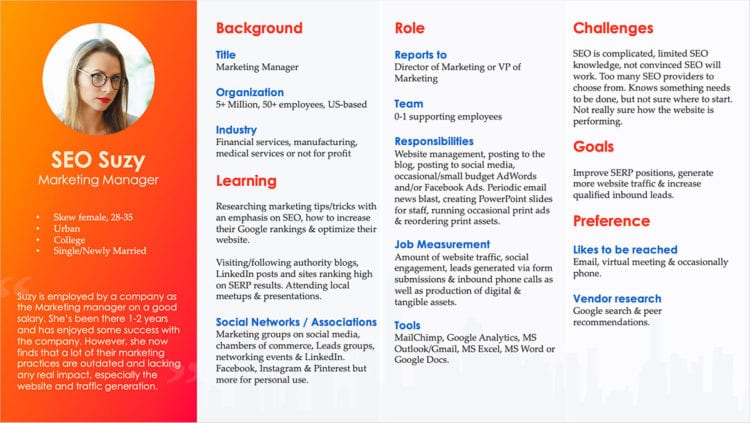 Suzy is your ideal customer. What challenges does she have? What goals can you help her achieve? How will you align your product/service (with keywords) to help her? Now we need to know what motivates her in search (AKA search intent).
Make your own, Buyer Persona Generator
What is Search Intent?
Search intent is the reason someone is using the search engine and helps identify keywords. Types of intent are Navigational, Informational, Transactional and Commercial research. I.e. - people using the word "buy" in their query have purchase intent, etc.
How to do Keyword Research
Once you defined buyer personas and search intent, you're in a good position to start keyword research. So, keywords help align searches queries with your content and it's important to do your homework.
Start by making a list questions your ideal customer might be asking. This is the basis of your keyword research. Then run them through Google searches, Google Keyword Planner or research tools like SEMRush or Moz. Is your content like the results?
Researching keywords is a massive project and requires time, patience and a few tools.
I use enterprise tools instead of Google Keyword Planner for the best research results.
Remember, your goal is to solve for the user. So, find the right questions and leverage these keywords in your answer.
Keyword Optimization
Next, you'll add the keywords into your web pages to create purpose for the search engines. Integrate into the page title, URL, initial paragraph, H1 title, Meta Title, Meta Description, image filenames and image ALT tags. Note, it's also good to use keywords related to your primary keywords to improve context.
URL
Use your keywords, keep it short, no spaces, only use hyphens and limit stop words.
H1 Title Tag
Your main page heading atop your content needs your primary keywords in the H1 title tag. Only 1 H1 per page or blog post.
H2-H6 Title Tags
Good to include related keywords in your subheadings. These title tags range from H2 to H6 used in a nested hierarchy.
First Paragraph
Include your primary keywords naturally to add context and show importance to Google.
Meta Title
Add your keywords and make relevant to the page. Note, it's the blue link shown in SERPs, so, let it shine.
Meta Description
Should support the keyword and promise you made in the Meta Title. Note, this copy is displayed under the link in the SERPs.
Image Filenames
Add keywords into your filenames as Google can't see an image but it can read the filename. I.e. - my-cool-keyword.jpg
Image Alt Tags
The text used instead of an image for screen readers to help visually impaired visitors interpret context of the image. Use your keyword to describe the image.
Image Title Tags
No real significance but we copy the Alt tag value to the Image title tag for good practice.
Semantic Keywords
Words related in meaning to your primary keyword which adds diversity and context to content.
Content Structure for Web Pages
Import on-page factors include multimedia, internal and external links, as well as content length, diversity and reading level.
Content Length
Longer content like blog posts, generally rank better when part of a larger content marketing strategy. Not because of the length, but because the writer covers the topic detail. Always check your competitors content length as a benchmark.
Content Diversity
Your content should be interesting, with short sentences, good whitespace, bulleted lists, and use visuals like images, graphics, screenshots, infographics, etc.
Content Reading Level
The reading difficulty (Flesch Score) of your web copy should be 60-70. Equivalent to 8th & 9th grade level (13-15 yr-old students).
Internal Links
Allows Google to crawl the pages on your website as well as to show relevance and relationships between pages. Remember to use keywords in your anchor text links.
External Links
Add external links to authority sites, to add value to the user and context to Google's understanding of your content topic.
Multimedia
Use a multimedia to add value to your pages like videos, podcasts and SlideShares longer engagement which is a good search signal.
SEO Strategy: Step 3
Link Building
Building links (AKA Off-site Optimization), is arguably the biggest ranking signal Google uses to determine page rank. Link building is the process of earning or gaining links to your site.
Sites with more backlinks tell Google it's a quality resource worth linking to and generally earn a higher ranking. Building links must be done to rank.
What is a Backlink?
A link from another website "back" to yours and it acts like a "vote" in favor of your content.
Backlink Quality
The site linking to you will influence your page rank. So, high quality (authority) site link = bigger confidence vote and low quality link may work against you. So, building links from authority sites should be your focus.
Backlink Quality Factors
Three core areas:
Website Authority includes Trust Flow, Citation Flow, Domain Rating (DR) and URL Rating (UR).
Page Relevance includes Topical Trust Flow and Content Check (qualitative).
Site Credibility checks if linking site is HTTPS, number of Referring Domains, quantity of Organic Search Traffic and Spam Score (by Moz).
Link Building Strategies
One of, if not still the most important, ranking factor is the quantity of referring domains along with the quantity and quality of backlinks.
Link building examples include Influencer outreach, Editorial links via brand mentions, Guest posting, Local Citation and the Skyscraper method to name a few.
Backlink Analysis
Analyze the quantity and quality of your backlink profile along with your competitors using the tools in resources section.
Backlink Outreach
The process of "reaching out" to influencer sites in an effort to earn backlink to your content. It's not easy but HubSpot has a few outreach tips that helped our team with building links.
Do you remember the old days when websites had counters? You notice that an additional 500 people had visited the site since yesterday. Obviously, things have advanced considerably since then. Most importantly, you can't gauge the effectiveness of your Search Engine Optimization simply by the amount of organic traffic you generate.
Monitoring your performance and results starts with knowing what to look for. So, looking at your raw site visitor numbers, well, it's something. What's it really saying though?
Let's say 1,000 unique visitors come to your site inside a month. Now, tell me something relevant about those visits. Can you? Do you know what you're looking for? Would you know if you saw it? What if you did know? Would you know what to do with that new intel?
SEO KPIs
From our hypothetical 1k visitors you'll want to define a set Key Performance Indicators (KPIs). KPIs will provide deeper insights into the visits and help you measure ongoing performance.
KPIs are specific metrics about your traffic data and are measurable targets. I.e. - visitor engagement, social engagement and won/lost backlinks. They give a deeper insight into how consumers interact with your brand, website and content. Performance metrics can be measured with tools like Google Analytics and SEMRush.
What are Examples of KPIs?
Pages per visitor session
Organic search traffic increase
Top performing landing pages
Top exit pages
Keywords won/lost
Keyword positions, rank equity/kw
Domain authority & Page rank increase
SERP click through rate (CTR)
Lead conversions (form submissions)
Average time on site/on page
Bounce rate for site & per page
Visitor engagement analytics (via Hotjar)
Click, move & scroll heatmap stats
Top user interactions & per device type
Top conversion paths
Number of indexed pages
Backlink profile changes (won/lost/ without do-follow)
New followers, reshares, retweets, etc.
...and there's plenty more
Remember, search traffic itself won't fill your sales pipeline. The trick here is to attract qualified consumers to your website and get them to engage with your brand.
How to Set KPI Targets
Set realistic and attainable KPI targets meaningful for your business to grow. Measure these targets often and track your performance.
Your KPI performance will speak to you over time. You'll be able to draw better conclusions from the data. This will help you to make better campaign decisions.
White Hat and Black Hat SEO are two overarching strategies used by marketers to improve a site's ranking and visibility in search engine results. However, the methods used by each camp are quite different.
NOTE OF MENTION: All aspects of training found in this guide are White Hat. This section shows the distinction between methods and to steer you from SEO mistakes. Black Hat is the forbidden fruit - don't be tempted.
Black Hat SEO
A set of unethical marketing practices used to increase a site's page rank and/or deceive the user. These practices are in direct violation of Google's Webmaster Guidelines. There are more than a dozen of these Black Hat techniques. We'll touch on just a few of the biggest offenders.
A little history on the early days of ranking techniques. In the past, you could trick the search algorithm by artificially increasing your keywords in your meta tags and content. You may know this practice as "keyword stuffing". This approach no longer works and will count against your search rankings.
Another notorious tactic was to gain hundreds and sometimes thousands of "low quality" inbound links (backlinks) to your site by paying for them. Back in those early days there were directory sites, link farms, link wheels, link pyramid and private blog networks (PBNs). Some of these still exist (like PBNs) and you can still buy questionable links.
I won't define all the link schemes here and many other black hat tactics. It's important to know these schemes are designed to manufacture backlinks. This is a direct attempt to manipulate the algorithm and is the quickest way to come under a "Manual Action". When this happens you'll get a very scary message in Google Search Console and your organic traffic will flat line! It's real!
Private Blog Networks (PBNs)
One of the link schemes mentioned above is still very much in practice today. A PBN is a network of high authority websites used to manufacture links to your product or service pages (AKA money pages).
A word of caution
So, let me caution you! DO NOT BUY LINKS! Don't take shortcuts. When you do, I can almost guarantee you're purchasing the link from a PBN or other less reputable source. What should I do then? Only use What Hat techniques - like the ones found in this Guide and be wary of SEO scams.
White Hat SEO
The marketing public refers to What Hat as a series of ethical techniques used to improve ranking in search results. I agree to a point. To me, White Hat really means marketing in a human way. Where our primary responsibility is to to be helpful to the user and not to our Google rankings.
A few White Hat examples your site should offer:
Quality content to site visitors
A good website user experience (UX signal)
Fast loading web pages (UX signal)
Mobile responsive web pages (UX signal)
Easy & mobile navigation (UX signal & crawlability)
Engaging SERP snippet (good Meta Tag structure)
Remember, White Hat is about "earning" your place in the search by being real, helpful and genuine. NOTE: All methods and tactics list in this Guide strictly follow White Hat principles.
Local Search Engine Optimization means increasing search visibility to those customers you'd service in-person.
Sometimes people need something locally. Ask yourself, how far are you willing to travel to fix your laptop, find a great restaurant or hire a tree cutter? Maybe close by in your city, county or nearby region.
Do I Need to Market Locally?
It depends on your business and the people you serve. Small business SEO requires a special skill set especially when your customers are local.
Think brick and mortar stores, service businesses, doctor's office, etc that work within a specific geographic footprint.
Even if you leverage ecommerce or serve a wider geographic clientele, consider that your primary consumer base may still be local. Here you'll want to include local SEO into your strategy.
Local SEO Strategies
Promoting your products and services locally requires a little extra effort. This means you must use a few special local tricks.
Claim your Google My Business listing
Use NAP on your site (Name, Address, Phone Number)
Get honest

customer reviews

on Google, Yelp & BBB.
Build local citations
Create local-focused search snippets via your Meta Tags
Local-focused social media
Local-focused blog posting
Incorporate hybrid local keywords - i.e. using "near me"
SEO for Local Visibility
We mentioned that our goal is to boost local visibility in search. A great way to show local intent is to include location specific terms in your search marketing.
Google does a great job a figuring out a person's location and intent for search. However, using a term like "near me" in your query is a clear signal of local intent with top drivers coming from mobile searches.
This local search intent is saying I need something in my vicinity. It's also saying I need it now or very soon. The data now suggests that 76 percent of local smartphone searches for something nearby result in a visit within a day.
For businesses targeting locally, the new search signals are improving local visibility and generating higher-quality search traffic.
How to Optimize your Website for Local Search
There's a few steps here so let's start with adding location terms into our website optimization strategy.
1. Create Local Hybrid Keyword Terms
Creating hybrid terms means you'll add local variant terms to your existing keyword terms. Local terms can be relative like "near me" or specific like "Chicago". Once created we'll want to use throughout our location-based pages.
Example - [my keywords] + [local variant] = [local hybrid keyword term]

Pro Tip: try adding a time variant for extra detail.

Example - coffee shops near me open late
Relative Local Variant
Add "near me" after your keywords.
You can mix things up by substituting "near me" for "around me" or "close by". You may also use area notations such as "downtown," "southern", or "shoreline", but only if they apply to your location.
Example: best Thai food near me
Specific Local Variant
Add "your city name" or "in your city name" after your keywords.
You can mix things up by putting the local variant before your keywords.
Examples: Limo Service New York City or New York City Limo Service
Use the new "hybrid term" on your location-based pages within body text, heading titles and anchor text links.
NOTE: You can use "near me" in title headings, but I find looks unprofessional. Stick to "your city" for titles. For example, "best realtor in New Haven". Don't worry, Google will make the connection and it will sound more natural.
2. Earn Backlinks
Earning backlinks to your location-based pages using location-specific anchor text. Example (same as above): "best realtor in New Haven" as your backlink.
3. Make your Site Content Local-centric
Infuse your content with your location where appropriate. Write in your blog about local happenings, events and industry specific content affecting your region.
4. Create Internal Links
Insure good crawlability by creating relevant internal links from blog content to location-based product or service pages.
5. Setup your Google My Business Listing
How to Create a Google My Business Account
Quite possibly the best Local Optimization tactic. Although this comes later in our guide, it's the very first task we do when marketing locally. Here's how to claim your business on Google:
Head over to: https://www.google.com/business/ and click "Manage Now":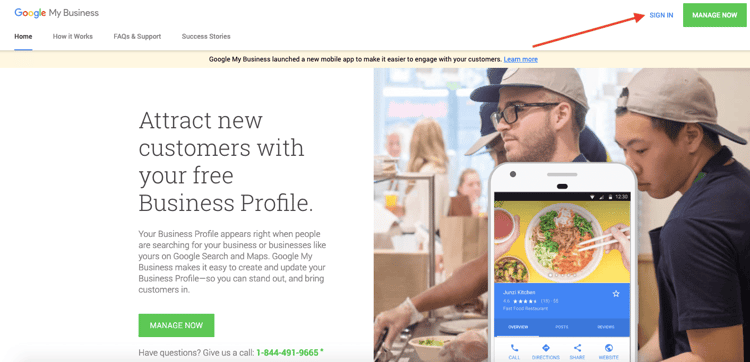 You can also use the mobile app which is actually much easier. Try the free Google My Business app. Available for download in Google Play or the App Store.
Google Local Pack
The "Google Local Pack" is a new way of listing organic local business search results. After performing a local search query, Google will display the local pack as a map + 3 results.
The modified listings have different data:
Large Google map with a corresponding location type icons.
Business name
Average customer rating
Total number of reviews that make the rating
Type of business
Address
Average price rating
Summary description
Photo
Currently open/closed, with hours of operation
Can include website & phone number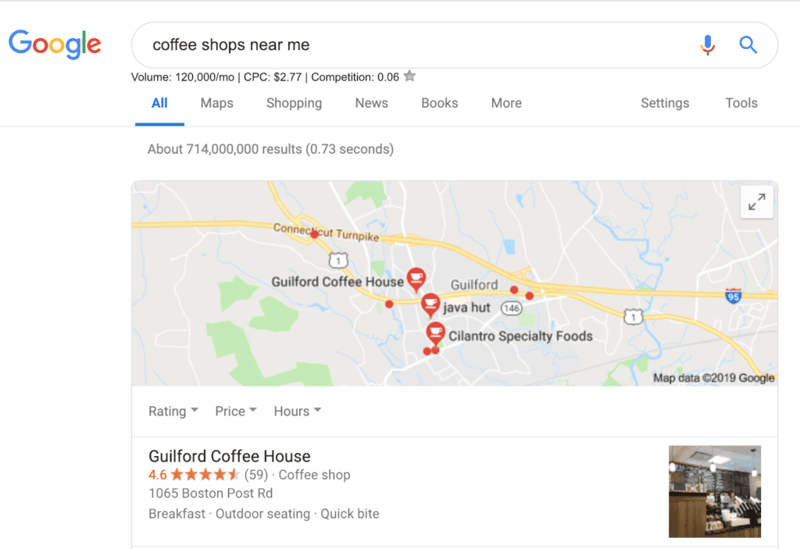 WOW, a lot to know! Try not to be overwhelmed. Just get your business listing rolling. Setup only takes 30 minutes and once you do, you'll be a giant step closer to ranking better in local search.
Staying on top of Search techniques and best practices is vital for continued success. It ensures that your optimization strategy evolves along with search engine demands.
Good SEO tools and resources can help. Note: you'll need more than Google Analytics and Google Keyword Planner. So, we've compiled a list used by our marketing team:
Ready to get started?
Let's do something great together.
Augment your marketing team's bench with our end-to-end inbound and digital solutions. Fill out this form and someone from our Solutions Team will be in touch within a few days.