Google My Business has rolled out a few new features over the past few weeks so we've put together a roundup of some of the tools that are poised to make an impact on your business.
Appointment Booking via Google My Business
Google rolled out Reserve with Google last year which allows for easy booking of a fitness class in your area within your search results, map listings, or on the main Reserve with Google page. Google is getting the booking info via their partnerships with top scheduling providers including MINDBODY, Full Slate, Front Desk, Appointy — and plans on adding more, like zingFit, MyTime, and Genbook soon. Read the full write-up on the Reserve with Google – Fitness roll out here.

This week, Reserve with Google added a new industry: Spas & Beauty. You're going to see more salons and spas showing up in search and maps with the "Book" button if they're using Genbook, SalonRunner, Rosy, Yocale and WellnessLiving for their reservation system. Over the coming months Google expects to also roll out partnerships with Booksy, Envision, MyTime, Schedulicity, Setmore, Shore, SimpleSpa, SuperSalon and TimeTrade as well.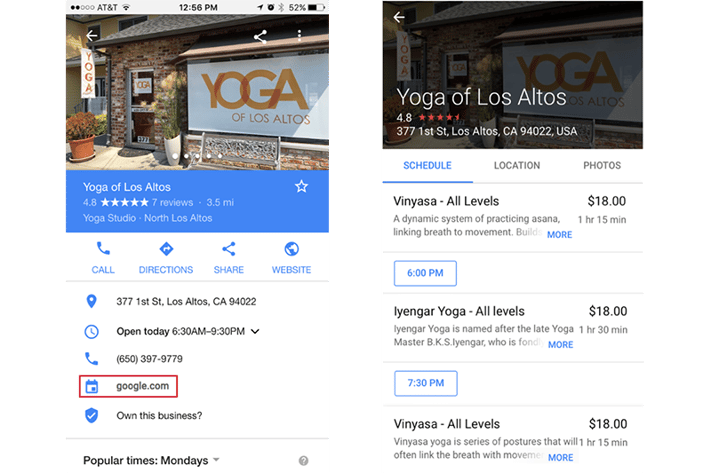 It's a matter of time before more industries are included in Reserve with Google, and this is something you should be keeping an eye on if you take online bookings.
Reserve with Google isn't exactly a Google My Business feature, but it is hugely important for Google Local Search so we're including it here.
Google My Business Posts
Over the years, Google has struggled a bit with the relationship between Google My Business and Google+. Sometimes their features overlap and sometimes they don't. There's also been a slow uptake in Google+ use which leave a lot of opportunity on the table for business owners.
Perhaps in an effort to tie more fresh content into the Google My Business listings, Google is now offering business owners to add "posts" to their business page. These show along with your business info in search and graphs for 7 days, then they are no longer prominently displayed but can still be found under the "posts" tab. The new Posts option is great if you have a special event, holiday hours or specials, or any other timely event that people who are looking for you on Google should know about. Learn more about the feature and get tips on how to leverage Posts well on Search Engine Land.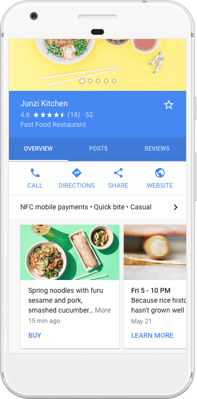 Direct Messages via Google My Business
Your potential clients can visit your website or click to call, but we know that people prefer to text or direct message. The new direct message option does just that.
Direct messaging has been rolling out across the country and if you haven't seen it yet, you likely will soon. Don't worry if you haven't checked your GMB console for a long time and are worried about having a bunch of unread messages – you haven't. To receive messages you'll have to turn them on first. Messages can be sent and received via SMS or Google Allo, but not through the GMB console.
You can get more information on the Google My Business Messaging function here.
If you've been neglecting your Google My Business page it's time you put it near the top of your priority list. These changes are poised to make a huge impact in local search.