How to Create a Content Marketing Strategy in 7 Easy Steps
Improve your search engine visibility with content. Learn actionable techniques for content strategy, content creation & repurposing.
Today, the internet dominates the world of digital marketing. Online articles can live on forever, making it crucial for brands to publish only quality content to their blogs. Of course, this means that most businesses are doing the same thing, making it important for brands to plan out their content creation thoroughly.
Use our 7-step Guide to Content Marketing (below) to help give your business a boost and make an impact in Google search.
What is Content Marketing?
Content marketing is a modern approach to marketing that's focused on creating and distributing high value content with a purpose to attract, educate, stimulate interest and ultimately convert a target audience into qualified leads. Typical content can be blogs, videos, social media posts, etc - with a goal of creating a profitable relationship.
What is Content Marketing Strategy?
When developing an effective marketing strategy for your content, it's important to understand what the term "content marketing" means. Marketing with content refers to creating and sharing valuable content online. Brands should first identify their target market and align their content to questions they are asking.
Creating and sharing quality content not only attracts new potential customers but can help maintain relationships with existing ones by widening your thought leadership.
Content should do more than simply promote your brand's products and services. Instead of focusing on a sales pitch, the content should evoke an actionable response from the reader. This might be signing up for an email newsletter, sharing a Tweet, or downloading an eBook. Each call to action should be optimized to achieve a specific goal... ie - generate a "net new lead"!
Content Marketing vs Content Strategy
Content marketing is the tactical extension of your content strategy that's focused on producing, measuring, and distributing content to a clearly defined audience in order to yield a desired outcome - like a visitor conversion. Where content strategy is the vision that governs the purpose and the why of your content including written words and supporting rich media.
Types of Content Marketing
Some of the most popular types of content used for content marketing are:
Blog Posts
Videos
Ebooks
Case Studies
White Papers
Templates
Podcasts
SlideShares
Infographics
Social Media

Blog Posts
Blogging for business is arguably the best type of content for marketing. A blog typically lives on a website and can attract lots of search traffic because they're topic specific and full of rich content.
Once you know how to write a blog post, publish frequently and provide high value content that answers a persons' search query better than your competitors. When you align your content with the needs or challenges of the visitor, your post will grow in the search results and produce better leads.
When starting out with your blog, be careful to avoid common blogging mistakes such as typos or not writing to the needs of your audience. These items can cost you visitors and worse search rankings.
Follow best practices before posting a new article and check out blog post tips when you need to refresh an old post with new ideas. Creating great content plus following a few rules can have a big impact in search.
Learn how to Optimize your Blog for SEO.
Videos
You know videos as highly engaging content that gets shared all over the internet, YouTube and social media. In fact, people are more likely to watch a video, then read your blog post. Also, people are more likely to share your video on social media than other types of content.
Though videos are a larger commitment on your time and resources, they often have a huge impact worth including. So, video is a must have in your content strategy.
Ebooks
Ebooks are content offers used for lead generation and you see them all over. Prospects visiting your blog can download ebooks by clicking a CTA (call to action) and submitting a lead form.
Typically, the ebook is relevant to the blog post being visited and provides an in-depth view of a topic. The ebook content is of the highest value, extremely helpful and the tactics shared actionable by the user.
Case Studies
In marketing, a case study summarizes a customer's success story. It's an accounting of where a customer starts with a business challenge, the steps taken to overcome and all the way through to a successful outcome.
Challenge
Solution
Outcome
Fact - prospects are drawn to success and case studies show how you rise to meet challenges and deliver results. They also help advance prospects when they are in the "Consideration" or "Decision" stage of their buyer's journey. They are proof positive of the results another might expect when engaging with your product or service.
White Papers
White papers are typically smaller content pieces hyper focused on a specific topic. Think of them as an authoritative report often on a complex issue that summarizes the content for easy consumption. These also make great lead generation content offers.
Templates
Templates are awesome for lead generation offers. They make for great starting points for prospects to succeed at a certain task and save them time. A few template ideas can be in the form of:
Presentations - PowerPoint, Keynote, Google Slides
Documents - Word, PDF, Google Docs
Spreadsheet - Excel, Google Sheets
Images/graphics - Photoshop, Illustrator
Podcasts
A podcast is a great way to share your content in audio form. The podcast format continues to grow and is easy to create, host, share on social media and embed within a blog post.
SlideShares
SlideShare is a LinkedIn service for hosting professional content. The most common form of content are presentations but you can also post infographics, documents, and embedding videos from a LinkedIn Feed.
A user can upload files such as PowerPoint, Word documents, Open Office and PDFs. SlideShare content can be viewed directly or embedded in a blog post or shared on social media.
Infographics
An infographic is a visual representation of data in the form of images, charts text snippets. This method is more compelling and communicates information on a topic in an easy to understand visual. Also easy to embed within a post and share on social.
Social Media
Social media really needs no introduction. However, for those of you blogging, this can be a great vehicle to extend the reach of your content to a new audience.
First define which social platforms your audience uses. Then publish original content aligned with your content topics and needs of your tribe.
For those struggling to create social content, look no further than your own backyard. A pro tip: take your existing blog posts or other forms of content and break them up into social postings. It's content already written and approved and easily repurposed for social.
How to Create a Content Marketing Strategy
A successful content marketing plan can generate new leads, increase sales, and establish your brand as an industry authority. Well-researched content also improves your credibility as an expert and, most importantly, boosts your search engine rankings.
Instead of simply generating content based on interesting ideas, create helpful content with specific long-term goals that solve user problems. This is only possible with thorough research and planning. If you're ready-to-use content to your advantage, try this 7-step approach to developing a content marketing strategy. These tried-and-true content marketing techniques can help your business craft a strategy that produces great content and new leads.
1. Research Your Niche
The first step in creating a successful content marketing strategy is determining how your brand stacks up in your niche. You must consider your brand's strengths and weaknesses as well as the value you bring to the market. Conducting a SWOT analysis is useful during this step, which helps define your strengths, weaknesses, opportunities, and threats.
A SWOT analysis largely depends on data, so use a tool like Google Analytics to thoroughly examine your brand's visibility. Bounce rates, new visitors versus returning visitors, and site behavior are all good metrics to analyze.
A thorough look at your website's performance helps you identify where you are now – and where you want to be. By eliminating threats and capitalizing on opportunities, you'll be able to deliver great content to those in your target market.
The Content Marketing Institute states the importance of incorporating cultural relevance to help your content resonate with your audience.
It's also important to research your competitor's content such as popular blog posts and social media channels. Which types of content seem to foster the most engagement? Competitors' social media profiles provide useful information about their audience, while their websites offer content ideas. Considering what other brands in your industry are doing and where they're seeing success can help determine where you need to position yourself.
We use SEMRush for analytic research and online visibility.
2. Assign Clear Goals
For a content strategy to be successful you must focus on well-defined goals. These objectives vary depending on your company's needs - for example, you might boost awareness around a new blog series on Building a Brand Story. Or perhaps to boost lead generation through an ebook download is your goal. There's no right or wrong though whichever you choose, your content should align with your business goals.
SMART Goals
While broad goals like "I want everyone to love our content" are admirable, they aren't very specific nor measurable. One of the top content marketing tips is to use the SMART Goals when planning your strategy. Ask yourself, is your goal:
Specific
Measurable
Attainable
Relevant
Time Based
Watch HubSpot Academy on the Power of Goal Setting
This method is also useful in helping define your content KPIs, or key performance indicators. KPIs are the measurable data points that help evaluate the effectiveness of your goals.
For example, your goal might be to increase traffic by 10-15 percent over the next six months.
Your goal might look like: "Over the next six months, Jenna will work to boost organic blog traffic by 10-15%, by increasing publishing frequency from 2 to 4 posts per week to reach 30,000 new organic sessions by July 1."
Working with multiple goals for your content is certainly fine, but you'll want to be sure that each are well defined. Develop a separate plan for each objective, and tailor your content to meet the needs of each.
Measuring Content Performance
How do you know if you've reached your goals? This where monitoring content marketing metrics will help you measure your content's performance. After all your hard work you need to keep a close eye on your metrics and be sure you've reached your goals.
Performing this exercise frequently can help see where you need course corrections to your content plan and make adjustments along the way.
3. Define Your Target Audience
No matter which industry you're in, there will be a target audience your brand will need to connect with. Of course, each one of these audiences has different needs and pain points. This is where creating a buyer persona is helpful. Break down your target audience by demographics, interests, and location.
If you're unsure of your brand's buyer persona, look to your sales team for guidance. Most of the time, it's the sales team that answers customer questions, understands their challenges/needs and has demographic data.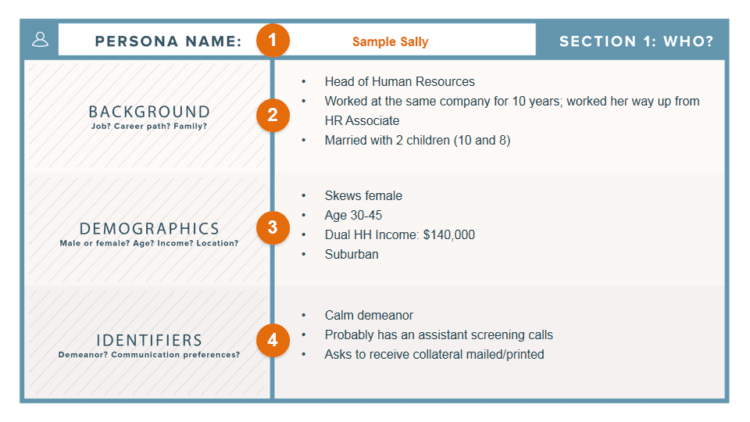 Once you've determined which audience you want to reach, look at whom you're already connecting with. You'll then gain a sense of which content resonates with your audience, which falls flat and ideas for new content.
There's a handy tool for making your own buyer persona https://www.hubspot.com/make-my-persona
4. Develop a Content Plan
After you've set clear goals and established your target audience, it's time to put this research into action. To get started, consider the hottest trends and what types of content resonate with your audience. Some examples of content include infographics, blog posts, and YouTube videos.
Ask yourself...does your audience prefer long-form content over 2,000 words? Do they often share videos? Are they social activity? These are a few examples of questions to ask while analyzing audience trends.
Use an Editorial Calendar
Creating an editorial calendar is a great way to keep track of how and when content is published. Using content scheduling apps allow you to input a series of posts ahead of time, which post on specific days and times.
Diligent management will reveal how your content plan is working to achieve your goals. Timing is everything when it comes to planning your editorial calendar. Don't forget to include important events like conferences, holidays, and sales, as these present opportunities for generating content. Though it may not be part of your overall content marketing strategy, it still provides a broader and diverse range of content.
5. Optimize Content for SEO
When conducting an internet search, most people find what they need on the first page of results. So, it should go without saying you need to optimize content for SEO. Otherwise, it's likely that your target audience will never find your content.
However, sites that implement a good SEO strategy will be rewarded increased content reach and search engine visibility. SEO makes your content more visible to those looking for looking for answers to their questions.
How Keywords Influence your Content's Search Ranking
Keywords within the content largely influence your site's ranking, so think about the words and phrases a customer would use. Factor in what your audience knows about the topic, their interests, and the keywords' popularity. Reading competitors' content can also be helpful when determining the most relevant keywords.
High search volume keywords are typically used by hundreds or thousands of websites, so avoid over saturating your content with the same words. Strike a balance when selecting keywords, choosing both high and low search volumes. It's also good practice to use related keywords so you're not using the same words over and over in your writing.
If you're struggling to find the right keywords, using a keyword research tool can be helpful. However, you can simply use Google for your research. When you start typing Google's auto-suggest feature will start listing popular searches. This can help narrow things down for you.
Setup your Pillar Strategy
Read more about an effective pillar strategy.
Build-out your Topic Cluster
Read more about an effective topic cluster strategy.
6. Create Remarkable Content
After you've established your SEO-friendly content plan, it's time to create the content. Every piece of content you create should be shaped around our first five steps. Keep your keywords and the audience's needs in mind when generating content ideas. However, avoid keyword stuffing, as search engines penalize content that has an agenda.
All content should be fully optimized to achieve your brand's goals and ultimately be helpful to your audience. For example, if your objective is to increase thought leadership in your industry, you might blog about a challenge your audience has. Show your audience your expertise through your content to help them solve a problem or achieve a personal goal.
Here are some examples of how you can foster engagement with quality content:
Place social sharing and "click to Tweet" buttons on your posts, which encourage readers to share the post on social media.
Add calls-to-action at the end of every piece of content, including video. The CTA should be optimized to achieve a specific goal.
Create a relevant eBook and use a CTA at the end of a post inform readers of its relatable value and that it's available for download. These serve as great top of funnel offers to continue the conversation beyond the post.
Send a well-timed email marketing campaign to your email lists to boost extra engagement.
Tips for Creating Content Value
While encouraging readers to take action through content is important, it's equally important for them to find value in what they're reading. Here's a few tips for creating valuable content for your readers:
Write catchy headlines

Writing catchy headlines is a bit of an art. They should be informative, interesting and aligned with what people are searching for.

Like in the Google example above - after performing a sample search, Google will place the "People also ask" box on the search results page with popular search queries. This is a great place to find your next headline!



Ensure the content covers your topic in detail

It's all about the quality. Your content needs to be "better" than the content you're trying to outrank in search. However, you'll still need to write the proper volume of words in order to cover a topic in detail. Generally (for blog posts), you'll want to follow these rules:
Core topic: 2,000 - 5,000 words
Sub-topic: 800 - 1,980 words
Answer the readers' questions

We showed you in Google's "People also ask" box that users are indeed asking questions inside their search query. Using this little trick, you can quickly find the right questions to write about. Now that you know the problem people are trying to solve for, create authoritative content to answer their question fully.

Include rich media to add visual interest

Videos, images, memes, infographics, and other types of rich media content help readers visualize your subject matter. Rich media can also be a great opportunity for visitor sharing on social media.

Use impactful data to add credibility

Citing fact-based and research-based data from reputable resources can add credibility to your content. When citing, be sure to credit your source in the content footer. Additionally, a well-crafted case study will give your content lift in value.

Use internal links

Internal linking within body copy to relevant blog topics or media you've already created is very import. It shows a semantic relationship to other subtopics and boosts your topical authority to Google.

Use external links

External linking within body copy to 3rd party sites, blog topics and media created by subject matter experts can help readers find more info on the topic. It also sends good search signals to Google which is a bonus.
To determine whether your content is helping you meet your goals, monitor posts regularly using a tracking tool. Widely available online, post tracking tools reveal which receive the most views, shares, conversions, etc. This allows B2B marketers to create stronger and more effective content.
7. Distribute and Share Content
From a marketing standpoint, even the most valuable content will be invisible if it doesn't reach its intended audience. The final step involves distributing and sharing your content to reach the widest audience. The distribution plan determines how, when and where the content will be shared. Some of the most popular distribution channels include:
Social media (you know the players): Facebook, Twitter, LinkedIn, Instagram, etc.
Pay-per-click (PPC) campaigns: Google Ads, Facebook Ads, YouTube Ads, etc.
Email newsletters: showcasing your top content and latest postings
Distribution or publishing sites: Medium, LinkedIn, Quora, Reddit, etc.
Monitoring Brand Mentions
As you distribute your content and gain visibility, other sites may refer back to your content via brand mentions. Try using a brand monitoring tool to see which blogs and media outlets write about your brand or content. Hopefully, they'll link back to your content with a "do-follow" link. A few brand monitoring tips...
PRO TIP #1: A site only mentioned your brand without providing a backlink. This is a great opportunity to do some outreach asking if they would consider linking back to you.
PRO TIP #2: Even if they've only mentioned your competitors brand or their content, this is an opportunity to pitch your content as an updated/more current/more thorough resource replacement. For those savvy SEO marketers, this is referred to as the "Skyscraper Technique" and we acquire many backlinks this way.
Content Scheduling
Social media sites are amazing and will help reach your audience on a different level. As mentioned in Step 4, content scheduling tools are a great way to simplify the distribution process. Many of these tools allow you to schedule content on multiple sites ahead of time. Plus, most tools offer advanced analytics like social mentions and site engagement.
No matter how you distribute your content, you should always utilize some type of analytics to determine which channels send the most traffic. Identifying the most valuable sources of acquisition is an essential part of any content marketing strategy.
Over to you
Meeting the needs and goals of your business is only possible with a well-crafted marketing strategy for your content. As you grow your content footprint and optimize for SEO, the greater your visibility will be in search results. This is a big win!
Keep in mind it will take time to see results when first implementing these content marketing tips. So, be patient and diligent in your efforts.
Marketing with content is a long-term effort, and it often takes longer than short-term ad campaigns that produce short-term gains. Tracking metrics frequently is the best way to determine whether your efforts are moving you towards your goals. If you have seen no changes after 3-4 months, conduct another SWOT analysis to identify threats, weaknesses, and possible opportunities.
Ready to get started?
Let's do something great together.
Augment your marketing team's bench with our end-to-end inbound and digital solutions. Fill out this form and someone from our Solutions Team will be in touch within a few days.