It's important to give your customers a better idea of your products and services before they click your ad. With the structured snippets extension, you can do exactly this! The extension helps you highlight specific features of your products or services to help your customers know if you've got what they are looking for.
What is The Structures Snippet Ad Extension?
The new extension from Google helps you differentiate your products and services you offer from your competition and allows you include additional details about the business by utilizing 12 headers (such as "Types" or "Destinations") and a description. The structured snippet headers are currently limited to:
Amenities
Brands
Courses
Degree programs
Destinations
Featured hotels
Insurance coverage
Neighborhoods
Service catalog
Shows
Styles
Types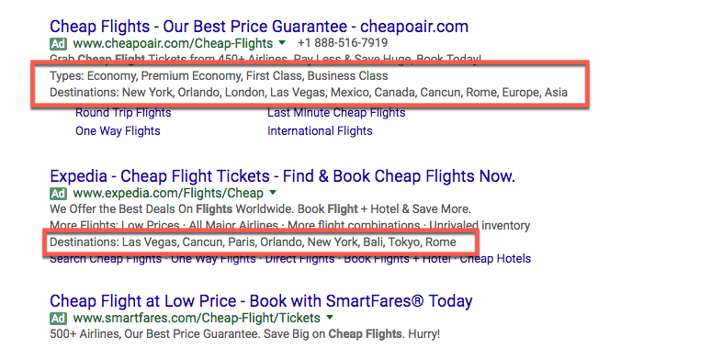 The structured snippet can be set at account and sits underneath your ad text. Your ad can show up to two snippet headers and their descriptions at a time. You can add as many relevant snippet options to your campaign as you want and Google will use an algorithm to decide which ones to show.
In order to optimize these snippets to help you engage with your customers better, Google gives you the ability to create a mobile device preference, set start/end dates, and schedule times you want the snippets to show.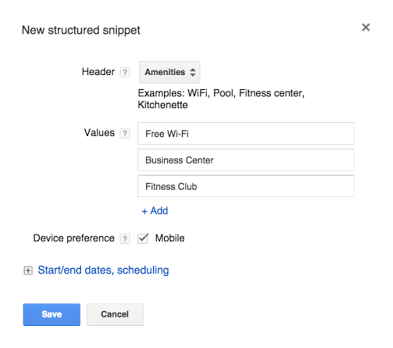 Also, it's important to note that unlike other extensions, such as sitelinks, callouts and locations, structured snippets are not clickable.
Structured Snippets vs. Callout Extensions
As Callouts and Structured Snippets are pretty similar to one another, Google created this handy graphic that clearly explains the features and when to use these two extensions.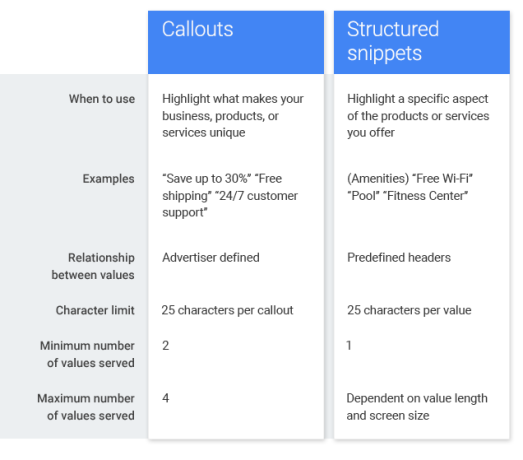 The difference between the two extensions is the type of information you can show your visitors.
The Structured Snippet Ad Extension can help your business stand out in your industry as it allows you to showcase specific features you offer. For example, if you are looking for hotels in The Cayman Islands, Google will show you the types of hotels and the amenities they provide.

It helps you provide additional information about your products or services which can be helpful for your visitors. But a Callout Extension helps you provide details that adds value to your products and services. For example, a hotel can add free cancellation, 24/7 customer service and guest reviews.

Callouts are meant to attract customers by showing them the added value that your company brings to the products you sell.
Which Extension Should You Use?
Now that you know the difference between a Callout and a Structured Snippet, you may not know which extensions you need to use. As callout extensions improves your clicks and snippets help you optimize your campaign, it is highly recommended to use both where applicable. It also depends on your ad budget.
The more extensions you have on your ad, the more space your ad takes up, increasing the chances of your visibility. Ad extensions help you determine and improve your Ad Rank and your CTR. If you aren't using Ad Extensions, set up your Google Adwords account today and optimize your ads with these extensions and if you need any help, be sure to contact us.