The Old Way of Doing Video is Dead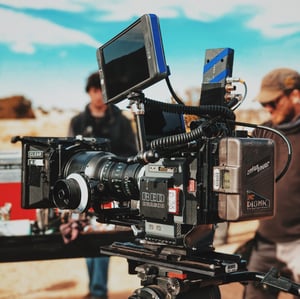 A bold statement to make, no? So what do we mean by that?
When you think of creating promo videos for your business, you would typically hire a video production company, create a script, hire a crew, and so on. Depending on your needs and the complexity of the video, it would involve camera operators, lighting, sound technicians, location setup and tear down, among other things. You get where we're going with this, right?
Traditional Video Wasn't Made for Today's World
The "Hollywood" approach can be a massive, expensive production - $20,000 - $30,00 to shoot a couple days of video is not unheard of. The other challenge with this traditional approach is the amount of time invested as well. Coupled with the cost, it may be something that your business can only invest in every 1, 3, 5 years, etc. And, once you shoot that expensive video and it goes through the post-production process to become content you can actually use, you have the risk of ending up with content that is stale, and possibly irrelevant before you've even paid the bill.
In today's digital world, we have to pivot much faster.
What you're selling today could be a completely different product within a year, or targeting a different buyer persona, with a different buyer's journey.
Inbound video is a re-imagined process that changes everything about how you capture content - the speed, the script, and the production in a way that complements Inbound Marketing.
Imagine spending just 15-20 minutes scripting a video, and then another 15-20 minutes shooting footage using an HD Smartphone. Then, we take that footage and edit and polish it in a way that tells your story with a turnaround time of just a few days. Not weeks. Not months.
This approach allows you to create video content that's more relevant to trending topics, to today's buyer personas, to today's marketplace, without the massive production crew and overhead investment.
Integrate Inbound Video in your Marketing Flywheel
Inbound video can seamlessly tie into your inbound marketing strategy, allowing you to drive a much higher ROI from both the video and the rest of the marketing campaign.
Examples where Inbound Video works perfectly:
Client Testimonials
Thought Leadership
Product & Service Demonstrations
Training or Onboarding Videos.
Inbound Video is about creating interesting, engaging content, not unlike creating blogs or content offers in a typical Inbound Marketing approach. When you work with Meticulosity on video, one of the first things we figure out is what the end viewer is going to get out of this. And then everything about the script centres around delivering that actual value, so that the viewer watching the entire thing and is called to action at the end.
Finally, imagine now that with a $25,000 budget, instead of one traditional video, we can deliver 10 - 20 high quality videos over the course of a year that are timely, relevant and integrate seamlessly into your Inbound Marketing Flywheel.