Establish authority & increase your rankings
When it comes to appearing in search engine result pages, small businesses often find their websites overshadowed by those from larger companies which are the big SEO players. Despite this, small businesses have clear advantages when it comes to digital marketing.
There are many benefits to operating a smaller site that can make a huge impact on your SEO. This guide outlines how small companies can target opportunities that simply aren't accessible to larger brands. These tips for marketing your small business can help you increase engagement and establish authority in your industry.
Get your website ranking in search. Easy step-by-step Guide to SEO - Download Now >
1. Large Company Website Advantages
There's no doubt about it – large companies' websites have distinct advantages in several areas of online marketing. Some of the advantages large websites have, include domain authority, a larger quantity of links directing to their site, and established trust.
Large organizations typically have more access to financial resources, enabling them to heavily invest in items that are a top priority. At the same time, large companies often will ignore items that aren't of particular importance.
2. Small Businesses Advantages
When creating a small business marketing plan, you can pinpoint these neglected items and use them to your advantage. Here are some marketing benefits of running a small website:
Nimbleness: Without several layers of management to sift through, small business owners can make spur-of-the-moment marketing decisions. Team members can choose to go in a different direction if a strategy isn't working. Oftentimes, small businesses can be incredibly productive for short periods of time.
Creativity: Having total control of your website allows you to push boundaries and explore new marketing options. When working for a larger corporation, new ideas require approval and extensive development.
Focus: Small businesses have the ability to focus their marketing efforts on one goal.
Niche appeal: While large corporations must manage several products and services, smaller businesses can focus on just one aspect of their brand. By focusing exclusively on one niche, a small company can become the authority on the topic.
3. Competing With Large Websites: 5 Small Business Marketing Strategies That Work
Now that we've outlined the advantages of operating a small website, it's time to put them into action. Here are five key strategies for competing with large businesses in the online marketplace:
Target Unpopular Keywords
In the SEO universe, there often are keywords that larger brands simply won't target. Some of these keywords have an indirect path to ROI, public relations issues or lower monthly search volume.
Try incorporating a more wholistic keyword strategy by using long-tail keywords, comparison keywords, and editorial keywords in your small business internet marketing strategy.
Achieve Brand Authority in a Specific Niche
As previously mentioned, creating a niche is key when marketing your small business. When you specialize in particular products and services and do them well, you'll become the go-to source on the topic.
Pursue Harder-to-Monetize Content
While engaging customers through indirect content can cause a longer path to conversion, it builds trust over time. Indirect content can include informative blog posts, educational pages, and even news articles that relate to your business.
While these posts may take longer to monetize, they often lead to the customer visiting your website several times.
Provide High-Value Content
Small organizations can invest more into one piece of content than a large brand ever could. Marketers can choose a group of keywords and build upon it, creating effective content that engages consumers. Large businesses usually lack the time to create five-star resources.
Build Personal Relationships
When it comes to direct interaction with customers, small organizations have a unique advantage.
The smaller business owner can address customers directly and even develop steady communication with them over time. So less of a trend and more of a tactic would be to engage your consumers directly on social media to strengthen relationships. You can comment on users' posts or have conversations with them over messaging services.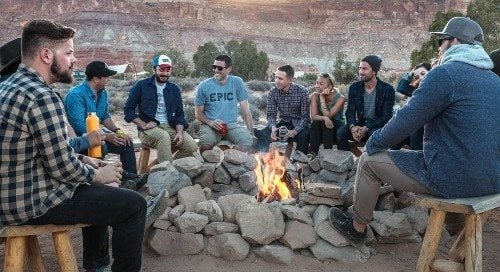 Over to you
Ultimately, large companies can't afford to invest in smaller niches because they must do things at scale - but that's where a smaller company can thrive.
As a small business, you'll be able to gain visibility with keywords and content that larger companies simply won't because of their size. That's the key advantage when developing a small business marketing plan.