How to Create a Successful Digital Marketing Strategy
Grow better with digital marketing. Learn actionable techniques for SEO, Content Marketing & Inbound.
Traditional Marketing vs Digital Marketing
In days past, businesses depended upon more traditional methods to reach their target audiences. These methods included print advertising, television, and radio ads for marketing.
In today's society, people spend A LOT of time online, hence making traditional methods less relevant. So, digital marketing is, therefore, your best way to engage your potential customers. We're going to get back to basics with our digital marketing introduction and fortify your digital foundation.
What is Digital Marketing?
Successful marketing in the digital world means taking advantage of the many opportunities to increase your exposure. You can, therefore, achieve this with the use of social media platforms, email campaigns, and optimized rankings in search engine results. Your branding efforts should consistently use your assets and tactics to your advantage throughout your digital online marketing efforts.
Digital Marketing Assets, Tools & Tactics
Assets are the physical collateral or digital properties you have at your disposal to promote your brand. A few examples of your assets include your print materials, logo, blog, social media profiles, and your website to name a few.
Tools refer to your application stack (AKA App Stack). These program applications often work together by sharing data and performing business tasks. Typically, a business might use tools such as a CRM, spreadsheet, document editor, website analytics, marketing automation, sales automation and the list goes on.
Example suite of tools: HubSpot Growth Suite
Tactics are the expert techniques you can use to help your assets achieve your advertising goals. A few common tactics include:
Content Marketing

- generate increased website traffic by creating a blog or white paper related to your targeted audience.
Inbound Marketing - a modern approach to marketing that attracts prospects to your brand.

B2B Marketing

- a business-to-business focused approach to marketing.
Search Engine Optimization - by increasing your ranking results using SEO, you increase the exposure of your brand.
SEO Strategy - learn advanced SEO tactics to outrank your competitors in search results.
Email Marketing - follow-up with prospective clients and include a targeted signature line that showcases your brand or logo.
Social Media Strategy

- social media helps to get people talking about your brand.
Website Redesign - build a better website to showcase your business.
Conversion Rate Optimization (CRO) - turn ordinary webpages into high converting sales tools.
Brand Strategy - turn your story into a powerful brand message.
Are Inbound Marketing & Digital Marketing the Same Thing?
These two terms are often used interchangeably, but they differ slightly from one another.
Inbound marketing refers to a strategy used to attract potential online customers, like a blog which then provides a value offer for the user to opt-in to.
Digital marketing, on the other hand, includes all methods of digital advertising. It is not limited to just inbound tactics as it includes outbound methods as well. It can also make use of brand banner ads, promotions, and other similar tactics.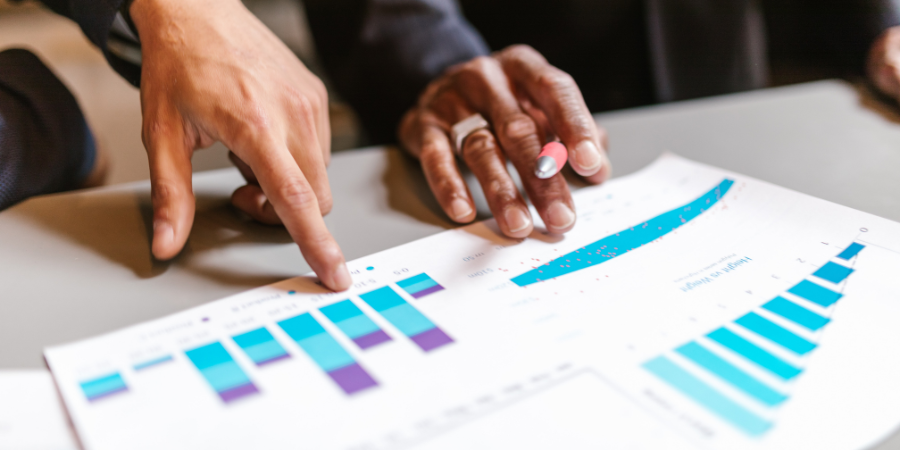 Is Marketing in the Digital World Effective?
Whether you have a B2B (business to business) or a B2C (business to consumer) business, digital advertising is effective for all types and sizes of companies.
For B2B companies, online marketing can help generate leads that result in face-to-face interactions with your sales staff.
For B2C companies, this type of advertising can drive traffic to your website where customers can find what they are looking for. It can help you develop trusted relationships with your customers that increase the odds of their repeat business in the future. Review results of your digital marketing campaign often.
Helpful Digital Marketing Resources
What Are Some Advantages of Advertising in the Digital Market?
Increased digital foot traffic for your website
New lead generation
The ability to monitor the performance, reach, and effectiveness of your content (also known as "Attribution Modeling")
What Are Some Examples of Effective Content to Use?
The secret to creating effective content is to use a tactic known as content mapping. By mapping out what it is you want to achieve, this map acts as a guide to help you reach your content goals. It starts by identifying what your targeted customers are looking for.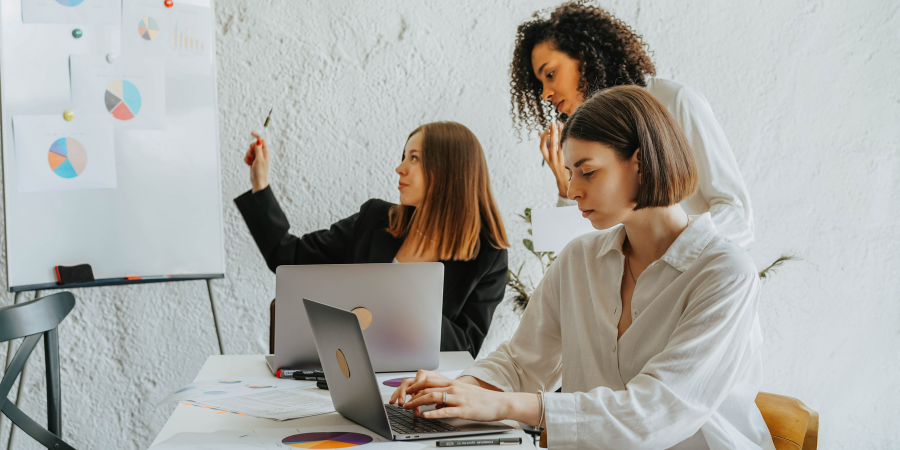 Customers thrive on information. Help them to become aware of your product in the marketplace via videos, charts, graphs, and blog posts. You can teach them about what your product offers by way of Ebooks, white papers, and online seminars. Another effective way to help them make a buying decision is by using customer testimonials. Your digital campaign should be flexible.
Budgeting Considerations
There are marketing options tailored to fit most advertising budgets. The cost of digital advertising depends on the tactics you use. There are programs available, such as Google AdWords, that can meet your advertising needs.
Digital Marketing Goals
When developing your digital marketing strategy, finding measurable data is key. However, many marketers find themselves with data that offers a sense of what's happening but does not advance business objectives. It can be difficult to stay focused on your goal when you're inundated with data and analytics.
In this article, we'll reveal some of the most important steps you can take when defining your company's digital marketing goals. You'll learn how to experiment with marketing techniques wisely, stepping out of your comfort zone to create tangible results. We'll also show you which metrics are the most reliable when creating a result-driven marketing strategy.
Selecting Your Goals
A marketing strategy involves a great deal of work, time, and investment. To ensure that your efforts are productive, it's important to have a clear objective in mind. So, how do you figure out which goals are best for your business? In most cases, it's best to split your goals into two groups: business objectives and internal progress.
Analyze Trends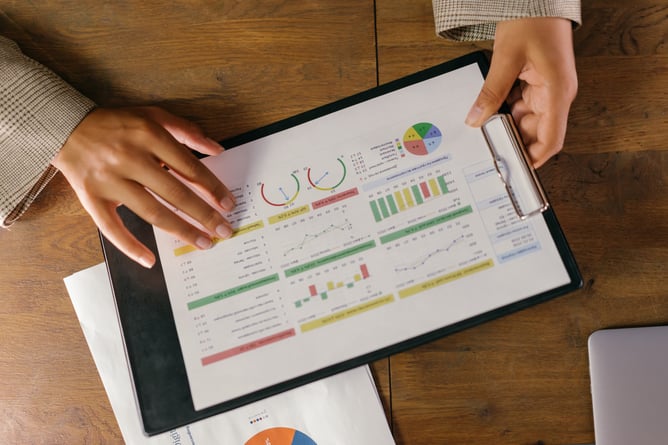 Business objectives tend to be those that meet the expectations of your boss, clients, or any other stakeholders whose opinion should be sought when developing marketing ideas. Using data to analyze digital marketing trends can be helpful when determining the best types of marketing strategies for your business. Here are a few ways to measure these trends:
Research your target market. What are the most valuable digital metrics to measure for your marketing?
Research your industry to find out what the major trends are. You may find websites or online databases that reveal valuable digital marketing information.
Gather as much historical data as possible: Historical data can sometimes predict the future of an industry. Google Analytics has such historical data. Compile this information over the course of a few months to detect trends.
Find out whether your business is affected by seasonal changes: Some industries are busier during certain times of the year. Use year-over-year comparison data to see if seasonality is a trend.
Use trends to determine which channels have performed better: While traffic is often boosted by paid channels, this can sometimes indicate that organic channels are failing.
After thoroughly analyzing the available data, you may be ready to craft some concrete goals. To get started, think of small goals that can be built upon instead of taking on an overly complicated goal. While goals should be challenging, they should also be realistic for your marketing strategy.
There are a lot of data reporting services available to analyze your website performance, website traffic, search engine rankings analysis, blog article effectiveness, keyword research insights and competitor analysis. We've tried so many and realized our app stack had grown to 4 services until we found SEMRush and they do it all. It's literally our Digital Marketing Secret Weapon.
Tracking Internal Progress
Ultimately, any data gathered is irrelevant unless it correlates with your company's goals. Fortunately, Key Performance Indicators (KPIs) are a great way to measure whether your marketing ideas are advancing your business goals.
When choosing KPIs, it's essential to select those that will assist you in meeting your business objectives. However, there are a few KPIs that typically aren't helpful for most businesses. Two of these KPIs are:
The number of leads gathered during a specific event
The unsubscribe rate for an email marketing plan
If your goal is to improve your SEO strategy, these KPIs may be helpful:
Site visibility
User behaviour, such as bounce rates and session duration
Technical considerations, such as redirects, accessibility, and website structure
Learning How to Experiment
Make sure to keep track of the tools you currently use. Email marketing lists, website traffic stats, and SEO initiatives are all important metrics.
While data can give companies information about customers' past behaviour, it can take some experimentation to determine what their future habits might be. This usually involves performing experiments within channels that produce short-term information. For instance, analyzing traffic can be very informative when gathering short-term SEO data.
When experimenting with different marketing techniques, ask yourself the following questions:
Does this experiment have a defined purpose?
Is the experiment possible?
How can we ensure reliable results from this experiment?
Will the experiment offer value to the user?
Will this experiment offer value to the business?
Is our experimental messaging conservative, compelling or clickbait?
After answering these initial questions, there are a few other points to consider. First, ensure that your experiments are measurable. For instance, if you wish to analyze the performance of a particular button on your website, be certain you have the systems in place to accomplish that goal. Google Tag Manager can be a useful tool when experimenting with buttons and other clickable elements.
Choosing the Right Metrics
Second, it's important to understand that your first attempt at choosing the right metrics may fail. This is part of the process – no business is immune to making marketing mistakes when it comes to analytics. If this happens, you may need to adjust or replace your approach. For example, many social media marketers tend to focus on impressions over conversions. While impressions bolster brand awareness, they do not always lead to increased sales.
Over to you
Don't overlook the importance and the reach of mobile marketing tactics. We live in a fast-paced world where customers do everything from paying bills to checking emails to shopping online by phone or tablet. Your digital strategy should leverage the mobile marketing component as well.
Creative marketing is essential in today's digital marketplace. Once you learn the rules of the online landscape, then you can begin to reap its rewards. I'd suggest starting with the Top 30 Digital Marketing Tools to Grow Your Business.
With the volume of data available today, analytics should be a key part of your marketing strategy. However, not every metric will reveal valuable insight into your company's progress. Setting clear business objectives and establishing KPIs requires a great deal of legwork, including collecting historical data and thoroughly researching business trends.
Once you're sure about your KPIs, you'll be well on your way to accomplishing your business goals. KPIs should always be kept on your radar, as they reveal how your marketing efforts are working to achieve your company goals. Most importantly, never stop experimenting, and set goals that will challenge you. That's the best way to take your brand to new heights.
Ready to get started?
Let's do something great together.
Augment your marketing team's bench with our end-to-end inbound and digital solutions. Fill out this form and someone from our Solutions Team will be in touch within a few days.