Adding extensions is an exceptional way to increase conversions, clicks and CTRs on Google search. They are useful tools to increase visibility, customer trust, store perception, and ad revenue. But the question is, Will Ad Extensions Increase Your Ad Rank?
How Does Using Ad Extensions Make Your Ad Rank Better?
Ad Rank is a value that's used to determine where your advertisements appear and how much you are going to be charged for each ad click. The ad rank is calculated using your bid amount, your quality score (the expected Click Through Rate (CTR), ad relevance, and landing page experience) as well the impact of your ad extensions. If you have a good quality score and a good rank, you can potentially out rank your competitor without increasing your keyword bid.
This fantastic graphic from Wordstream gives a good visual example of what this means: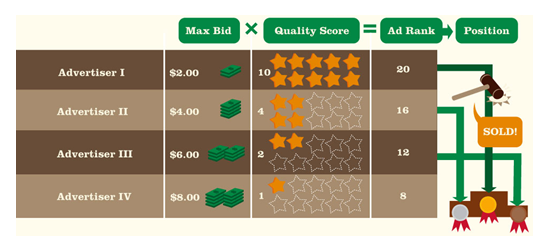 How to Make the Most of your Ad Extensions
To get the most out of your ad extensions, being a little strategic can surely help. For example, you can create extensions based on the stages of the buyer's journey:
Research phase – Sitelink and review extensions can do a wonderful job at this stage. Providing extra information about your products and services & adding reviews and testimonials for your ad can go a long way. These extensions not only help you build awareness, but also promotes some level of trust with your audience.
Consideration phase – A callout, snippet or a price extension is a great way to maximize your ad. Highlighting the value add of your products (promoting a discount or an additional service), the price and the benefits of your service (the amenities offered) will help you gain visibility and win over your competition.
Matching your extensions to the overall objective of your campaign can be a good idea too:
Building brand awareness – Use sitelink extensions to show the range of services you offer and appeal to more people.
Driving traffic in store – Use the location extensions to help people find you.
Lead generation – Use the price extension along with call and location extensions to get better qualified links.
Ad extensions have the potential to help you stand out in your industry and grab the much-needed attention of your customers. To gain the maximum visibility, tracking the ad performance is extremely crucial. Continuously optimizing and monitoring the performance of your ad extensions can help you improve your conversions and CTRs with a limited ad spend.
An effective advertisement with a strong Quality Score will have a strong Ad Rank, even if they don't have the best budget. Paying less to rank higher is the goal of every advertiser and ad extensions are a way to make that happen!